Seven Day Spotlight w/e 16/09/18
It's that time of the week again. I was doing very well with my book acquisitions but then felt compelled to buy all the Jo Thomas novellas available as I love her writing.
Here's what I posted on my blog this week:
Monday's post was my review of The Not So Perfect Plan to Save Friendship House by Lilly Bartlett, a sweet rom-com.
On Tuesday, I reviewed Summer of Secrets by Nikola Scott, a dual timeframe novel which I absolutely loved.
On Wednesday, Paul Marriner, author of The Blue Bench, was my guest with a post about target readers.
I also posted my review of Perfect Ten by Jacqueline Ward, a fab story of revenge.
Thursday's post was my review of The Lion Tamer Who Lost by Louise Beech, an absolutely phenomenal story of love, loss and lions.
On Friday, I shared a guest post by Jules Wake, talking about the locations in her book, A Girl's Best Friend.
And on Saturday, I posted my review of The Amber Maze by Christopher Bowden, a treasure trail of a story which I really enjoyed.
---
And here are those additions to my reading pile:
The Christmas Cafe at Seashell Cove by Karen Clarke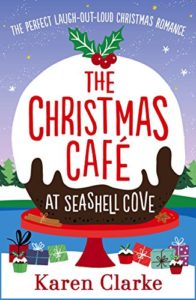 It's beginning to look a lot like Christmas at the café at Seashell Cove, where there's hot chocolate to keep you warm – and the man of your dreams could be waiting…

Interior designer Tilly Campbell loves being carefree and single. But her latest job is redecorating the cosy local café for a Christmas party, and when her friends confess their plans for the big night – including a proposal, a declaration of love and a pregnancy announcement – Tilly starts to wonder if she might be missing out…

Transforming the café into a winter wonderland is more of a challenge than she thought, so when she bumps into gorgeous newcomer Seth, Tilly welcomes the distraction. Seth is a single father, struggling to settle his son Jack into their new cottage, and Tilly is determined to help them make their house into a home in time for Christmas.

But with the café still in chaos just days before the party it looks like it's going to be a Christmas to remember for all the wrong reasons… With friends old and new relying on her, can Tilly save the Christmas party?

And could she finally find love waiting for her under the mistletoe?
Tell Me You're Mine by Elisabeth Norebäck
Where is the line between hope and madness?

Stella only turned away for a second when her baby vanished. Though the little girl's body was never found, Alice was assumed to have drowned, but Stella has never been able to extinguish the hope that somewhere, somehow Alice is still alive.

Over twenty years have passed since that fateful day and Stella is a happily married, successful therapist. But when a new patient walks into her office, Stella's life starts to crumble.

The young woman introduces herself as Isabelle, but Stella is convinced she's Alice.
A Little Bird Told Me by Marianne Holmes
Besides, if you were one half evil, wouldn't you want to know about the other half?

In the scorching summer of 1976, Robyn spends her days swimming at the Lido and tagging after her brother. It's the perfect holiday – except for the crying women her mum keeps bringing home.

As the heatwave boils on, tensions in the town begin to simmer. Everyone is gossiping about her mum, a strange man is following her around, and worst of all, no one will tell Robyn the truth. But this town isn't good at keeping secrets…

Twelve years later Robyn returns home, to a house that has stood empty for years and a town that hasn't moved on, forced to confront the mystery that haunted her that summer.

And atone for the part she played in it.
Notes from the Northern Lights by Jo Thomas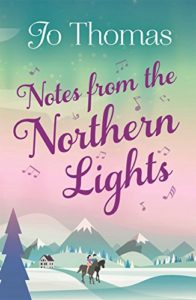 Wardrobe mistress Ruby Knightly has been sent to Iceland on a very special mission that could save her opera company's opening night. And she's determined that her fear of the dark – and the incoming weather – won't stand in her way.

But as Ruby follows her nose across Iceland's wild, volcanic landscape to the warmth of the smokehouses, she will soon discover that there is shelter to be found from even the most turbulent of storms. Particularly if there's romance around the corner…
The Red Sky at Night by Jo Thomas
When Layla arrives in the Welsh coastal village of Swn-y-Mor with new fiancé Rob in tow, she plans to carry out her dad's final wishes, then return to Cardiff quickly, before too many unwanted memories surface.

But the longer Layla remains, the harder it is to resist the lure of the autumn skies and memories of family holidays gone by. With fishing trips and firesides to enjoy, is Rob really Layla's future, and is Swn-y-Mor going to remain in her past for ever?
The Chestnut Tree by Jo Thomas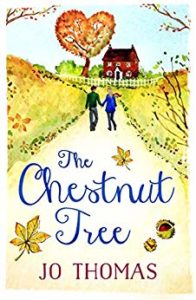 When Ellie Russet leaves home and her restaurant in the wake of disaster to housesit in the Kent countryside, the last thing she wants to do is cook for a living – ever again.

Ellie's new neighbour, Daniel Fender, is struggling to make ends meet as a furniture maker. Could the answer to his problems lie in the chestnut orchard at the bottom of the garden?

Only Ellie can help Daniel unlock the delicious secret that will bring them the fresh starts they need. And as autumn approaches, romance will blossom amid the glowing embers of the chestnut fire…
The Paris Secret by Lily Graham
The last time Valerie was in Paris, she was three years old, running from the Nazis, away from the only home she had ever known.

Now as a young woman all alone in the world, Valerie must return to Paris, to the bookshop and her sole surviving relative, her grandfather Vincent, the only person who knows the truth about what happened to her parents. As she gets to know grumpy, taciturn Vincent again, she hears a tragic story of Nazi-occupied Paris, a doomed love affair and a mother willing to sacrifice everything for her beloved daughter.

Can Valerie and Vincent help each other to mend the wounds of the past? Valerie isn't after a fairytale ending, she only wants the truth. But what is the one devastating secret that Vincent is determined to keep from his granddaughter?