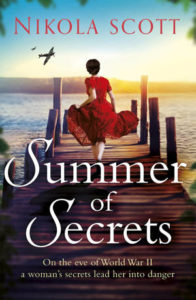 ShortBookandScribes #BookReview – Summer of Secrets by Nikola Scott @nikola_scott @Headlinepg #RandomThingsTours #BlogTour
I'm absolutely thrilled to be reviewing Summer of Secrets by Nikola Scott today. I loved her previous book, My Mother's Shadow and I loved this, her second book, just as much. My thanks to Becky Hunter from Headline for the review copy and to Anne Cater for the place on the tour.
August 1939

At peaceful Summerhill, orphaned Maddy hides from the world and the rumours of war. Then her adored sister Georgina returns from a long trip with a new friend, the handsome Victor. Maddy fears that Victor is not all he seems, but she has no idea just what kind of danger has come into their lives…

Today

Chloe is newly pregnant. This should be a joyful time, but she is fearful for the future, despite her husband's devotion. When chance takes her to Summerhill, she's drawn into the mystery of what happened there decades before. And the past reaches out to touch her in ways that could change everything…
---

I loved Nikola Scott's first book, My Mother's Shadow, so was really keen to read her second book. I'm happy to report that I loved Summer of Secrets just as much.
This is one of my favourite kinds of stories: a dual timeline story. The narrative in the past is that of Madeleine, who is 16 in 1939. The world is on the cusp of war but she is cocooned from it to an extent at her beloved Summerhill on the Cornish coast. Her adored older sister, Georgiana, has just returned from the continent with her new beau, Victor. But Victor isn't all he seems, Maddy doesn't trust him but she can't yet imagine the impact he will have on her family.
The current day storyline is that of Chloe. She's in her late twenties, married to dashing doctor, Aidan. Except that Chloe has lost herself and who she once was. Aidan is quietly manipulative and is bit by bit stealing away every bit of independence and life that Chloe had.
The two strands collide in a most interesting way and I particularly loved those bits where Madeleine and Chloe feature at the same time. Each helps the other in ways they could never have imagined and I found their relationship really lovely. Secrets are part of the title and very much part of the story. Both of the main characters have secrets that are very important to them.
The author does a brilliant job of describing Summerhill, the grounds and the crashing waves around the coastline. Madeleine's life there has not exactly been carefree but she adores the place and I could see why. I would love to be able to visit it in real life, but doing so between the covers of this book was the next best thing.
The story jumps around between the two times quite a bit and I loved that. It left me wanting more every time, wanting to find out how the two women would deal with their secrets. The stories are perfectly intertwined and we sort of drift between them, learning more as we go along.
Towards the end there are a couple of shocking events that I didn't expect at all. My heart broke for Maddy and Chloe, and those final chapters were nail-biting as I raced toward the conclusion.
Summer of Secrets is a gorgeous book in every way. It's a story that cannot be rushed, in fact the first third or so was quite slow in that it was scene-setting, allowing me to become engrossed and enthralled by it. Then, once I was familiar with the characters and the setting, it all slotted into place. I found it to be a really moving read. I love this author's writing – it has a quiet beauty to it and I can't wait for her next book.
---

---

Nikola Scott was born and raised in Germany and studied at university there. Having been obsessed with books from a young age, Nikola moved to New York City after her Master's degree to begin her first job in book publishing, a career in which she could fully indulge her love of fiction!
She spent ten years working in publishing in New York and then in London, editing other people's books, before she decided to take the leap into becoming a full-time writer herself.
She now lives in Frankfurt with her husband and two sons.
MY MOTHER'S SHADOW was published in 2017 to wonderful reviews. Her new novel SUMMER OF SECRETS is coming in September 2018.
Please visit her website for more information,or find Nikola on Instagram, Twitter and