ShortBookandScribes #BookReview – The Not So Perfect Plan to Save Friendship House by Lilly Bartlett @MicheleGormanUK @HarperImpulse
I'm so pleased to be reviewing The Not So Perfect Plan to Save Friendship House by Lilly Bartlett today. My thanks to the author for sending me a review copy.
Meet Phoebe, who's 28, and Laney, Dot and Maggie, who are 68, 78, and none of your business. Together they'll prove that age doesn't matter when it comes to friendship, belonging and an unquenchable zest for life.

A hilarious, uplifting novel about the ties of community, the strength of love and how nobody is truly ordinary.

When Framlingham's famously all-female senior living home goes co-ed, a war between the sexes is declared.

Stuck in the middle, chef Phoebe Stockton is desperate to help her friends plot to keep the community that means so much to them. It's become her life raft, too. She finds comfort in her beloved career that might finally make her parents proud. But Phoebe's darling Nick is lining up on the other side of the battle, and their relationship is suffering collateral damage.

The stakes couldn't be higher. If the home's owner can't improve business by moving the men in, he'll have to evict everyone.

The women aren't about to let that happen.
---

I loved the setting of this book – The Jane Austen Happy Home for Ladies, sometimes known as Friendship House. Doesn't that sounds wonderful? It's a sort of retirement home for women of a variety of ages. Laney, Dot and Maggie are three of the ladies and I loved each one in different ways, particularly the prickly Maggie who probably undergoes the most change over the course of the book. The main character, however, is the very much younger Phoebe, the chef in charge of the restaurant at the home.
Phoebe narrates her own story and whilst she was a generally lovely person, sometimes I did find her a bit frustrating. She's mad about Nick, occupational therapist/gardener/jack of all trades. Apart from being a bit too nice at times, I can understand what she liked about him as he's a (half) Greek God! Actually, Phoebe's the same, a bit too nice if that's possible. The pair of them wanted their heads banging together for much of the novel as a number of misunderstandings cause them to skirt around their feelings for each other.
There are two main strands to the story. One is Phoebe coping with the death of her mum with whom she had a sometimes tricky relationship, whilst dealing with her feelings for Nick. The other strand is about the owner of the home wanting to start introducing male residents, something that the female ones aren't too keen on. I must admit I much preferred the second strand, as I particularly liked the characters involved.
I thought this was a sweet rom-com, a feel-good read with some lovely characters. I didn't find myself drawn into the story as much as the last Lilly Bartlett story I read, but it's got a nice vibe to it and a great ending. If you like light-hearted story with a bit of conflict to be surmounted and a helping of fun then this is one for you.
---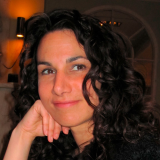 Lilly Bartlett's cosy romcoms are full of warmth, quirky characters and guaranteed happily-ever-afters. Lilly is the pen-name of Sunday Times and USA Today best-selling author, Michele Gorman, who writes best friend-girl power comedies under her own name.