Seven Day Spotlight – w/e 15/04/18
Hello and welcome to this week's Seven Day Spotlight post. Here's what happened this week on my blog:
On Monday, I reviewed Foxtrot in Freshby by Awen Thornber, which is a romantic intrigue novel with lots of dancing in it.
Tuesday's post was a Q&A with Louise Candlish as part of the blog tour for Our House.
I also posted a guest post from Rosie Green, author of Spring at the Little Duck Pond Café, all about her self-publishing adventure.
Wednesday's review post was for Kate Riordan's wonderful book, The Stranger which is an atmospheric and intense read.
Then on Thursday, I posted my review of Another Mother by Amanda James, which is a fast-paced family/psychological thriller.
On Friday, Jaime Raven, author of The Rebel, was my guest with a post all about "Why I Followed a Path of Crime".
I also shared a link to my Author Meets Reviewer interview with Anita Cassidy, author of Appetite, which first appeared on the Nudge Books website.
Saturday's post was a guest post by Kate Hewitt about how she likes to write unlikeable characters. This was part of the blog tour for This Fragile Life.
And finally, this morning I shared an extract from A Grand Old Time by Judy Leigh.
---
It's been a (slightly) quieter week for additions to my TBR pile this week but I'm including last week's as well because I didn't do a Seven Day Spotlight last Sunday. Here they are:
In Cornwall, on the eve of the First World War, aspiring poet Kit Rivers has a bright future ahead. As the Lord of the Manor's heir, Kit knows his duty is to the family estate but when he falls passionately in love Kit is determined not to let his parents' bitter opposition spoil an idyllic summer. Yet before the golden days even have a chance to fade into autumn war comes to change Kit's world forever.

One century later, widowed Chloe Pencarrow exchanges London for the solitude of a Cornish cliff top house. Haunted by memories, Chloe's interest in an obscure war poet, Kit Rivers, proves a welcome distraction and leads her to piece together a forgotten history. Faced with more questions than answers, her own life soon becomes entwined with Kit's through love, loss, and the darkest of secrets…

A haunting novel of love, loss, and sacrifice – perfect for fans of Kate Morton and Rosamunde Pilcher.
The House Swap by Rebecca Fleet
'No one lives this way unless they want to hide something.'

When Caroline and Francis receive an offer to house swap, they jump at the chance for a week away from home. After the difficulties of the past few years, they've worked hard to rebuild their marriage for their son's sake; now they want to reconnect as a couple.

On arrival, they find a house that is stark and sinister in its emptiness – it's hard to imagine what kind of person lives here. Then, gradually, Caroline begins to uncover some signs of life – signs of her life. The flowers in the bathroom or the music in the CD player might seem innocent to her husband but to her they are anything but. It seems the person they have swapped with is someone she used to know; someone she's desperate to leave in her past.

But that person is now in her home – and they want to make sure she'll never forget . . .
My CLIENT
My LOVER

Francine Day is a high flying lawyer about to apply for silk, ambitious and brilliant. She just needs one headline grabbing client to seal her place as queen's counsel … Martin Joy. The attraction is instant. Obsessive.

They embark on a secret affair and Francine thinks she can hold it together. But then Martin's wife goes missing. And Martin is the prime suspect. Francine is now his lawyer, lover and the last person to see Donna Joy alive.

As the case unravels so does Francine.

Her HUSBAND
My OBSESSION
The Continuity Girl by Patrick Kincaid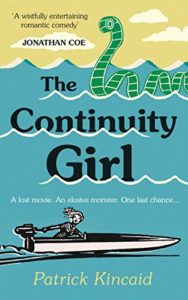 1969. Hollywood descends on a tiny Scottish village for the making of Billy Wilder's most ambitious picture yet: a sprawling epic detailing The Private Life of Sherlock Holmes. But the formidable director and his crew soon come into conflict with Jim Outhwaite, a young scientist seeking evidence for monsters.

2014. Stuck just a short walk from the East London street where she grew up, ambitious Film Studies lecturer Gemma MacDonald is restless and hungry for change. A job offer in the Highlands seems to offer escape – but only at a cost to her relationships with family and an equally ambitious American boyfriend.

Then a lost print of Gemma's favourite film turns up, and with it, an idea…
Two stories, separated by 45 years, are set on collision course – on the surface of Loch Ness, under the shadow of a castle – by the reappearance of the continuity girl herself: April Bloom.
Bennett's Bookshop has always been a haven for sixteen-year-old Paige Turner. It's a place where she can escape from her sleepy hometown, hang out with her best friend, Holly, and also earn some money.

But, like so many bookshops, Bennett's has become a 'casualty of the high street' – it's strapped for cash and going to be torn down. Paige is determined to save it but mobilising a small town like Greysworth is no mean feat.

Time is ticking – but that's not the only problem Paige has. How is she going to fend off the attractions of beautiful fellow artist, Blaine? And, more importantly, will his anarchist ways make or break her bookshop campaign?
The Visitors by Rebecca Mascull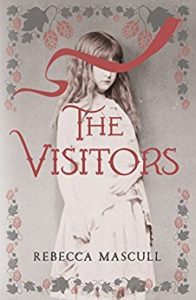 Imagine if you couldn't see
couldn't hear
couldn't speak…
Then one day somebody took your hand and opened up the world to you.

Adeliza Golding is a deafblind girl, born in late Victorian England on her father's hop farm. Unable to interact with her loving family, she exists in a world of darkness and confusion; her only communication is with the ghosts she speaks to in her head, who she has christened the Visitors. One day she runs out into the fields and a young hop-picker, Lottie, grabs her hand and starts drawing shapes in it. Finally Liza can communicate.

Her friendship with her teacher and with Lottie's beloved brother Caleb leads her from the hop gardens and oyster beds of Kent to the dusty veldt of South Africa and the Boer War, and ultimately to the truth about the Visitors.
Good Friday by Lynda La Plante
BEFORE PRIME SUSPECT THERE WAS TENNISON.

Every legend has a beginning . . . 

During 1974 and 1975 the IRA subjected London to a terrifying bombing campaign. In one day alone, they planted seven bombs at locations across central London. Some were defused – some were not.

Jane Tennison is now a fully-fledged detective. On the way to court one morning, Jane passes through Covent Garden Underground station and is caught up in a bomb blast that leaves several people dead, and many horribly injured. Jane is a key witness, but is adamant that she can't identify the bomber. When a photograph appears in the newspapers, showing Jane assisting the injured at the scene, it puts her and her family at risk from IRA retaliation.

'Good Friday' is the eagerly awaited date of the annual formal CID dinner, due to take place at St Ermin's Hotel. Hundreds of detectives and their wives will be there. It's the perfect target. As Jane arrives for the evening, she realises that she recognises the parking attendant as the bomber from Covent Garden. Can she convince her senior officers in time, or will another bomb destroy London's entire detective force?
Greyfriars House by Emma Fraser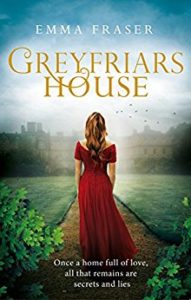 Once a home full of love, all that remains in Greyfriars House are secrets and lies . . .

On a remote Scottish island sits Greyfriars House, a house haunted by unspoken words and family mysteries. But once it was a happy and comforting place and in the summer of 1939, family and friends gather to forget their fears about the impending war. Nine-year-old Olivia watches the grown-ups with fascination particularly her mother and her two aunts, the three daughters of the family who own the island. Then Olivia she sees something she isn't meant to and when the truth comes out it reverberates through the generations.

Almost fifty years later, Olivia has fallen ill and urges her own daughter, Charlotte, to visit Greyfriars to reconnect the existing branches of the family. Charlotte is hesitant to get to know her great-aunts, women who have always shunned her mother, but curiosity and a desire to run from her own life get the better of her and she goes to the island.

But Greyfriars House is a shadow of its former self and Charlotte finds her great-aunts tense and cautious. There is something they want to share with Charlotte, but in order to truly understand their secret Charlotte must first understand what happened to them before and during the war . . .
The Love Factory by Elaine Proctor
You can control want, but desire controls you

When literary writer Anna falls on hard times, she tries her hand at erotic fiction to make money, and faces an uncomfortable truth. Though she's a wife and mother of two, her stories fail to fly because she's never experienced true sexual desire. Even her Sicilian grandmother – wearer of diamante sunglasses and knock-off Louis Vuitton – knows more than she does about real passion.

Anna turns to her friends for inspiration. As secrets and desires are revealed, she discovers more about the people close to her than she ever knew. When one of them suggests she borrow an alter ego to banish her inhibitions, a new world opens up, and The Love Factory – a group of writers penning ever more successful sexy stories – is born.

Yet Anna knows that she can't rely on borrowed passion and an alter ego forever. For her tales to truly sizzle, she needs to find a true love of her own.
Paris by the Book by Luke Callanan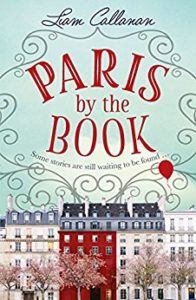 Some stories are still waiting to be found.

In a city of millions, it's easy to lose someone…

Twelve weeks before Leah Eady arrived in France, her husband disappeared. Early one morning, he walked out the door and never came back. All he left behind was a scrumpled note in a cereal box, leading her to the bustling streets of Paris.

Once she arrives, she discovers a mysterious unfinished manuscript written by her husband, and set in the very same city. Hoping to uncover more clues, Leah takes over a crumbling bookshop with her two young daughters, only to realise that he might just be closer than any of them ever imagined…

…but what if he doesn't want to be found?
Wartime at Woolworths by Elaine Everest
The Woolworths girls have come a long way together . . .

Fun loving Maisie, is devoted to her young family and her work at Woolworths. But her happy life with her RAF officer husband, their baby daughter leads her to think of the family she left behind . . . With the war now into its fourth year, what will she find when she sets about searching for them?

Sarah and her husband, Alan, are blissfully happy and long for a sibling for their daughter. But dark days lay ahead for this close family.

Freda heads home to Birmingham, to go in search of her family, back to the life she fled – far from the safety of Woolworths and her new friends.

With families' separated by war, will the Woolworths girls be able to pull together?

Wartime at Woolworths is the third moving installment in the much-loved Woolworths series by bestselling author Elaine Everest.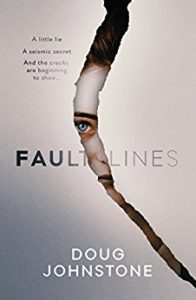 Brilliantly constructed speculative crime fiction
A classic whodunit
Dark psychological suspense

Doug Johnstone returns with his most explosive and original thriller yet…

A little lie … a seismic secret … and the cracks are beginning to show…

In a reimagined contemporary Edinburgh, where a tectonic fault has opened up to produce a new volcano in the Firth of Forth, and where tremors are an everyday occurrence, volcanologist Surtsey makes a shocking discovery.
On a clandestine trip to new volcanic island The Inch, to meet Tom, her lover and her boss, she finds his lifeless body, and makes the fatal decision to keep their affair, and her discovery, a secret. Desperate to know how he died, but also terrified she'll be exposed, Surtsey's life quickly spirals into a nightmare when someone makes contact – someone who claims to know what she's done…
Rebellious Spirits by Ruth Ball
A delicious history of the secret, exciting and often dangerous world of illicit spirits

For as long as spirits have existed, there has been someone doing something really naughty with them: selling gin through pipes in a London back alley; standing guard on a Cornish clifftop waiting for a smuggler's signal; or dodging bombs and shrapnel running whisky in the Blitz. It is a history that is thrilling, utterly fascinating and uniquely British.

Packed full of historical recipes, from Milk Punch to a Wartime Martini, along with cocktails fromcontemporary bartenders, Rebellious Spirits is a treasure trove for the curious drinker.

From the gin dispensed from a cat's paw at the Puss and Mew shop which could have been the world's first vending machine, to whole funeral cortèges staged just to move a coffin filled with whisky, the stories show off all the wonderful wit and ingenuity required to stay one drink ahead of the law. The accompanying recipes are just as intriguing: How did we drink gin before tonic? Was punch really made with curdled milk? Or breakfast served with brandy porridge, and gin mixed into hot ale? What did the past really taste like?
A Spoke in the Wheel by Kathleen Jowitt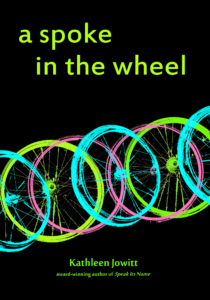 The first thing I saw was the wheelchair.

The first thing she saw was the doper.

Ben Goddard is an embarrassment – as a cyclist, as an athlete, as a human being. And he knows it.

Now that he's been exposed by a positive drugs test, his race wins and his work with disabled children mean nothing. He quits professional cycling in a hurry, sticks a pin in a map, and sets out to build a new life in a town where nobody knows who he is or what he's done.

But when the first person he meets turns out to be a cycling fan, he finds out that it's not going to be quite as easy as that.

Besides, Polly's not just a cycling fan, she's a former medical student with a chronic illness and strong opinions. Particularly when it comes to Ben Goddard…
I'd love to hear any thoughts on these books.