Seven Day Spotlight – w/e 14/04/19
Goodness, is it Sunday again? It must be if it's Seven Day Spotlight time. The Easter holidays are over now and our boy goes back to school on Monday. Mind you, he's only there four days and then it's the Easter weekend. This week we had a trip to the park and a kick about with his football, and we also went to see Missing Link which was great fun.
Then yesterday, OH and I went to see Calendar Girls The Musical. It was fantastic, really rousing and heart-warming, and also a bit emotional. I recommend it if you get a chance to see it.
I hope you've all had a fun week too.
---
Here's what I posted on my blog this week:
Monday's post was a two post day with my review of The Passengers by John Marrs and an extract from In Her Defence by Jan Edwards.
Tuesday – nowt!
On Wednesday I reviewed The Inheritance by Anne Allen.
Thursday's post was my review of Queenie by Candice Carty-Williams.
On Friday, I shared a guest post by Tracey Iceton about White Leaves of Peace and the Brexit vote.
And on Saturday, I reviewed Envy by Amanda Robson.
---
Here's what I added to my TBR pile this week. Looking forward to this little lot.
The Other Mrs Miller by Allison Dickson
Two women are watching each other.
Phoebe isn't sure when the car started showing up. At first she put it down to the scandal around her late father, but she's certain now it's there for her. What's interesting about an unhappily married housewife, who barely leaves her house?

Only one knows why.
Every morning, not long before your husband leaves for work, I wait for the blinds beside your front door to twitch. You might think I'm sitting out here waiting to break into your house and add a piece of your life to my collection. Things aren't quite that simple. It's not a piece of your life I want.

When a new family move in across the street, it provides Phoebe with a distraction. But with her head turned she's no longer focused on the woman in the car. And Phoebe really should be, because she's just waiting for an opportunity to upend Phoebe's life…
The End of Time by Gavin Extence
Beneath the stars, on a stony beach, stand two teenage brothers.

They are wearing lifejackets that are too big for them and their most precious belongings are sealed in waterproof bags tucked inside the rucksacks on their backs.

Turkey is behind them and Europe lies ahead, a dark, desperate swim away.

They don't know what will come next, but they're about to meet a man who does. He calls himself Jesus, the Messiah. He is barefoot, dishevelled and smells strongly of alcohol.

And he doesn't believe in chance meetings. He believes he has information about the future – information that will change three lives forever . . .
Our Stop by Laura Jane Williams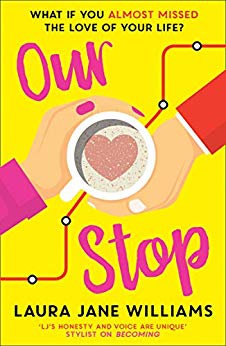 What if you almost missed the love of your life?

Nadia gets the 07.30 train every morning without fail. Well, except if she oversleeps or wakes up at her friend Emma's after too much wine.

Daniel really does get the 07.30 train every morning, which is easy because he hasn't been able to sleep properly since his Dad died.

One morning, Nadia's eye catches sight of a post in the daily paper:

To the cute girl with the coffee stains on her dress. I'm the guy who's always standing near the doors… Drink sometime?

So begins a not-quite-romance of near-misses, true love, and the power of the written word.
It's one of the most disturbing cases DI Fawley has ever worked.

The Christmas holidays, and two children have just been pulled from the wreckage of their burning home in North Oxford. The toddler is dead, and his brother is soon fighting for his life.

Why were they left in the house alone? Where is their mother, and why is their father not answering his phone?

Then new evidence is discovered, and DI Fawley's worst nightmare comes true.

Because this fire wasn't an accident. It was murder.

And the killer is still out there…
The Confessions of Frannie Langton by Sara Collins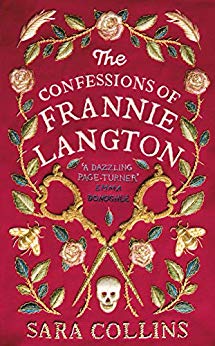 'They say I must be put to death for what happened to Madame, and they want me to confess. But how can I confess what I don't believe I've done?'

1826, and all of London is in a frenzy. Crowds gather at the gates of the Old Bailey to watch as Frannie Langton, maid to Mr and Mrs Benham, goes on trial for their murder. The testimonies against her are damning – slave, whore, seductress. And they may be the truth. But they are not the whole truth.

For the first time Frannie must tell her story. It begins with a girl learning to read on a plantation in Jamaica, and it ends in a grand house in London, where a beautiful woman waits to be freed.

But through her fevered confessions, one burning question haunts Frannie Langton: could she have murdered the only person she ever loved?

A beautiful and haunting tale about one woman's fight to tell her story, The Confessions of Frannie Langton leads you through laudanum-laced dressing rooms and dark-as-night back alleys, into the enthralling heart of Georgian London.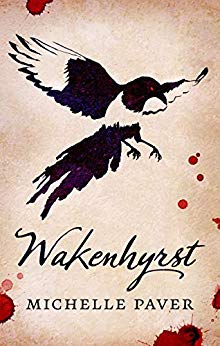 "Something has been let loose…"

In Edwardian Suffolk, a manor house stands alone in a lost corner of the Fens: a glinting wilderness of water whose whispering reeds guard ancient secrets. Maud is a lonely child growing up without a mother, ruled by her repressive father.

When he finds a painted medieval devil in a graveyard, unhallowed forces are awakened.

Maud's battle has begun. She must survive a world haunted by witchcraft, the age-old legends of her beloved fen – and the even more nightmarish demons of her father's past.

Spanning five centuries, Wakenhyrst is a darkly gothic thriller about murderous obsession and one girl's longing to fly free by the bestselling author of Dark Matter and Thin Air. Wakenhyrst is an outstanding new piece of story-telling, a tale of mystery and imagination laced with terror. It is a masterwork in the modern gothic tradition that ranges from Mary Shelley and Bram Stoker to Neil Gaiman and Sarah Perry.
The Teashop Girls by Elaine Everest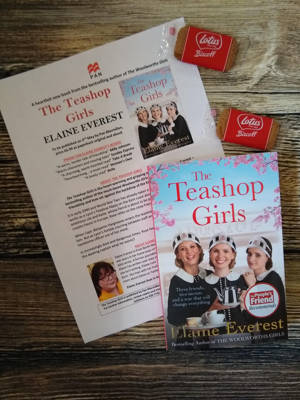 It is early 1940 and World War Two has already taken a hold on the country. Rose Neville works as a Lyon's Teashop Nippy on the Kent coast alongside her childhood friends, the ambitious Lily and Katie, whose fiancé is about to be posted overseas in the navy. As war creates havoc in Europe, Rose relies on the close friendship of her friends and her family.

When Capt. Benjamin Hargreaves enters the teashop one day, Rose is immediately drawn to him. But as Lyon's forbids courting between staff and customers, she tries to put the handsome officer out of her mind.

In increasingly dark and dangerous times, Rose fears there may not be time to waste. But is the dashing captain what he seems?
The Inheritance of Solomon Farthing by Mary Paulson Ellis
From The Times best-selling author of The Other Mrs Walker – Waterstones Scotland's Book of the Year 2017 – comes Mary Paulson-Ellis's second stunning historical mystery, The Inheritance of Solomon Farthing.

Solomon knew that he had one advantage. A pawn ticket belonging to a dead man tucked into his top pocket – the only clue to the truth….

An old soldier dies alone in his Edinburgh nursing home. No known relatives, and no Will to enact. Just a pawn ticket found amongst his belongings, and fifty thousand pounds in used notes sewn into the lining of his burial suit….

Heir Hunter, Solomon Farthing – down on his luck, until, perhaps, now – is tipped off on this unexplained fortune. Armed with only the deceased's name and the crumpled pawn ticket, he must find the dead man's closest living relative if he is to get a cut of this much-needed cash.

But in trawling through the deceased's family tree, Solomon uncovers a mystery that goes back to 1918 and a group of eleven soldiers abandoned in a farmhouse billet in France in the weeks leading up to the armistice.

Set between contemporary Edinburgh and the final brutal days of the First World War as the soldiers await their orders, The Inheritance of Solomon Farthing shows us how the debts of the present can never be settled unless those of the past have been paid first….
Blackpool Lass by Maggie Mason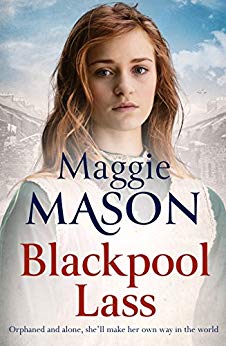 Orphaned and destitute, will Grace find her own way in the world?

When Grace's Ma passes away and her Da's ship sinks with all hands, Grace is utterly alone in the world. She's sent to an orphanage in Blackpool, but the master has an eye for a pretty young lass. Grace won't be his victim, so she runs, destitute, into the night.

In Blackpool, she finds a home with the kindly Sheila and Peggy – and meets a lovely airman. But it's 1938, and war is on the horizon. Will Grace ever find the happiness and home she deserves?
I've also received a few children's books for review.
Ting-A-Ling: The Old Ambulance by Harry Goldstar
Welcome to the world of Ting-a-Ling. The friendliest old ambulance there ever was. With line drawn illustrations for YOU to colour in helping you to familiarise yourself personally, with Ting-a-Ling, his owner and restorer Alf, his mum, and Mr .Grimsby the boss of the big ambulance station. Open the cover and jump into a whole NEW world of ambulance stories and adventures. Designed in a quirky style encompassing story telling entertainment colouring and education suitable for both younger readers and adults alike. Truly an all in one compendium. Just like the filling in a sandwich, the best bit's inside. Simple and easy to read. The stories are written with a smattering of comical northern dialect in bite size chapters so as not to be taxing on the brain. Have difficulty in reading? Written by a dyslexic who knows what a struggle it can be. This book really is here to help YOU! If Ting-a-Ling had wings I would say welcome to the flying start. This book is the first in a series in the making where you will meet Ting-a-Ling and his friends. TRY ME. If not for yourself. Think of someone else. Possibly a little person who the stories are written for. You will love Ting-a-Ling. EVERYONE does!
Jay-Jay and His Island Adventure by Sue Wickstead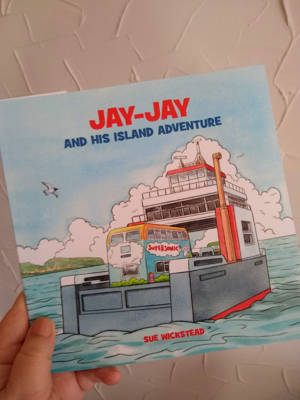 Jay-Jay the Supersonic Bus is not an ordinary bus taking you on a journey. He is a Playbus.Find out what happens when he is invited to an island where the children have never seen a double-decker bus – and certainly not one full of toys!
The Dream of the Tortoise by Nyako Nakar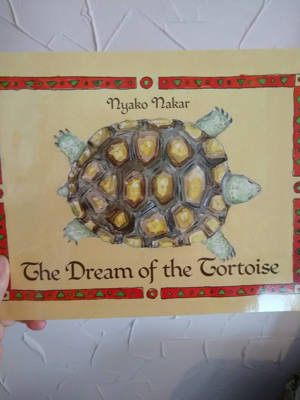 This is the story of a tortoise with very big dreams.