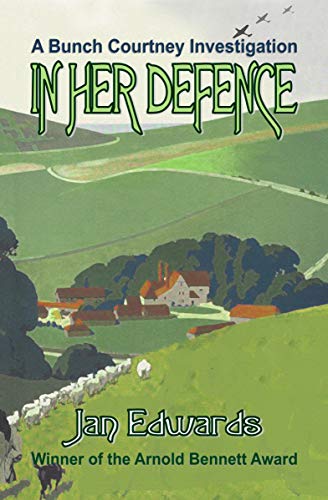 ShortBookandScribes #BlogTour #Extract from In Her Defence by Jan Edwards @Jancoledwards #BlogTour
I'm so pleased to be sharing an extract from In Her Defence by Jan Edwards today as part of the blog tour. My thanks to Jan for asking me to be a part of her tour.
---
Bunch Courtney's hopes for a quiet market-day lunch with her sister are shattered when a Dutch refugee dies a horribly painful death before their eyes. A few days later Bunch receives a letter from her old friend Cecile saying that her father, Professor Benoir, has been murdered in an eerily similar fashion. Two deaths by poisoning in a single week. Co-incidence? Bunch does not believe that any more than Chief Inspector William Wright.

Set against a backdrop of escalating war and the massed internments of 1940, the pair are drawn together in a race to prevent the murderer from striking again.
Amazon US  / UK/  /  AU
Indie Bound
Book Depository
Wordery
Waterstones
In Her Defence is available at these Digital sources:
iTunes, Barnes and Noble Nook, Biblioteca, Kindle, Kobo, Overdrive, Playster, Scribd, Tolino, 24 Symbol
---

Bunch held back in the shade of the cafe to assess the only occupant of the garden. Had she not been here to meet Cecile Benoir she would have not known the exotic creature in the tea garden as her old school chum.

The woman seated in the May sunshine was slim, elegant, showing not a hint of the slightly gauche sixteen-year old Bunch recalled from school. Had the outfit she wore been less faded, this woman would have been the height of Paris chic. Her trademark mass of dark hair was tamed beneath a saucer hat, tendrils escaping to flutter around her face in a frame of tiny ringlets. Cecile Benoir was twining one of those coils around her forefinger, her expression pensive as she gazed at an ivy-covered wall.

Bunch strode past the empty tables toward her old friend and bent to give Cecile a brief hug. 'Hello there old thing. On you own I see.'

'Hello Rose. To the point as always.' Cecile stood to greet her friend, taking her by the shoulders and kissing Bunch on both cheeks in the continental manner.

Bunch leaned into the gesture a little self-consciously, remembering a time when their kisses had been far less formal. As she sank into a vacant chair she took off her hat, which she felt was rather mannish against Cecile's net-and-feather concoction, and finger-combed her own hair dishevelled by the ride.

Hilda, the younger of the Miss Manns who co-owned the Jenny Wren, came to stand close to them, a tattered notepad in hand. 'Good afternoon Miss Courtney. Would you like tea?'

'Yes please, Hilda.'

'Cake?'

'No, thank you.' Bunch smiled brightly and watched Hilda Mann pocket the notebook untouched by the pencil nub and hurry away. Bunch always had liked the sisters and would not offend them for the world, but something told her the old lady would be far better off not knowing whatever it was Cecile had to say. 'It'll take her a while to fetch it,' she murmured to Cecile. 'Now. To what do I owe the pleasure? Spill the beans. What's brought you to sunny Sussex?' She leaned back in her chair and gazed steadily into Cecile's face. 'Why didn't you tell me you'd arrived here before?'

'We've not been here long, honestly – a few months.' Cecile blushed a little at the contradiction. 'And we would still be in Paris but for the war.' She wrapped her arms around herself and gently rubbed her elbows, a visible shudder running through her.

'We can sit inside if you prefer.'

Cecile glanced toward the open door and the two women craning necks to see who 'that Courtney girl' was with. 'I'm perfectly fine here. It seemed to be the best place to wait for you – in a little peace.'

'Safe from prying ears out here. Those old gorgons would hate the breeze cooling their tea.'

Seconds ticked past in awkward silence and it was Cecile who broke it. 'I am sorry for not writing to you before' I truly am. Papa forbade me to talk with anybody because of his work. And you know how he was. I've barely spoken to a soul here. That kind of women, they always ignored us. I don't think they much like a foreigner in their midst. Especially Papa. He had such a strong accent.'

'Had?'

Cecile paid a sudden attention to the clasp on her clutch bag. 'Papa died,' she said. 'Last Friday.' Her serenity did not miss a beat and Bunch was at a loss at how to react.

'I'm very sorry to hear that. Please accept my condolences.' The formality of those phrases was expected but seemed so inadequate. In the face of Cecile's lack of emotion Bunch floundered for a new line to take. 'Was it sudden?'

'Very. Papa was not a young man, as you know, but he had always enjoyed good health.' Cecile scrubbed at the back of her left hand with the right, a frown creasing between her eyes. 'This is why I called you. I did not know who I could trust.'

'Of course you had to call on me. What was it? His heart?'

Cecile allowed a bleak smile to light her eyes. 'One might say that. His heart failed from a large dose of some toxin. The police have not named the poison yet but we do know that he was murdered.'
---

---

Jan Edwards – Winner of the Arnold Bennett Book Prize (for her crime novel 'Winter Downs') Recipient of a Karl Edward Wagner award (British Fantasy Awards) and Recipient of the Winchester Slim Volume award (for Sussex Tales). Short listed for both the British Fantasy Award for Best Short Fiction and Best Collection.
Her short fiction has appeared in many crime, folk horror, horror, pulp, weird fiction, main stream and urban fantasy anthologies. For full list of writing credits follow the link to: Author Bibliography (Details here) inc Bookmuse Recommended Read award for her crime novel, Winter Downs!
She is part of the script team writing Olive Hawthorne: Daemons of Devils End – a 3 disc Dr Who DVD. As an editor Jan has produced fiction anthologies with editing partner Jenny Barber for The Alchemy Press and Fox Spirit Press. Jan has ghost written for several other titles.
Born in Sussex, despite her thoroughly celtic parentage, Jan is currently living in Staffs Moorlands with 3 cats and husband, Peter Coleborn. In addition to being a writer she is also a Reiki Master Teacher and Meditational Healer and has been (in no particular order) Master Locksmith, motorcycle seller, bookseller, civil servant, ostler, market gardener, librarian…
BA hons, Eng. Lit. with creative writing; past chairperson of the British Fantasy Society and Fantasycon organiser.