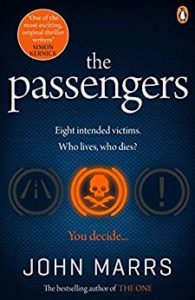 ShortBookandScribes #BookReview – The Passengers by John Marrs @johnmarrs1 @Tr4cyF3nt0n @EburyPublishing #BlogTour
I'm absolutely delighted to be sharing my review of The Passengers today. I'm so glad to have read it as it means maybe now I won't have The Passenger by Iggy Pop going round my head all the time. I'm also glad to have read it because it's absolutely awesome! My thanks to Tracy Fenton for the place on the tour and to the publishers, Del Rey/Ebury/Penguin for the fabulous review copy with my own licence to 'drive' self-driving cars.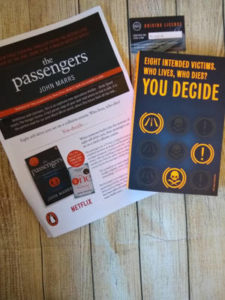 ---
When someone hacks into the systems of eight self-drive cars, their passengers are set on a fatal collision course.

The passengers are: a TV star, a pregnant young woman, a disabled war hero, an abused wife fleeing her husband, an illegal immigrant, a husband and wife – and parents of two – who are travelling in separate vehicles and a suicidal man. Now the public have to judge who should survive but are the passengers all that they first seem?
---

I honestly don't think I've ever read a 400 page book so quickly. The Passengers has to be one of most phenomenal books I have read in a long time.
The story is set in the fairly near future, perhaps 30 years away. Not unexpectedly, driverless cars are very much a thing and most are fully autonomous so need no interaction from the driver at all, except to programme in where they want to be taken. It seems like such a great idea doesn't it, especially if it means that there are considerably fewer accidents due to human error?
However, The Passengers looks at what happens when it goes wrong, when humans hack into the software in the cars and use it to cause havoc and even acts of terrorism. Although any computer/AI is open to hacking, it's still a surprise and makes for the most rollercoaster of rides for the reader.
The book begins with introducing characters. By the end of each introduction we know that these characters are in for quite a journey in their driverless cars. We are then introduced to other people who hold the passengers' fates in their hands. I really don't want to go any further into the plot because the beauty of it for me was the thrilling reveals as I read along.
And oh my goodness, those reveals were jaw-droppingly brilliant. Marrs just threw curveball after curveball at me. I don't think I have ever read a book that has excited me as much as this one, where I just couldn't wait to know what was going to happen next and which gave me endless talking points. This is a book which really makes you think about the myriad moral and ethical dilemmas that the characters face and how you would react in the same situation. It's also pretty scary, to think of AI taking over and to think of it being exploited so wholly and to such effect. What's also present throughout the book is the effect of social media and mob mentality. It's hard to believe people get so caught up in it and yet I also know how easy it is to get drawn into these things online.
Inevitably the pace slowed down in the final quarter or so (you'll know why this is inevitable when you read the book) but even then it was still riveting reading. The Passengers is a unique, prescient, clever and gripping read. Wow, just wow!
---

---

John Marrs is the author of #1 Best Sellers The One, The Good Samaritan, When You Disappeared, Welcome to Wherever You Are and Her Last Move. The One has been translated into 20 different languages and is to be turned into a a ten-part Netflix series in 2019.
After working as a journalist for 25-years interviewing celebrities from the world of television, film and music for national newspapers and magazines, he is now a full-time writer. His sixth book, The Passengers, is set for release in April 2019.
Author bio and photo taken from Amazon