Seven Day Spotlight – w/e 13/01/19
It's that time of the week again – Seven Day Spotlight time. Here's what I posted on my blog this week:
Monday's post was my review of Eat Less by Jeremy and Georgina Jackson-Sytner.
On Tuesday, I shared an extract from Tell the Truth by Amanda Brittany.
On Wednesday, I posted my review of The Convalescent Corpse by Nicola Slade, along with a lovely guest post from the author about food rationing during WW1. There's just time to enter the giveaway on that post to win a copy of The House at Ladywell too.
Thursday's post was my review of The Story Keeper by Anna Mazzola.
Friday brought a guest post by Jenni Keer, author of The Hopes and Dreams of Lucy Baker, about how Scratbag the cat forced his way into her book.
On Saturday, I posted my review of Puzzle Girl by Rachael Featherstone, along with an extract from the beginning of the book.
And finally, this morning I posted my review of The Liar's Girl by Catherine Ryan Howard.
---
So, it's been a quiet week for book acquisitions, which is just as well after the previous couple of weeks had been bumper ones. There seems to be a slight theme of lies going on too.
New beginnings. Old secrets.
Theo and Pilar. The perfect couple.

Successful, beautiful and very much in love.
Until a year ago – and the tragedy that nearly tore them apart.
When their baby died, a part of them died with him.
Now they're trying to rebuild themselves, moving to a stunning house in rural Cornwall.
But someone knows all their secrets – and will stop at nothing to disturb their fragile peace.

Theo and Pilar are about to learn that you can try to hide – but you can never outrun your past.

A unputdownable, gripping psychological thriller that will hook you until the final shocking twist. Fans of The Girl on the Train, Behind Closed Doors and The Wife Between Us will be captivated.
THE TWISTY NEW PSYCHOLOGICAL THRILLER FROM THE BESTSELLING AUTHOR OF AFTER ANNA, KILLING KATE AND COPYCAT

Everyone lies…but some lies are deadly.

For Claire Daniels, life is good. She has everything she's ever wanted – a career she loves, friends she can rely on and a husband who dotes on her. All she needs is to start a family of her own and things will be even better than good.

They'll be perfect.

For Alfie, it couldn't be more different. His life with Claire is built on a lie. A lot of lies. And she can never find out.

Because Alfie has plans for her. Plans which must never come to light. But lies have a way of taking on a life of their own, and when his do, the consequences threaten to destroy everything.

For him and Claire.
Have you ever wanted to steal someone else's life?

A compulsive, dark domestic noir novel simmering with Hitchcockian undertones, for those who loved LULLABY, KILLING EVE or THE CRY. 

'Unsettling and compelling' Tammy Cohen

'Laura Sims has pulled off the high-wire act of making bitterness delicious' Vogue

The Professor lives in Brooklyn; her partner Nathan left her when she couldn't have a baby. All she has now is her dead-end teaching job, her ramshackle apartment, and Nathan's old moggy, Cat. Who she doesn't even like.

The Actress lives a few doors down. She's famous and beautiful, with auburn hair, perfect skin, a lovely smile. She's got children – a baby, even. And a husband who seems to adore her. She leaves her windows open, even at night.

There's no harm, the Professor thinks, in looking in through the illuminated glass at that shiny, happy family, fantasizing about them, drawing ever closer to the actress herself. Or is there?
I'm slightly obsessed with Mary Poppins at the moment since going to see the new film, Mary Poppins Returns. So I couldn't resist this little beauty, an illustrated edition of the book by P.L. Travers.
An exquisite edition of an iconic classic, illustrated by the current Waterstones Children's Laureate, Lauren Child.

When Mary Poppins arrives at their house on a gust of the East Wind and slides up the bannister, Jane and Michael Banks's lives are turned magically upside down.

Who better to reimagine this endearing children's classic than today's most instantly recognisable and best-loved artist-illustrator? Lauren Child brings the magic of Mary Poppins into the hearts and imagination of readers and fans new and old.

First published in 1934, Mary Poppins has been delighting readers ever since, both in books and on film. This stunning edition is published ahead of the release of the hotly anticipated Disney film Mary Poppins Returns.
Foxes are my favourite animal so again, another book I just couldn't resist is Gaspard the Fox by Zeb Soanes and illustrated by James Mayhew.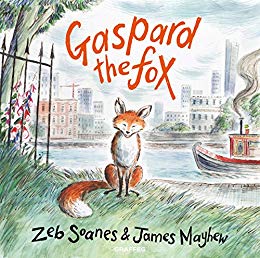 Zeb grew-up in the British seaside town of Lowestoft surrounded by animals; at one time he had three dogs, two cats, hamsters, guinea pigs, rabbits, goldfish and a tortoise named Fred that he was given for his third birthday. Fred is still very much alive (tortoises live a VERY long time). Zeb now lives in London and is a familiar voice on BBC Radio and Television. Grown-ups eat their breakfast whilst he reads the news on BBC Radio 4 (Peter the Cat's favourite radio station) or hear him when they're tucked-up in bed, listening to The Shipping Forecast which keeps boats safe at sea. Zeb is a presenter for the BBC Proms and narrates popular orchestral works for children including Peter and the Wolf, Roald Dahl's Little Red Riding Hood, The Snowman and Paddington.

One evening a little fox appeared outside his home. It was magical to meet a wild animal right in the middle of the city. It returned again the next night and the night after and everyone agreed it was the handsomest fox in London. Zeb began to write about its adventures and now people all over the world send messages to Gaspard. What would you ask a little fox if you met one outside your front door?