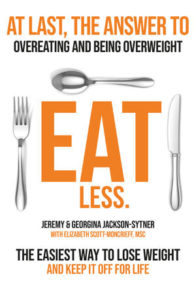 ShortBookandScribes – #BookReview – Eat Less by Jeremy and Georgina Jackson-Sytner @UrbaneBooks #Lovebooksgrouptours #BlogTour
I don't review very much non-fiction but this one caught my eye and, as I'm sure you will agree, just after the Christmas excess is the perfect time to read a book like this. My thanks to Urbane for the review copy and Kelly Lacey from Love Books Group Tours for the place on the tour.
Eat Less is a revolutionary book designed to help people lose weight and maintain a healthy weight for life. 

Eat Less is NOT a diet book. It doesn't read like a diet book or look like a diet book. Eat Less is an anti-obesity manifesto.

Eat Less is stuffed with bite-sized nuggets of information on the benefits of eating less, advice on what to eat less of, and much more. Informative and motivational, the underlying message is very serious, but the manner in which it delivers those messages is never preachy and easily digestible. Eat Less offers practical advice on the life-changing benefits that simply eating less food can bring. 

Eat Less really works. The authors are living proof that the habit-changing lifestyle they set out could help millions of people easily get to a healthy weight and maintain it for life.
Obesity rates have doubled over the past two decades, and 63% of UK adults are overweight, according to the OECD.
Full PR campaign, including national newspaper coverage and TV appearances already confirmed
---

Eat Less is billed not as a diet book or plan but as an anti-obesity manifesto. I'd agree with that. It doesn't offer eating plans or calorie information or anything like that, although it does give an example of ideal food for a week. What it does offer is a whole host of interesting facts, many of which, when I thought about it, I already knew or were obvious, but often they're things that we don't think about in relation to ourselves. We all know sugar is bad for us but that doesn't stop us eating it. Certainly, reading this book made me think.
I love the way the book is set out. It's a handy sized paperback, with an orange, black and white theme. There are a lot of great illustrations and there's a slightly tongue in cheek style to the whole book, but it really works. It's all clearly set out, with nice, easy to follow sections and there isn't too much information thrown at the readerso I didn't lose interest in each section.
I was very pleased to see a page that says tea is good for you (whatever colour) as I do love a good cup of Yorkshire tea. There's also quite a focus on fasting being good for you which I don't doubt, although when I had a go at it I gave up by lunchtime! I think it needed better planning.
There's also practical information about how the body works, how it digests food, and how the chemicals in our brains affect us and our eating.
I found myself nodding along whilst reading this book and thinking it made such a lot of sense. It really is about changing your way of life and your whole ethos surrounding food, rather than just thinking you can cut the calories and lose weight (which works for me in the short term but in the long term I put back on all I lose and more). I'm not saying this is a miracle cure to obesity as it's not, it's something you need to work at and be fully on board with, but as an anti-obesity manifesto I think it's got a lot of merit.
---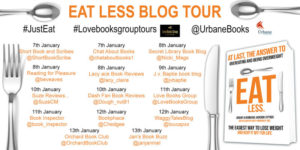 ---

Following a long career as an advertising creative, Jeremy has turned a lifelong fascination with food, diets and eating into a personal mission. Eat Less is Jeremy's and wife Georgina's impassioned attempt to get people everywhere to think more about what they eat and how they eat. The inspiration for this book came soon after he lost 2 stone in weight, simply by eating less and removing sugar and grain from his diet. Georgina is a certified group fitness instructor and runs regular mobile exercise classes in Battersea Park. Alongside this, she has developed a formula to help individuals lose weight, using a tailored weight loss management service and offering customised eating plans.