ShortBookandScribes #BookReview + Extract from Puzzle Girl by Rachael Featherstone @WRITERachael @DomePress #BlogTour
I'm absolutely over the moon to be reviewing this fabulous book today. It caught my eye last year when the ebook was released and so I jumped at the chance to review for the publication of the paperback this week. Congratulations, Rachael! My thanks to Emily Glenister from Dome Press for the review copy and the place on the tour.
---

Love is a riddle, waiting to be solved…

Clued-up career girl Cassy Brookes has life under control until one disastrous morning changes everything. When she finds herself stuck in a doctor's surgery, a cryptic message left in a crossword magazine sends her on a search to find the mysterious puzzle-man behind it.

Cassy is soon torn between tracking down her elusive dream guy, and outwitting her nightmare workmate, the devious Martin. Facing a puzzling love-life, will she ever be able to fit the pieces together and discover the truth behind this enigmatic man?
Or support your high street with Hive.
---
Right, I'm just going to say this……….I love, love, love, LOVE this book! The end.
Oh, you want a bit more? Well, I was immediately intrigued by the idea of Cassy Brookes solving the puzzle of who the man leaving her cryptic clues in a magazine is. And I totally understood her mission to find him. After her seven year relationship with Seph ends she's entranced by the idea of this someone who might just be on her wavelength. Cassy loves puzzles and cryptic crosswords herself, you see.
I loved Cassy. In true romance style, she's one of those heroines who seems to lurch from one disaster to another. At times I wanted to reach into the book and grab hold of her and tell her to open her eyes (number 1) and stop being a divvy (number 2). But she's hugely likeable in all her anxiety-ridden glory.
She works at a design agency, chasing promotion along with her arch enemy, Martin. Then there's her best friend, Dan, and work colleague, Sofia, who make up the main cast of characters. Each one is so well-written, so well-formed. Dan is great, full of witty one-liners and him and Cassy make quite the double act. She even manages to rope him into some of her more crazy ideas to try and track down 'Puzzle Man' and teach Martin a lesson.
I laughed a lot whilst reading Puzzle Girl, mainly at Cassy's antics. But it also has its serious side as it looks at anxiety, desire to succeed, loneliness, and it's also such a heart-warming story with the sweetest ending. It really has it all going on.
Rachael Featherstone is a fantastic writer and I'm really looking forward to what she comes up with next. The story in Puzzle Girl is unique, intelligent and clever and I honestly struggled to put it down. It's a total joy.
---

PUZZLE GIRL – EXTRACT ONE

I am definitely not late. However, I am significantly behind schedule and consequently have successfully missed my regular DLR train, my backup DLR train and my backup, backup DLR train. That said, the DLR seems to be running behind schedule as well, with trains every fifteen minutes rather than every seven, so it's not entirely my fault that my pocket-sized journey planner is looking like it would have been more useful as toilet paper.

The DLR platform is lined with businessmen and women, most tapping away frantically on smartphones and looking a little impatient. The board has said the next train will be arriving in three minutes for the past ten minutes and I can feel my leg beginning to twitch. Soon I really will be late. It's not long before the marketing manager in me takes over and I find myself cross-examining each billboard ad in turn. The latest film whose title catches the eye brilliantly. The Richard and Judy book club selection that uses its patron's stamp of approval so effortlessly. Then I reach an empty billboard and my mind goes into overdrive thinking about what I would advertise on it.

A good piece of brand advertising lasts a lifetime, that's what Mr Samuel always says. 'Keep Calm and Carry On' is a prime example. Does it only make people remember the Second World War posters? No. Why? Because it resonates with people today. Now we all have our own personal version of the Keep Calm family. Mine's easy: 'Keep Calm and Do a Puzzle.'

The red and blue train draws into the platform; the brakes let out a loud, piercing screech. I walk into the front carriage and sit in the front row, by the window. The same as every weekday morning. The same as I did the very first time I got on a DLR train with my gran at the age of five.

A small burst of excitement still erupts in my stomach as I sit in the 'driver's seat' of the DLR. I remember the first time I saw the Passenger Service Agent open the control box, the buttons reminded me of Liquorice Allsorts but I couldn't understand why there was no steering wheel.

The other commuters pile on behind me. Many are trying to juggle their morning coffee in one hand and the Financial Times in the other while also holding on to one of the aqua-blue hand rails. Most of the women are wearing trainers and have shoe-carrying-enabled handbags. Some are even applying make-up as the carriage jolts up and down sporadically, a skill I wish I had. For England, it's a pretty nice morning, but for mid-August it's fairly underwhelming. Nevertheless, inside this now sardine-packed carriage the temperature is rapidly approaching 'surface-of-the-sun.'

The next station is Canning Town. Change here for the Jubilee Line.

It still bemuses me that so many people choose to live close to Canary Wharf and then commute into the City. Why would they choose to live in the middle of a sterile, colourless nowhere only to commute into the culture-filled city that is London?

Obviously I am one of those people. But I did have a reason to move east. The law firm Seph works for is based right in the sterile heart of Canary Wharf. But I have to admit, even though Seph's gone, I don't want to move. Living by the London Excel Centre has been a lot better than I expected. It's an up-and-coming area. It's even got its own little Tesco Metro now. And it's also cheap enough for Dan to rent the flat opposite. It's like we're in Friends! He's like a mixture of Joey and Chandler. I'm Monica except, instead of being a chef, I'm a marketing strategist and, instead of cleaning, I make lists. I'm forever making lists, they help me to focus and prioritise.

The next station is East India

A voice comes through the speakers to let us know we are going to be sat here for a couple of minutes and within seconds my leg is twitching. I stare at the winding tracks ahead as if somehow, if I stare hard enough, I can magically make the train move. I decide to look over my notes to take my mind off the time.

I unzip my bag and pull out my note –

Oh my God, I've forgotten my notebook!

This cannot be happening. Not only have I never gone a day since secondary school without a notebook, today of all days I really, really need it!
I hope you enjoyed this extract. It not only sets the scene, but also gives a first insight into the way Cassy's mind works.
---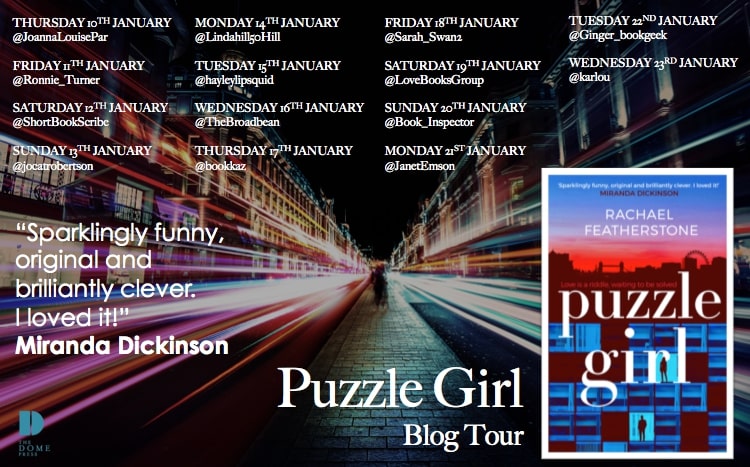 ---

Rachael Featherstone was born and raised in Woodford. Her path to writing was a little
unorthodox. After reading Mathematics at Oxford University, New College, Rachael went
to work in research.
When Rachael's mother was diagnosed with terminal cancer in 2012, Rachael decided to
take a chance, quit her job, and fulfill a lifetime ambition to write a novel. She went back to university and completed a Masters in English Literature and had several short stories
published.
Rachael now lives in Hampshire with her husband and daughter.
Puzzle Girl was published by the Dome Press in ebook in August 2018 and in paperback in
January 2019.