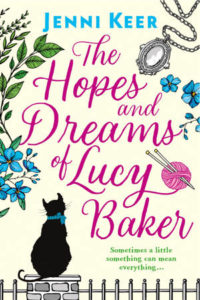 ShortBookandScribes #BlogTour #GuestPost by Jenni Keer, Author of The Hopes and Dreams of Lucy Baker @JenniKeer @rararesources #Giveaway
Welcome to my stop on the blog tour for The Hopes and Dreams of Lucy Baker by Jenni Keer. Hasn't this book got a pretty cover? Jenni has very kindly written a guest post for me to share with you today about how Scratbag the cat in the story pushed his way in to the book. My thanks to Rachel Gilbey from Rachel's Random Resources for the place on the tour.
---
Meet Lucy, aged 25, and Brenda, aged 79. Neighbours and unlikely friends.

Lucy Baker is not your usual 25-year-old. She is more at home reading and knitting in her cluttered little flat than going out partying and socialising.

79-year-old Brenda is full of wise and wonderful advice, but when she's diagnosed with dementia her life begins to change. Before her memories slip away for ever, Brenda is desperate to fulfil one last wish – to see Lucy happy.

Gifting Lucy the locket that helped Brenda find her own true love, she hopes to push her reticent neighbour in the right direction. But is Lucy Baker ready for the opportunities and heartbreaks of the real world? It's about time she put her knitting needles aside and found out…

The Hopes and Dreams of Lucy Baker will be the most charming, heart-warming and feel-good novel you will read this year, perfect for fans of Ruth Hogan and Gail Honeyman.
Purchase Links
---
How Scratbag Pushed His Way into my Book by Jenni Keer)
Let me first establish something – I'm a dog person – yet I currently have three cats and have never owned a dog in my life. To me, this sums up cats and how they operate. They are clever and they are manipulative. Before you know it you have a house-full of these feline creatures and somehow they have completely stolen your heart.
About fifteen years ago, I accidentally acquired a cat. I say accidentally but the truth was my softie of a husband rescued it, despite the fact I was severely allergic. The night Heathcliff came to live with us I couldn't even open my gummed-up eyes to make dinner. But over the following months, my body adapted and, although I occasionally popped an antihistamine, my body realised the cat was there to stay. Heathcliff was to be the first of six cats – three of which we still have. So I guess it was inevitable that cats would feature in some of my novels.
One of the undoubted stars of The Hopes and Dreams of Lucy Baker is Scratbag – the stray cat that appears on the very first page of the book and who incidentally gets the very last line. When I originally planned this story, I knew it would revolve around a silver locket and an inter-generational friendship, but there wasn't a playful cat paw in sight. Brenda Pethybridge, a key character and Lucy Baker's elderly best friend, is slightly white-witchy and we all know which member of the animal kingdom they are rarely without… So before I knew it, Scratbag had wormed his way into my imagination, demanding a part in the tale. Perversely, he decided (because authors have far less say over how their characters behave than you'd think) not to move in with Brenda but had very different ideas about his role in the lives of the people of Lancaster Road. To tell you exactly what he gets up to would be giving plot spoilers, so I'll say no more.
I loved writing Scratbag and loosely based him on Billy, a black cat we lost a couple of years ago to old age. Like Scratbag, I always had the feeling Billy knew more than he should as his beady little eyes followed me around the room. He had a spooky way of anticipating my husband was nearly home before he even pulled up onto the drive and a sixth sense when anyone felt unhappy – jumping onto our laps and offering succour. Dogs look at you and all you see is adoration. Cats look into you and you can't help but suspect they know your deepest, darkest thoughts.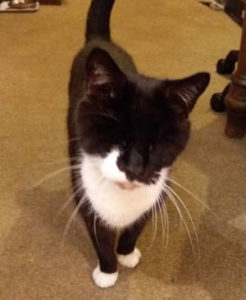 They say write what you know so cats will continue to pop up in my stories and I suspect one of our cats in particular will soon have his own leading role. Anyone who follows me on social media will know I own a #Blindcat. Seymour is a healthy eight-year-old, inquisitive, rescue tom cat who had his eyes removed a couple of years ago. Despite initially being advised to keep him as a house-cat, he refused to be confined. He has access to the outside world but sensibly remains in our garden, happily chasing leaves (yes – really) or hanging out the washing with me – although, with no opposable thumbs this is purely a supervisory role. Undeterred by his disability, he regularly play-fights with our teenage cat Boo-Boo, pushes in first at feeding time and frequently demands to be groomed by sticking his big, fat, blind head under the noses of our other cats.
Seymour likes to be where his humans are – even if he has to climb a fence to get to them. He is an adventurer and a hero. He doesn't feel sorry for himself, he just gets on with life. I admire the way he trusts the path ahead will be clear (it isn't always) and has leaned to meow or paw at us to get our attention. This remarkable cat is a daily reminder that life is for living, whatever is thrown your way. And although you shouldn't have favourites, I'm afraid I do.
So I am now a cat-convert. They are independent, self-exercising, self-toileting, supercilious creatures who fill your lives with love – albeit on their terms. I wouldn't be without a cat, especially as I spend so many of my days devoid of human contact, tapping away at the keyboard in my draughty study. Seymour reminds me daily, as he snuggles up next to me when I'm working, that furry felines make a house a home. And there is a certain character in The Hopes and Dreams of Lucy Baker who also has this lesson to learn…
Thank you so much, Jenni. I'm a cat person myself and our cat, Freddie, is a former stray who just decided to adopt us. Seymour is gorgeous and sounds like an amazing character!
---

Prize contains – Thornton's fudge, a Nu notebook, a Hopes and Dreams bookmark and a set of five "Scratbag" blank greetings cards designed by Jenni Keer
*Terms and Conditions –UK entries welcome. Please enter using the Rafflecopter box below. The winner will be selected at random via Rafflecopter from all valid entries and will be notified by Twitter and/or email. If no response is received within 7 days then the giveaway organiser reserves the right to select an alternative winner. Open to all entrants aged 18 or over. Any personal data given as part of the competition entry is used for this purpose only and will not be shared with third parties, with the exception of the winners' information. This will be collected by the giveaway organiser and used only for fulfilment of the prize. I do not collect any data and I am not responsible for dispatch or delivery of the prize.
---

---

Jenni Keer is a history graduate who embarked on a career in contract flooring before settling in the middle of the Suffolk countryside with her antique furniture restorer husband. She has valiantly attempted to master the ancient art of housework but with four teenage boys in the house it remains a mystery. Instead, she spends her time at the keyboard writing women's fiction to combat the testosterone-fuelled atmosphere with her number one fan #Blindcat by her side. Much younger in her head than she is on paper, she adores any excuse for fancy-dress and is part of a disco formation dance team.