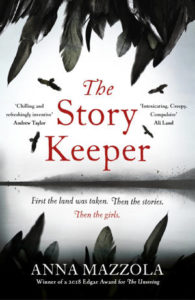 ShortBookandScribes Paperback #PublicationDay #BookReview – The Story Keeper by Anna Mazzola @Anna_Mazz @TinderPress #BlogTour #RandomThingsTours
I'm delighted to be reviewing The Story Keeper by Anna Mazzola today, especially as it's paperback publication day! Congratulations, Anna! It's a book I've had for a while and knew I would like so I'm glad I've finally got around to reading it. My thanks to Anne Cater of Random Things Tours for the place on the tour.
---
Audrey Hart is on the Isle of Skye to collect the folk and fairy tales of the people and communities around her. It is 1857 and the Highland Clearances have left devastation and poverty, and a community riven by fear. The crofters are suspicious and hostile to a stranger, claiming they no longer know their fireside stories.

Then Audrey discovers the body of a young girl washed up on the beach and the crofters reveal that it is only a matter of weeks since another girl disappeared. They believe the girls are the victims of the restless dead: spirits who take the form of birds.

Initially, Audrey is sure the girls are being abducted, but as events accumulate she begins to wonder if something else is at work. Something which may be linked to the death of her own mother, many years before.
---

I love books set on islands, especially Scottish islands, so The Story Keeper had a massive appeal for me immediately based purely on the setting of the Isle of Skye. It's an island I have been to so I was able to visualise the places referred to in the story which was an added bonus.
I find myself more drawn to historical fiction these days than ever before and when it's as wonderful, as well-written and as absorbing as this then I know I've made the right reading choice.
We follow Audrey Hart as she leaves her home in London in 1857 and travels to Skye to help Miss Buchanan of Lanerly Hall in her collection of forklore. She has a special connection to the fairy and folk tales as her mother had also been a collector. But darker forces are at work as young girls start to go missing and the lines between fact and fiction start to blur. Are spirits taking the girls or is it the work of a malevolent human?
Right from the start this is a book that is oozing with atmosphere. There's a claustrophobic island feel to it, especially with Audrey being an incomer. The locals are suspicious of her and she finds it hard to get them to share their traditional stories with her. I admired Audrey's determination and her strength in her pursuit of the tales, in fact I liked her as a character very much.
I found there to be a really strong sense of place throughout. The Highland clearances have just taken place where people were forced out of their homes and left with nothing. It's quite a sad sort of a story and it really burrowed its way into the heart of me. I thought the whole book was utterly fascinating really, so original, so interesting and compelling.
The ending was a surprise, with two developments that I never saw coming, one of which I wished hadn't happened and one which I thought was a lovely turn of events. I closed the book with a sense of satisfaction at having read a truly fabulous story.  Anna Mazzola's writing is evocative and lyrical and she has produced something truly special in The Story Keeper.
---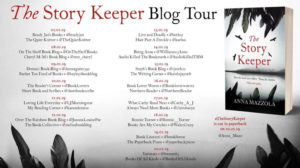 ---

Anna is a writer who, due to some fault of her parents, is drawn to peculiar and dark historical subjects. Her novels have been described as literary crime fiction or historical crime. Anna's influences include Sarah Waters, Daphne Du Maurier, Shirley Jackson and Margaret Atwood.
Her debut novel, The Unseeing, is based on the life of a real woman called Sarah Gale who was convicted of aiding a murder in London in 1837. Her second novel, The Story Keeper, follows a folklorist's assistant as she searches out dark fairytales and stolen girls on the Isle of Skye in 1857.
She studied English at Pembroke College, Oxford, before becoming a human rights and criminal justice solicitor. She now tries to combine law with writing and child wrangling, to varying degrees of success.
Anna loves to hear from readers, so do say hello on social media or via her website.