Seven Day Spotlight – w/e 11/02/18
Hi and welcome to this week's Seven Day Spotlight post. This is where I post a reminder of the week's posts on my blog and tell you all about additions to my TBR pile, including some fantastic book post.
I've posted 6 times this week:
First up, on Monday, was a great Q&A with Olly Jarvis, author of legal thriller, Unconvicted.
Rachel Lynch, author of Dark Game, was my guest on Tuesday with a guest post about her book journey.
On Thursday, I reviewed the amazing and complex The Seven Deaths of Evelyn Hardcastle by Stuart Turton.
Friday brought my review of the adorable Spring at Lavender Bay by Sarah Bennett. There's still a giveaway running on that post which you just have time to enter (and it's a good 'un).
On Saturday, Maddie Please was my guest, talking about setting and A Year of New Adventures.
And finally, today I posted my review of The Mother's Secret by Clare Swatman, which I found to be a compelling and easy read.
---
Additions to my TBR pile:
Her Dark Retreat by J.A. Baker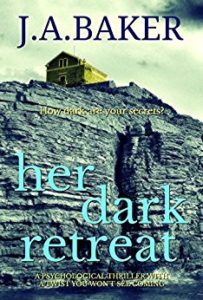 The coastguard's residence Chamber Cottage, which sits high up on the North Yorkshire cliffs, overlooking The North Sea, holds many dark secrets.

Alec and Peggy are struggling to overcome their marital problems. Both damaged by issues from their childhoods, they are trying to get on with their lives. But this is hard for them to do when they both believe they are being watched. As a result, Peggy, who has terrible scars on her face, becomes more agoraphobic.

To make matters worse, Peggy discovers her estranged mother is stalking both she and Alec, claiming she has a dark secret that is putting Peggy in danger.

What caused the scars on Peggy's face? Is Alec really the monster Peggy's mother believes him to be? And what secrets does Chamber Cottage hold?
Meet Me at the Museum by Anne Youngson
Sometimes it takes a stranger to know you

When Tina Hopgood writes a letter of regret to a man she has never met, she doesn't expect a reply.

When Anders Larsen, a lonely museum curator, answers it, nor does he.

They're both searching for something, they just don't know it yet.

Anders has lost his wife, along with his hopes and dreams for the future. Tina is trapped in a marriage she doesn't remember choosing.

Slowly their correspondence blossoms as they bare their soul to each other with stories of joy, anguish and discovery. But then Tina's letters suddenly cease, and Anders is thrown into despair.

Can their unexpected friendship survive?
A hot beach. A young family on holiday. A fatal moment of inattention…

And now Dave Jepsom is in their lives.

Dave Jepsom, with his muscles, his pale eyes, his expressionless face.

He saved their child. How can they ever repay him? Especially as what he seems to want in return is everything.

He's in the streets they walk down. He's at the office where they work. He's at their front door, leaning on the bell…

If only they could go back. Back to when the lies were still hidden. Before the holiday, before the beach, before the moment that changed everything.

Before Dave.

But it's never how it starts that matters. It's always how it ends.
We Were the Salt of the Sea by Roxanne Bouchard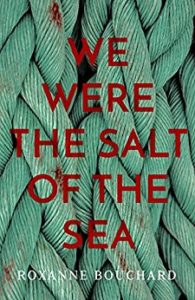 As Montrealer Catherine Day sets foot in a remote fishing village and starts asking around about her birth mother, the body of a woman dredges up in a fisherman's nets. Not just any woman, though: Marie Garant, an elusive, nomadic sailor and unbridled beauty who once tied many a man's heart in knots. Detective Sergeant Joaquin Morales, newly drafted to the area from the suburbs of Montreal, barely has time to unpack his suitcase before he's thrown into the deep end of the investigation. On Quebec's outlying Gaspé Peninsula, the truth can be slippery, especially down on the fishermen's wharves. Interviews drift into idle chit-chat, evidence floats off with the tide and the truth lingers in murky waters. It's enough to make DS Morales reach straight for a large whisky… Both a dark and consuming crime thriller and a lyrical, poetic ode to the sea, We Were the Salt of the Sea is a stunning, page-turning novel, from one of the most exciting new names in crime fiction.
Summer in San Remo by Evonne Wareham
Anything could happen when you spend summer in San Remo … 
Running her busy concierge service usually keeps Cassie Travers fully occupied. But when a new client offers her the strangest commission she's ever handled she suddenly finds herself on the cusp of an Italian adventure, with a man she thought she would never see again.
Jake McQuire has returned from the States to his family-run detective agency. When old flame Cassie appears in need of help with her mysterious client, who better than Jake to step in?
Events take the pair across Europe to a luxurious villa on the Italian Riviera. There, Cassie finds that the mystery she pursues pales into insignificance, when compared to another discovery made along the way …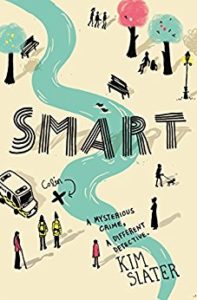 'I found Jean's friend dead in the river. His name was Colin Kirk. He was a homeless man, but he still wanted to live.'

There's been a murder, but the police don't care. It was only a homeless old man after all.

Kieran cares. He's made a promise, and when you say something out loud, that means you're going to do it, for real. He's going to find out what really happened. To Colin. And to his grandma, who just stopped coming round one day. It's a good job Kieran's a master of observation, and knows all the detective tricks of the trade.

But being a detective is difficult when you're Kieran Woods. When you're amazing at drawing but terrible at fitting in. And when there are dangerous secrets everywhere, not just outside, but under your own roof.
Tell Me I'm Wrong by Adam Croft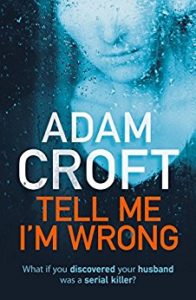 What if you discovered your husband was a serial killer?

Megan Miller is an ordinary woman with a young family — until a shocking discovery shatters her perfect world.

When two young boys are brutally murdered in their tight-knit village community, Megan slowly begins to realise the signs all point to the lovable local primary school teacher — her husband.

But when she begins to delve deeper into her husband's secret life, she makes discoveries that will make her question everything she knows — and make her fear for her young daughter's life.

Facing an impossible decision, she is desperate to uncover the truth. But once you know something, it can't be unknown. And the more she learns, the more she wishes she never knew anything at all…
The Curious Heart of Ailsa Rae by Stephanie Butland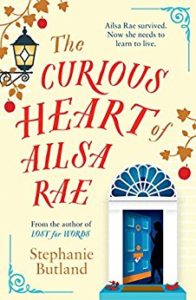 Ailsa Rae is learning how to live.

She's only a few months past the heart transplant that – just in time – saved her life. Life should be a joyful adventure. But . . .

Her relationship with her mother is at breaking point and she wants to find her father.
Have her friends left her behind?
And she's felt so helpless for so long that she's let polls on her blog make her decisions for her. She barely knows where to start on her own.

Then there's Lennox. Her best friend and one time lover. He was sick too. He didn't make it. And now she's supposed to face all of this without him.

But her new heart is a bold heart. 

She just needs to learn to listen to it . . .
When Dad Became Joan: Life With My Transgender Father by Cath Lloyd
In 1987, Cath Lloyd's father made the shocking confession that he was a transsexual and wished to become a woman.

Although she wanted to be supportive, Cath didn't want to lose her dad, and it was hard to accept his decision. In those days, asking for help wasn't the norm, and gender issues like this were swept under the carpet. Throughout the years of emotional, conflicting and tormenting thought processes, Cath wondered if life was ever going to feel normal again.

We all have a story about coming to terms with change, whether this is transgender reassignment, separation, divorce, loss, grief, illness, disability or living through another trauma. As we live through our story, we do the best we can with the strategies we have at our disposal. Sometimes these are not enough and we have to search long and hard to find alternatives.

That's where Cath's book will help you. She shares 7 of the strategies that helped with her family challenges. These can support you too, whatever difficulties you're facing in your life.

With self-help tools that focus on topics like your values, self-honesty and positivity, you'll develop a plan of action to support you through the difficult times. This will help you to understand, acknowledge, and accept what needs to happen to move forward and live your new normal. These strategies are those which Cath uses now with her clients as a life style change and stress relief life coach.
1956
It's Ellen Crosby's first day as a student nurse at Ambergate County Lunatic Asylum. When she meets a young woman committed by her father, and a pioneering physician keen to try out the various 'cures' for mental illness, little does Ellen know that a choice she will make is to change all their lives for ever…

2006
Sarah is drawn to the abandoned Ambergate Asylum. Whilst exploring the old corridors she discovers a suitcase belonging to a female patient who was admitted fifty years earlier. The shocking contents lead Sarah to unravel a forgotten story of tragedy, lost love and an old wrong that only she may have the power to put right . . .
Cross Her Heart by Sarah Pinborough
'Cross my heart and hope to die…'

Promises only last if you trust each other, but what if one of you is hiding something?

A secret no one could ever guess.

Someone is living a lie.

Is it Lisa?

Maybe it's her daughter, Ava.

Or could it be her best friend, Marilyn?

Cross Her Heart publishes Spring 2018. You'll just have to wait to find out…
Somebody I Used to Know by Wendy Mitchell
Brave, illuminating and inspiring, Somebody I Used to Know is the first memoir ever written by someone living with dementia.

What do you lose when you lose your memories? What do you value when this loss reframes how you've lived, and how you will live in the future? How do you conceive of love when you can no longer recognise those who are supposed to mean the most to you?

When she was diagnosed with dementia at the age of fifty-eight, Wendy Mitchell was confronted with the most profound questions about life and identity. All at once, she had to say goodbye to the woman she used to be. Her demanding career in the NHS, her ability to drive, cook and run – the various shades of her independence – were suddenly gone.

Philosophical, profoundly moving, insightful and ultimately full of hope, Somebody I Used to Know gets to the very heart of what it means to be human. A phenomenal memoir – the first of its kind – it is both a heart-rending tribute to the woman Wendy once was, and a brave affirmation of the woman dementia has seen her become.
My Mother's Secret by Sanjida Kay
Your mother has a secret.

Do you really want to know what it is?

Lizzie Bradshaw. A student from the Lake District, forced to work away from home, who witnesses a terrible crime. But who will ultimately pay the price?

Emma Taylor. A mother, a wife, and a woman with a dangerous secret. Can she keep her beloved family safely together?

Stella Taylor. A disaffected teenager, determined to discover what her mother is hiding. But how far will she go to uncover the truth?

And one man, powerful, manipulative and cunning, who controls all their destinies.
In The Wake by Helen Trevorrow
When a body is found floating in London's Royal Albert Dock, successful public relations expert Kay Christie is sent to quiet the media, but things get complicated when it emerges that she knew the victim.

As events spiral out of control, Kay discovers that those close to her may be harbouring another secret – the story of a missing girl. Can Kay discover the truth before her life unravels and she risks losing everything?

In the Wake questions whether we can ever truly leave our pasts behind and explores the lengths that we will go to protect the people that we love.
Pen to Paper – Frecheville Writers' Anthology (This is a writers group at my local, volunteer run, library.)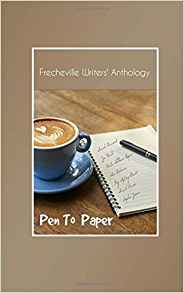 There are so many stories in here. Some true, some conjured up by vivid imaginations and others that can be anything you want them to be… A collection of stories and poems from the Frecheville Library Writers' Group covering everything from romance and drama to sci-fi and comedy. All proceeds from the sale of this book will go to Frecheville Library and Learning Centre, which is completely run by volunteers.
Hold My Hand by M.J. Ford – I received this ahead of the blog tour and took a little video because this is such clever publicity from Sabah Khan at Avon Books (turn up the sound).
How long do you hunt for the missing?

A horrible vanishing act…

When a young Josie Masters sees a boy wearing a red football shirt, Dylan Jones, being taken by a clown at a carnival, she tries to alert the crowds. But it's too late. Dylan has disappeared…

Thirty years later, Josie is working as a police officer in Bath. The remains of the body of a child have been found – complete with tatters of a torn red football shirt. Is it the boy she saw vanish in the clutches of the clown? Or is it someone else altogether?

And then another child disappears…