#bookreview – The Mother's Secret by Clare Swatman @clareswatman @panmacmillan #blogtour
I'm pleased to be posting today as part of the blog tour for The Mother's Secret by Clare Swatman. I'd like to thank the author and Rosie Wilson from Pan Macmillan for asking me to be a part of it and for the review copy c/o Netgalley.
I'm reviewing the book further down this post but shall we see what the book is about first?
The Mother's Secret is a powerful story about family, secrets and devastating lies

Love keeps us together

Sisters Kate and Georgie have always shared a close bond. While Kate enjoyed the freedoms of youth, Georgie remained at home. But now Georgie is grown up, it's time she started exploring.

Love can tear us apart

Their mother Jan loves her daughters with all her heart. So what if she kept them out of sight when they were young? She just cared for them so much. She wanted to protect them.

What if your life was based on a lie?

Maybe there was another reason for Jan's protective behaviour? If they ventured too far afield, it might destroy the facade of their childhood. This family's about to discover that while lies can cause pain, the truth could destroy them all.
You can get your own copy from 22nd February in ebook and paperback.
---

The Mother's Secret is a compelling read, about a secret that blows a family apart. Kate and Georgie are sisters in their late 30s. They grew up with their mother, Jan, their father having died when Kate was small and Georgie not even born yet. Whilst they knew their mother was overprotective, they never really thought anything much of it. It was just the way it was. But Georgie discovers something that puts a new slant on everything she's ever known.
At the beginning I didn't want put this book down. There was a point when I knew Georgie was going to make a momentous discovery and, very frustratingly, I did have to put the book down. That delicious secret had to wait. I have to say though, that it was not an unexpected turn of events, but still quite exciting to be with Georgie at this time.
We follow Georgie as she tries to come to terms with what she has learned about her past. Jan is becoming ill and is not stable and this adds to Georgie's distress as she cannot discuss matters with her in a rational manner and get the answers she needs.
I really liked Georgie's character. It's very much her story, although we look back at Jan's story and another character also has a spotlight (I won't say who as that would give it all away). I did think that there were threads that might have been explored further, in particular with relation to this other character, and I was half-expecting a bit of a twist there. I also think the author missed a trick in not telling us anything particularly new in these other characters' sections.
Overall I thought this was a good read and a very easy one which I raced through. It's really a family saga, a look at how secrets and lies can eat people up. I enjoyed it.
---

---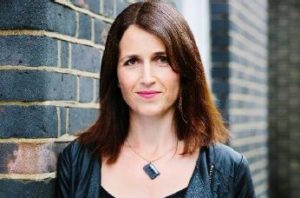 Clare Swatman is a journalist for a number of weekly women's magazines. The Mother's Secret is her second novel. Clare was Features Editor for Bella and has written for Best, Woman's Own and Real People. When not working on her next novel, she also writes for her local magazine as well as the travel pages for Take a Break. Clare lives in Hertfordshire with her husband and two boys.