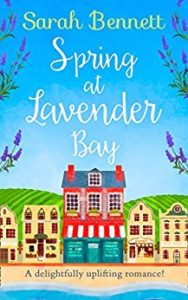 #bookreview – Spring at Lavender Bay by Sarah Bennett @Sarahlou_writes @NeverlandBT #blogtour #giveaway
I'm so pleased to be taking part in the blog tour today for Spring at Lavender Bay by Sarah Bennett, which is a really charming and lovely read. Thank you to Jenny from Neverland Blog Tours for the place on the tour and to the publishers for providing a review copy.
Read on for my review and a fantastic giveaway, but first, here's what the book is about:

A season for change…?

Beth Reynolds loved growing up close to Eleanor's Emporium – a bric-a-brac shop full of wonders on Lavender Bay. Devastated to learn that Eleanor has died, she returns home from London immediately and is shocked to discover that the elderly lady has left the shop to her!

Vowing to restore it to its former glory, she only intends to stay until the end of the season. Although the longer she spends in the colourful seaside town, the more she falls back in love with everything she left behind…and quite possibly, with her best friend Eliza's older brother, local chef Sam Barnes!

Why didn't she notice he was quite this gorgeous before? And will their spring fling be enough to convince her to stay?

Don't miss Spring at Lavender Bay, the first book in the enchanting Lavender Bay trilogy! Perfect for fans of Trisha Ashley, Rachael Lucas and Hilary Boyd.

Book 1: Spring at Lavender Bay
Book 2: Summer at Lavender Bay
Book 3: Snowflakes at Lavender Bay
Book Links
---
Spring at Lavender Bay is billed as a delightfully uplifting romance. And I can say, most categorically, that it is that. Many times during the two days it took me to read it, I smiled and melted at the sweet scenes within.
I think what drew me to this book in the first place was Eleanor's Emporium, a seaside shop. It's one of those eclectic shops that sell a bit of everything, some of it a bit tacky and some of it rather lovely. I'm always drawn to shops in novels, and it was so enjoyable to read about Beth taking on the shop.
Beth is left the shop when Eleanor, who looked after her as a girl, passes away and so she returns to Lavender Bay from London. She doesn't know whether to stick around or whether she can make the shop work, but the presence of Sam Barnes, her friend's older brother, helps.
I loved Sam, he's a lovely character. Strong and caring, I was just rooting for this couple to make a go of it. Their scenes together are written with such intense feeling that I was enthralled by them.
I also loved Lavender Bay. It's by the sea and is a real community. Sam and his family run the pub next door to the emporium, Beth's friend, Libby, and her family run the chip shop. There's a lovely friendship between Beth, Libby and Eliza (Sam's sister) that has been there since childhood.
This is the first in a trilogy set in Lavender Bay. It would be lovely to meet up with some of the characters again and return to such a beautiful setting. This book is just adorable and so sweet.
---

Look at what you could win!
---

Sarah Bennett has been reading for as long as she can remember. Raised in a family of bookworms, her love affair with books of all genres has culminated in the ultimate Happy Ever After – getting to write her own stories to share with others.
Born and raised in a military family, she is happily married to her own Officer (who is sometimes even A Gentleman). Home is wherever he lays his hat, and life has taught them both that the best family is the one you create from friends as well as relatives.
When not reading or writing, Sarah is a devotee of afternoon naps and sailing the high seas, but only on vessels large enough to accommodate a casino and a choice of restaurants.
Sarah is the author of the Butterfly Cove trilogy, published by HQ Digital UK
Her new series is set in the beautiful seaside town of Lavender Bay, and will follow the lives of three best friends – Beth, Eliza and Libby.