Seven Day Spotlight – w/e 09/12/18
Welcome to this week's Seven Day Spotlight post. Hope you're all well on the way to being ready for Christmas. Our tree went up yesterday and I'm really looking forward to seeing our four year old open his presents. Last year he collapsed when he saw them all! I wonder what will happen this year.
Here's what I posted on my blog this week:
Monday's post was my review of The Christmas Play Rehearsal by Sue Wickstead. I thought this was a great read for this time of year, especially if you have children who are taking part in the school play.
On Tuesday, I posted my review of Cuckoo by Sophie Draper. I really enjoyed this story of manipulation and mind games.
Wednesday's post was a guest post by Rosie Clarke, author of New Arrivals at Mulberry Lane. She talked about whether her books are character or plot led.
On Thursday, I shared an extract from A Very Lucky Christmas by Lilac Mills.
Friday was a two post day with me posting my review of Too Close by Natalie Daniels which I loved and a guest post by Sen Rajah, author of Milk of the Moon, about where the inspiration for his unconventional novella came from.
Saturday's post was my review of It's a Wonderful Night by Jaimie Admans, a lovely festive read.
And finally, this morning I shared an extract from My Sister Myself by Jill Treseder.
---
Not much in the way of additions to that teetering TBR pile this week.
I had some fabulous book post in the form of The Six Loves of Billy Binns by Richard Lumsden.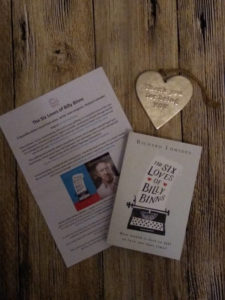 THE SIX LOVES OF BILLY BINNS is a deeply moving and honest debut set in London against the backdrop of the changing 20th century. it is reading group fiction perfect for those who loved the quirky pathos of Gail Honeyman's ELEANOR OLIPHANT IS COMPLETELY FINE and the humour of Rachel Joyce's THE UNLIKELY PILGRIMAGE OF HAROLD FRY

I remember my dreams but not where they start.
Further back, I recall some of yesterday and the day before that. Then everything goes into a haze.
Fragments of memories come looming back like red London buses in a pea-souper.
Time plays funny tricks these days.
I wait for the next memory. I wait and I wait.

At 117 years old, Billy Binns is the oldest man in Europe and he knows his time is almost up. But Billy has a final wish: he wants to remember what love feels like one last time. As he looks back at the relationships that have shaped his flawed life – and the events that shaped the century – he recalls a life full of hope, mistakes, heartbreak and, above all, love.
I also got:
The Taken Girls by G D Sanders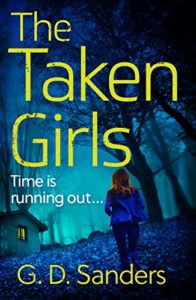 Someone is watching them…

When a missing teenage girl reappears unharmed but pregnant, the case falls to DI Edina Ogborne, the newest recruit of Canterbury Police. But Ed's already got her hands full with a team who don't want her, an ex who won't quit, and terrible guilt over a secret from her past.

As Ed investigates the case, she discovers Canterbury has seen this crime not once, but several times before. And when Ed and her detectives encounter missing historic police files, falsified school records, and Ed's new lover as a prime suspect, it becomes clear that the system has been corrupted.

Can Ed find the kidnapper behind these depraved crimes before he strikes again? Or has time already run out?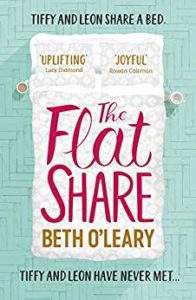 Tiffy and Leon share a flat
Tiffy and Leon share a bed
Tiffy and Leon have never met…

Tiffy Moore needs a cheap flat, and fast. Leon Twomey works nights and needs cash. Their friends think they're crazy, but it's the perfect solution: Leon occupies the one-bed flat while Tiffy's at work in the day, and she has the run of the place the rest of the time.

But with obsessive ex-boyfriends, demanding clients at work, wrongly-imprisoned brothers and, of course, the fact that they still haven't met yet, they're about to discover that if you want the perfect home you need to throw the rulebook out the window…