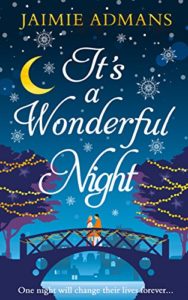 ShortBookandScribes #BookReview – It's a Wonderful Night by Jaimie Admans @be_the_spark @jennymarston_xo #BlogTour #Giveaway

I'm delighted to be reviewing this lovely, feel-good book today. I also have a fabulous giveaway for you too. My thanks to Jenny Marston for asking me to be a part of the tour and for providing a copy of the book for review.
One night will change their lives forever…Georgia Bailey is closing up her little charity shop in Oakbarrow when she gets a mysterious late night call from a stranger, threatening to jump off the town's bridge.Something about the man's voice is faintly familiar but all she can do is stay on the line and, after talking for hours and losing sense of time passing, coax him back from the edge.The next morning, Georgia walks to work, buys a festive latte from Leo (who she's had a crush on for months!) at the local coffee shop, and is shocked when she suddenly recognizes the voice from last night…A heartwarming festive love story that reminds us that even in the darkest of times, hope is always just around the corner!
Book links:
Amazon UK
Amazon US
Kobo
Also available from all other ebook retailers.
Goodreads
---

I couldn't resist this book after I had read the blurb. It sounded light and festive, yet dealing with deeper themes.
Georgia Bailey works for a charity shop in the small town of Oakbarrow. A mix up means that one night, instead of ringing the charities helpline, a man rings the shop. The man is feeling desperate and is standing on the bridge threatening to jump. Georgia and the man have a long conversation, even though she really shouldn't be talking to him as she's not trained to help him. The next day, when she goes to her local coffee shop, she realises that the man is Leo, the shop's owner, who she sees almost every morning. From then on, Georgia weaves herself a web of lies to try and stop Leo from finding out that it was her that he was talking to.
There's so much that is lovely about this book. First of all, there's the fact that the whole thing has an 'It's a Wonderful Life' feel to it. The main character is Georgia/George Bailey, the name of the coffee shop is 'It's a Wonderful Latte' and there are lots of other parallels with the film.
Then there's the whole Oakbarrow vibe, the small town that used to have a thriving high street and now is more dead than the local graveyard. Without giving anything away, I loved what happened there and how it changed over the course of the book. No matter how much we like the convenience of modern day shopping, who doesn't hanker after those days when we had streets with newsagents, greengrocers, florists, toy shops and bakeries on them? I particularly loved the scenes in Hawthornes, the old toy shop and Georgia and Leo's escapades creating window displays under the cover of darkness.
I loved them both individually but put them together and I just melted. What lovely, lovely people. This is a romance so I was fairly sure how things would end but it was just so romantic and so heart-warming. All the supporting cast are wonderful too, and all perfectly well-drawn.
It's a Wonderful Night is a funny, moving and feel-good festive read. I couldn't help but smile through it but as I said before, there are deeper issues too, ones of hopelessness, helplessness and loss and a little tear might just have escaped from my eye at one point. Such a sweet and gorgeous read.
---

It's a Wonderful Night Goodie bag, includes:
*It's a Wonderful Night notebook
*It's a Wonderful Night fridge magnet
*A signed postcard of the cover
*A copy of It's a Wonderful Life on DVD because this is the inspiration behind the story.
*An invisible spine Paris notebook because it's where Georgia wants to go more than anywhere in the world.
*A light-up Christmas tree pen, because who doesn't need a light-up Christmas tree pen at this time of year?!
UK Only
---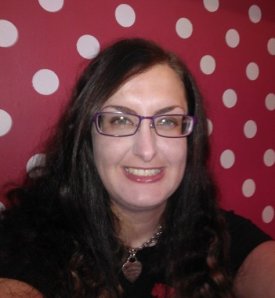 Jaimie is a 32-year-old English-sounding Welsh girl with an awkward-to-spell name. She lives in South Wales and enjoys writing, gardening, watching horror movies, and drinking tea, although she's seriously considering marrying her coffee machine. She loves autumn and winter, and singing songs from musicals despite the fact she's got the voice of a dying hyena. She hates spiders, hot weather, and cheese & onion crisps. She spends far too much time on Twitter and owns too many pairs of boots.
She will never have time to read all the books she wants to read.
She is the author of chick-lit romantic comedies The Chateau of Happily Ever Afters, The Little Wedding Island, It's a Wonderful Night, and Kismetology, and she has also written young-adult romantic comedies Afterlife Academy, Not Pretty Enough, and North Pole Reform School.