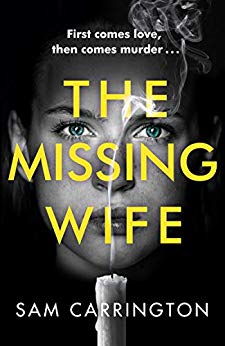 ShortBookandScribes #BookReview – The Missing Wife by Sam Carrington @AvonBooksUK #BlogTour
I'm happy to be reviewing The Missing Wife by Sam Carrington today as part of the blog tour. My thanks to Sabah Khan from Avon for the place on the tour and for sending a copy of the book for review purposes.
---
You think you know those closest to you. You are wrong…

A sleep-deprived new mother approaching her fortieth birthday, the very last thing Louisa wants to do is celebrate.

But when her friend Tiff organises a surprise party, inviting the entire list of Louisa's Facebook friends, Louisa is faced with a room full of people she hasn't spoken to in years – including someone she never expected to see again: her ex-boyfriend, Oliver Dunmore.

When Oliver's wife Melissa goes missing after the party, everyone remembers the night differently. Someone knows what happened to Melissa, and Louisa is determined to find them. But the truth could be closer, and the deception more devastating, than she'd ever imagined…
---

Imagine this. You're a new mum. You've already got a teenager and didn't expect to do it all again. You're hallucinating through lack of sleep and your husband and your friend think it's a good idea not only to throw you a surprise party for your 40th birthday, but to invite the whole of your Facebook friends list. Nightmare!
Even worse, the man who broke Louisa's heart over 20 years ago when they were at college together has found himself on the invite list. Oliver Dunmore is a man Louisa never expected to see again. Now he's back in her life, insinuating his way into her family and friends and just generally putting Louisa on edge. Not to mention the fact that his new wife has gone missing. Something just doesn't seem to ring true.
Louisa is very unreliable. She's blanking out and the things she can recall may or may not be true. This makes for a really intriguing read as it's impossible to know if her memories can be trusted. Added to that she has gaps in her memory from the time when she first knew Oliver, things that she has just never been able to remember. This is a really fascinating aspect to the story, that some things are so traumatic that the brain chooses to block them out, lock them away somewhere.
I really felt for Louisa. She's struggling with her baby, her relationship with her husband is suffering, and her friend, Tiff, is behaving strangely. All in all, not what she needs.
I wouldn't say this is a story that kept surprising me, more than it kept leading me off down a maze of tunnels, some with dead ends and some with new information to add to what I already had. I thought this quite accurately fitted with Louisa's foggy brain. I didn't find it a particularly fast paced read, but it was absorbing nonetheless.
The ending held a couple of unexpected twists that I hadn't seen coming and provided the perfect conclusion to the whole tale. I really enjoyed The Missing Wife and found it to be an excellent psychological thriller.
---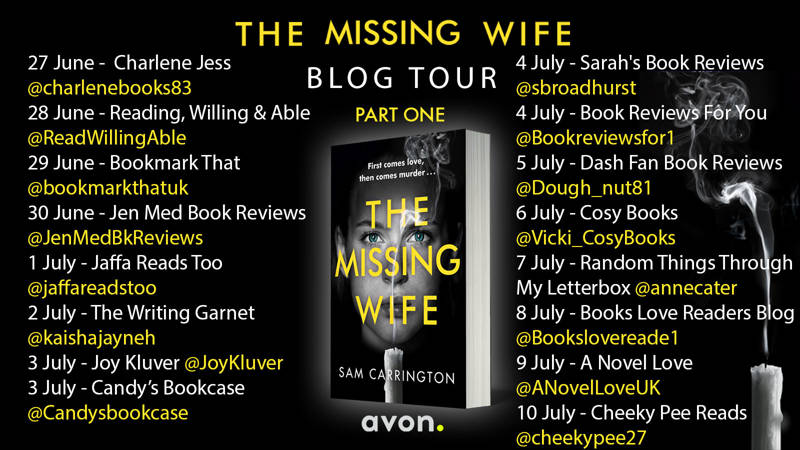 ---

Sam Carrington lives in Devon with her husband, two border terriers and a cat. She has three adult children and a new grandson! She worked for the NHS for fifteen years, during which time she qualified as a nurse. Following the completion of a psychology degree she went to work for the prison service as an Offending Behaviour Programme Facilitator. Her experiences within this field inspired her writing. She left the service to spend time with her family and to follow her dream of being a novelist. SAVING SOPHIE, her debut psychological thriller, published in September 2016. It became a Kindle eBook bestseller, with the paperback hitting The Bookseller Heatseeker chart at #8. Sam was named an Amazon Rising Star of 2016. Her second psychological thriller, BAD SISTER, published in 2017 followed by ONE LITTLE LIE in July 2018. THE MISSING WIFE publishes in June 2019 with her fifth due on 12th December.