ShortBookandScribes Seven Day Spotlight – w/e 16/06/19
It's that time of the week again, time for my round up post. Fairly uneventful until Thursday when our son woke us up at 5am to be sick. Obviously a bug as then yesterday his dad got it too. At the time of writing I haven't got it, but at the time of reading I may well have it.
And then I worked out why nobody was liking my posts on Twitter or responding to me in any way. You guessed it, I sinned and got sent to the dreaded Twitter jail for the first time. For anyone who doesn't know, this is where you are shadow banned and basically that means you are having a conversation with yourself. Nobody can see you or any posts you are making. Not being able to talk to anyone or share other blog posts is killing me! I hope to be released soon.
---
I've managed quite a few reviews again this week. Here's what I posted:
On Monday I shared an extract from In Her Words by J.S Ellis.
Tuesday's post was my review of The Things I Know by Amanda Prowse.
Wednesday's post was my review of Now You See Me by Chris McGeorge.
Thursday's post was my review of Death and Other Happy Endings by Melanie Cantor.
Friday's post was my review of Diary of a Somebody by Brian Bilston.
Saturday's post was my review of A Summer Reunion by Fanny Blake.
---
I've had some fabulous book post this week and one or two ebooks have come my way too. I'm really finding at the moment that I don't get much pleasure from ebooks. I'm not sure what's changed, just that I feel I can't wait for them to be finished. Does anybody else feel like that?
Never Have I Ever by Joshilyn Jackson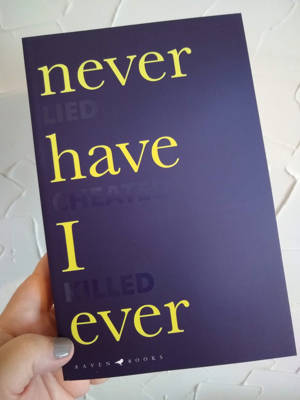 It starts as a game at a book group one night. Never Have I Ever… done something I shouldn't.

But Amy Whey has done something she shouldn't. And Roux, the glamorous newcomer to Amy's suburban neighbourhood, knows exactly what that is.

Roux promises she will go away. She will take herself and her son, who is already growing dangerously close to Amy's teenage stepdaughter, and she will go. If Amy plays by her rules.

But Amy isn't prepared to lose everything she's built. She's going to fight back, and in this escalating game of cat and mouse, there can be only one winner.
Skint Estate is the hard-hitting, blunt, dignified and brutally revealing debut memoir about impoverishment, loneliness and violence in austerity Britain – set against a grim landscape of sink estates, police cells, refuges and peepshows – skilfully woven into a manifesto for change.

Alone, pregnant and living in a women's refuge, Cash Carraway couldn't vote in the 2010 general election that ushered austerity into Britain. Her voice had been silenced. Years later, she watched Grenfell burn from a women's refuge around the corner. What had changed? The vulnerable were still at the bottom of the heap, unheard. Without a stable home, without a steady income, without family support – how do you survive?

In Skint Estate, Cash has found her voice – loud, raw and cutting. This is a book born straight from life lived in Britain below the poverty line – a brutal landscape savaged by universal credit, zero-hours contracts, rising rents and public service funding cuts. Told with a dark lick of humour and two-fingers up to the establishment, Cash takes us on her isolated journey from council house childhood to single motherhood, working multiple jobs yet relying on food banks and temporary accommodation, all while skewering stereotypes of what it means to be working class.

Despite being beaten down from all angles, Cash clings to the important things – love for her daughter, community and friendships – and has woven together a highly charged, hilarious and guttural cry for change.
Through the Wall by Caroline Corcoran
Lexie's got the perfect life. And someone else wants it…

Lexie loves her home. She feels safe and secure in it – and loved, thanks to her boyfriend Tom.

But recently, something's not been quite right. A book out of place. A wardrobe door left open. A set of keys going missing…

Tom thinks Lexie's going mad – but then, he's away more often than he's at home nowadays, so he wouldn't understand.

Because Lexie isn't losing it. She knows there's someone out there watching her. And, deep down, she knows there's nothing she can do to make them stop…
Mummy Needs a Break by Susan Edmunds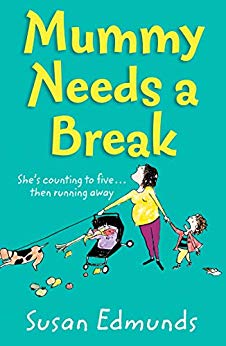 With a devilish toddler and baby number two on the way, Rachel's big dream is to one day go to the toilet on her own. So, she's surprised to discover that her husband has found the time to have an exciting affair while she's been bringing up their family.

Suddenly, Rachel is left wrangling with a child who will only eat crackers and a 35-week bump. She knows even Mumsnet isn't going to solve this.

What Rachel needs is a handsome, good-with-children, single man. But she can barely leave the house without a stain on her top and child on her hip. How on earth can she claim her life back, let alone thinking about dating?
How much do you know about the couple next door?

When Emily and Ben move in next door to Dr Burman and his wife Anita, they are keen to get to know their new neighbours. Outgoing and sociable, Emily tries to befriend the doctor's wife, but Anita is strangely subdued, barely leaving the house, and terrified of answering the phone.

When Emily goes missing a few weeks later, Ben is plunged into a panic. His wife has left him a note, but can she really have abandoned him for another man? Or has Emily's curiosity about the couple next door led her straight into danger?

A gripping, sinister thriller with a twist you won't see coming from the international bestseller Lisa Stone.
A Fatal Game by Nicholas Searle
The railway station is heaving with rush-hour commuters when the bomb goes off.

In the subsequent enquiry, serious questions are asked of Jake Winter, the British Intelligence Officer responsible for preventing the attack. Especially when it transpires that the bomber was his agent.

With his conscience – and his career – in tatters, Jake's hopes rest on his new recruit, a young British-Asian man named Rashid. Recently returned disillusioned from the Middle East, and now enlisted into a new terrorist plot, Rashid seems to be the answer Jake, and MI5, have been waiting for.

But how can Jake know for certain when Rashid is his only source? Is history about to repeat itself or has Jake lost his nerve, haunted by his last mistake?

After all, who can you trust, when you no longer trust yourself?
A Home from Home by Veronica Henry (complete with a little bottle of cider!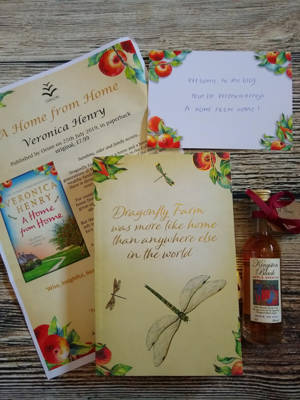 Sunshine, cider and family secrets…

Dragonfly Farm has been a home and a haven for generations of Melchiors – arch rivals to the Culbones, the wealthy family who live the other side of the river. Life there is dictated by the seasons and cider-making, and everyone falls under its spell.

For cousins Tabitha and Georgia, it has always been a home from home. When a tragedy befalls their beloved great-uncle Matthew, it seems the place where they've always belonged might now belong to them…

But the will reveals that a third of the farm has also been left to a total stranger. Gabriel Culbone has no idea why he's been included, or what his connection to the farm – or the Melchiors – can be.

As the first apples start to fall for the cider harvest, will Dragonfly Farm begin to give up its secrets?

A Home from Home is the very best of Veronica Henry's storytelling – gorgeous scenes you wish you could step into, a cast of characters who feel like friends, and an irresistibly feel-good family drama crossing three generations.
Don't Think a Single Thought by Diana Cambridge
1960s New York, and Emma Bowden seems to have it all – a glamorous Manhattan apartment, a loving husband, and a successful writing career. But while Emma and her husband Jonathan are on vacation at the Hamptons, a child drowns in the sea, and suspicion falls on Emma. As her picture-perfect life spirals out of control, and old wounds resurface, a persistent and monotonous voice in Emma's head threatens to destroy all that she has worked for…

Taut, elegant and mesmerising, Don't Think a Single Thought lays bare a marriage, and a woman, and examines the decisions – and mistakes – that shape all of our lives.
The Naseby Horses by Dominic Brownlow (complete with a handwritten excerpt)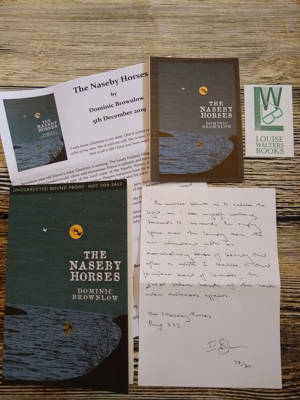 Seventeen-year-old Simon's sister Charlotte is missing. The lonely Fenland village the family recently moved to from London is odd, silent, and mysterious. Simon is epileptic and his seizures are increasing in severity, but when he is told of the local curse of the Naseby Horses, he is convinced it has something to do with Charlotte's disappearance. Despite resistance from the villagers, the police, and his own family, Simon is determined to uncover the truth, and save his sister.

Under the oppressive Fenland skies and in the heat of a relentless June, Simon's bond with Charlotte is fierce, all-consuming, and unbreakable; but can he find her? And does she even want to be found?

Drawing on philosophy, science, and the natural world, The Naseby Horses is a moving exploration of the bond between a brother and his sister; of love; and of the meaning of life itself.
Truth or Die by Katerina Diamond (with a chess piece with blood on it!)
Their darkest secrets won't stay buried forever…

The butchered body of a professor is found in a private office of Exeter University. It is the first in a spate of horrific murders that shakes the city to its core.

Who would target a seemingly innocent man, and why? DS Imogen Grey and DS Adrian Miles turn to his students for answers, but their investigation turns up no leads. Someone must know more than they're letting on…

As the body count rises, the police have to look into the past to uncover the person responsible before it's too late.

But are they brave enough to face up to the truth?
The Missing Wife by Sam Carrington (with ear plugs and love hearts)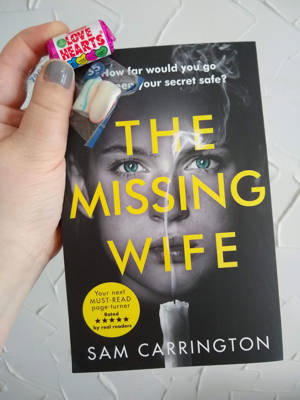 You think you know those closest to you. You are wrong…

A sleep-deprived new mother approaching her fortieth birthday, the very last thing Louisa wants to do is celebrate.

But when her friend Tiff organises a surprise party, inviting the entire list of Louisa's Facebook friends, Louisa is faced with a room full of people she hasn't spoken to in years – including someone she never expected to see again: her ex-boyfriend, Oliver Dunmore.

When Oliver's wife Melissa goes missing after the party, everyone remembers the night differently. Someone knows what happened to Melissa, and Louisa is determined to find them. But the truth could be closer, and the deception more devastating, than she'd ever imagined…

A gripping psychological suspense novel, perfect for fans of Samantha Downing's My Lovely Wife, Lucy Clarke's You Let Me In and Linda Green's The Last Thing She Told Me.
After the End by Clare Mackintosh – this is the signed Waterstones edition with blue spredges!
Max and Pip are the strongest couple you know. Only now they're facing the most important decision of their lives – and they don't agree.

As the consequences of an impossible choice threaten to devastate them both, nothing will ever be the same again.

But anything can happen after the end . . .