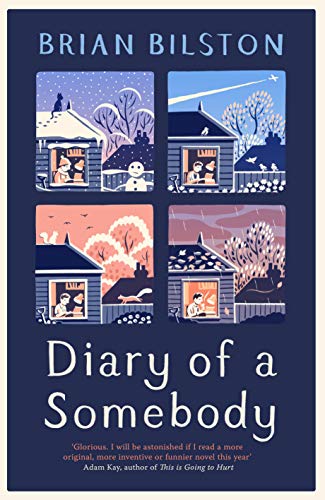 ShortBookandScribes #BookReview – Diary of a Somebody by Brian Bilston
I first became aware of Brian Bilston through reading his poetry on Twitter. I'm a simple soul and only like poems I can make sense of. Brian's humour really appealed to me so I was very keen to read Diary of a Somebody. My thanks to Camilla Elworthy from Picador for sending me a proof of this fab book for review purposes.
---
It's January 1st and Brian Bilston is convinced that this year his New Year's resolution will change his life. Every day for a year, he will write a poem. It's quite simple.
Brian's life certainly needs improving. His ex-wife has taken up with a new man, a motivational speaker and indefatigable charity fundraiser to boot; he seems to constantly disappoint his long-suffering son; and at work he is drowning in a sea of spreadsheets and management jargon.
So poetry will be his salvation. But there is an obstacle in the form of Toby Salt, his arch nemesis at Poetry Club and rival suitor to Liz, Brian's new poetic inspiration.
When Toby goes missing, just after the announcement of the publication of his first collection, This Bridge No Hands Shall Cleave, Brian becomes the number one suspect. If he is to regain his reputation and to have a chance of winning Liz, he must find out what has happened to Toby before it is too late.
Part tender love story, part murder mystery, part coruscating description of a wasted life, and interspersed with some of the funniest poems about the mundane and the profound, Diary of a Somebody is the most original novel you will read this or any year.
---

How on earth am I supposed to review this book? It's part fiction, part poetry, part diary. The sum of the parts though is, in my opinion, a work of genius.
Our eponymous hero, Brian Bilston, starts the year with the intention of writing a poem a day. Whilst that goes by the wayside some days, we are still treated to many poems of the very clever and mostly rhyming variety that I love. The poems form the first part of the entries in Brian's diary over the course of a year of numerous ups and downs for him.
The brilliant thing about this whole structure is the way the banalities of life are turned into rhyming ditties and entries in the diary which are so wonderful to read. Most people's diaries would be quite boring I suspect, but Brian's life is just so fraught with calamity and misunderstanding that the banal becomes interesting, even though it's not dramatic. He just ploughs on hoping for the best.
He's a bit of a likeable fool. I particularly loved how Brian would enter a bookshop for one particular book and just had to buy a few more to keep it company. I'm sure that resonates with every book lover.
He's also a typical man. Subtle doesn't work for him so his tentative friendship with Liz, a woman he (literally) dreams about, is a bit slow to get off the ground. Even when Liz quite obviously asks Brian something where her meaning is quite obvious, for instance, if he would like a nightcap, she gets a monologue with the reasons why he is unable to, or even told that he is watching reruns of A Touch of Frost on the TV that night!
You probably get the picture that Brian makes a few mistakes during the course of the book, but it's impossible to do anything but like him.
The writing is so funny, witty and dry. I spent much of the book smiling, sniggering and giggling. I kept thinking that when I write my review I must mention this poem or that one but then I'd read the next one and think the same thing. They're all worthy of a mention, although I thought the excel spreadsheet one was particularly clever and I did enjoy singing My Favourite Words to the tune of My Favourite Things from The Sound of Music!
It's very difficult to fully explain the nature of this book. In fact, when I picked it up I wasn't entirely sure what to expect even then, only that I loved the idea of the unique concept of it. I was familiar with Brian Bilston's poetry from Twitter so I knew that that aspect was going to be good anyway, but the whole thing is just fabulous. It has a sardonic edge that really appeals to my sense of humour and it's just a pleasure from start to finish.
I'll leave you with my plea to you in poem form!
Grab yourself a custard cream
and settle down to read.
A book with more laughs
than legs on a centipede.
Diary of a Somebody is
a uniquely clever book.
Disappointment will surely prevail
if you don't take a look.
The End.
---

I'm a writer who has been sharing poetry on social media for the last few years with varying degrees of success. Occasionally, I have been described as 'the Poet Laureate of Twitter', although goodness knows why.
Sometimes I write poems in unconventional formats. In a Venn diagram, maybe. Or embedded in an Excel spreadsheet or on a Scrabble board. I'm not sure why I do that. I just do.
'You Took the Last Bus Home', my first collection of poems was published in 2016 by Unbound. My next book 'Diary of a Somebody' combines poetry and fiction and will be published by Picador in June 2019.
I won the Great British Write Off competition in 2015 – and was the Poet in Residence for the World Economic Forum in 2016. In recent times, my poems have been featured on BBC Radio 4's Today programme, the BBC news website, the Irish Times, Independent and the Smithsonian Magazine.
Here's a short video that the BBC made. WARNING: may contain poems: