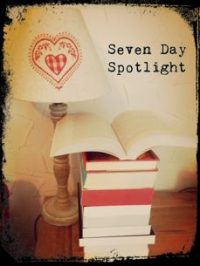 Seven Day Spotlight – week ending 27/11/16
This week I finished and reviewed the fabulously funny Phoebe Smith's Private Blog by Lynda Renham and the wonderfully descriptive book by Ruth Hogan, The Keeper of Lost Things, which I also did a #FridayBookShare about here.
Now to acquisitions.  I was having a good week until Friday when there seemed to be some lovely Kindle bargains available.
First of all, these are from Netgalley:
Emma Davies' new novella, Spring Fever.  I read Merry Mistletoe last year and thought it was lovely, so I jumped at the chance to read this one.
Life is about to get very exciting for Merry and Tom – a new baby, a wonderful new home, and a fresh business venture to get off the ground. Five Penny House is just the place to make their dreams come true, and so what if the locals think the place is cursed? Merry's not about to let a little thing like that bother her…

For Freya and Sam too, spring heralds the beginning of their new life together at her beloved Appleyard orchard. There are plans to make and a lot of hard work needed if they're ever to reverse its failing fortunes, but as long as they have each other, what could possibly go wrong?

Then the rain starts to fall – and keeps on falling – and the new beginning both couples dream of begins to slip from their grasp. For Merry and Tom it now looks like the start of their worst nightmare. But sometimes help can arrive from the most unexpected places…
This Is How it Always Is by Laurie Frankel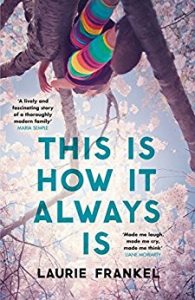 Rosie and Penn always wanted a daughter. Four sons later, they decide to try one last time – and their beautiful little boy Claude is born. Life continues happily for this big, loving family until the day when Claude says that, when he grows up, he wants to be a girl.

As far as Rosie and Penn are concerned, bright, funny and wonderful Claude can be whoever he or she wants. But as problems begin at school and in the community, the family faces a seemingly impossible dilemma: should Claude change, or should they and Claude try to change the world?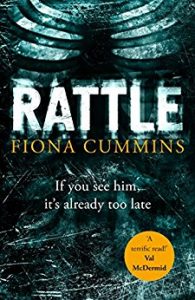 A serial killer to chill your bones

A psychopath more frightening than Hannibal Lecter.

He has planned well. He leads two lives. In one he's just like anyone else. But in the other he is the caretaker of his family's macabre museum.

Now the time has come to add to his collection. He is ready to feed his obsession, and he is on the hunt.

Jakey Frith and Clara Foyle have something in common. They have what he needs.

What begins is a terrifying cat-and-mouse game between the sinister collector, Jakey's father and Etta Fitzroy, a troubled detective investigating a spate of abductions.

Set in London's Blackheath, Rattle by Fiona Cummins explores the seam of darkness that runs through us all; the struggle between light and shadow, redemption and revenge.

It is a glimpse into the mind of a sinister psychopath. And it's also a story about not giving up hope when it seems that all hope is already lost.
Hold Back the Stars by Katie Khan
'We're going to be fine.'
He looks around, but there's nothing out here: nothing but the bottomless black universe on their left, the Earth suspended in glorious technicolour to their right.

Carys and Max have ninety minutes of air left.
None of this was supposed to happen.
But, perhaps this doesn't need to be the end…
Adrift in space with nothing to hold on to but each other, Carys and Max can't help but look back at the well-ordered world they have left behind – at the rules they couldn't reconcile themselves to, and a life to which they might now never return.
For in a world where love is banned, what happens when you find it?

Hold Back the Stars is a love story like no other.
My Husband the Stranger by Rebecca Done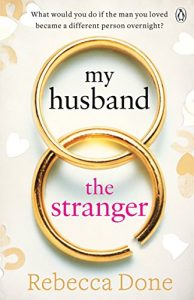 What you would do if your husband became another person overnight?  

A tragic accident.

A terrible injury.

And in a moment the man you fell in love with, that sweet, caring, charming man, is transformed into a total stranger. One who snarls and one who shouts. And one who doesn't seem to love you very much at all anymore.

You swore to love each other in sickness and in health, but how would you cope? What would you do? And would you be strong enough to stay?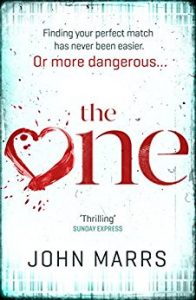 How far would you go to find THE ONE?

One simple mouth swab is all it takes.

One tiny DNA test to find your perfect partner – the one you're genetically made for.

A decade after scientists discover everyone has a gene they share with just one person, millions have taken the test, desperate to find true love.

Now, five more people take the test. But even soul mates have secrets. And some are more shocking – and deadlier – than others…
The Book of Mirrors by E.O. Chirovici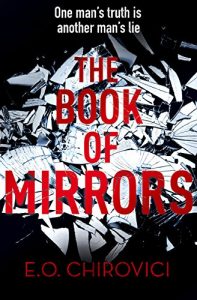 When big-shot literary agent Peter Katz receives an unfinished manuscript entitled The Book of Mirrors, he is intrigued.

The author, Richard Flynn is writing a memoir about his time at Princeton in the late 80s, documenting his relationship with the famous Professor Joseph Wieder.

One night in 1987, Wieder was brutally murdered in his home and the case was never solved.

Peter Katz is hell-bent on getting to the bottom of what happened that night twenty-five years ago and is convinced the full manuscript will reveal who committed the violent crime.

But other people's recollections are dangerous weapons to play with, and this might be one memory that is best kept buried.
The Forgotten Girl by Kerry Barrett
Fearne has landed her dream job to run Mode. Except the dream isn't quite so rosy in reality, the print magazine is struggling and Fearne is determined to save it!

In 1966, desperate to escape her life, Nancy moves to London with her brilliantly unpredictable friend Suze to achieve their dream of writing for Mode magazine together.

For Mode to survive Fearne needs to recreate the magic of the early issues and she is on track to find Suze – Mode's longest-serving editor. Unbeknownst to Fearne, what she uncovers might be the biggest story of her career…
99p Kindle bargains (when I bought them)
Woman of the Hour by Jane Lythell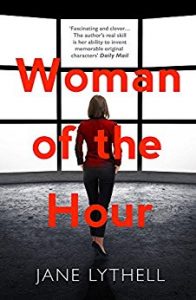 Meet Liz Lyon: respected TV producer, stressed-out executive, guilty single mother.  

StoryWorld is the nation's favourite morning show, and producer Liz Lyon wants to keep it that way. Her job is to turn real-life stories into thrilling TV – and keep a lid on the scandals and backbiting that happen off-stage.

But then simmering tensions erupt at the station, trapping Liz in a game of one-upmanship where she doesn't know the rules. As the power struggle intensifies, can Liz keep her cool and keep her job? Does she even want to?

In this gripping novel of power, rivalry and betrayal, Jane Lythell draws on her experiences of working in the glamorous, pressurised world of live TV.
Somebody Else's Boy by Jo Bartlett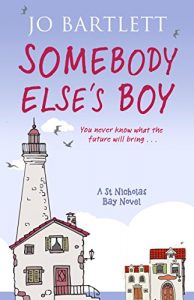 Will Nancy and Jack be allowed to embrace the future, or will their histories forever bind them to the past?

Drama teacher Nancy O'Brien puts her ambitions on hold to support her family, and returns to her idyllic seaside home town, St Nicholas Bay. Jack has his own reasons for heading to the Bay; a young widower desperate to come to terms with his loss, he hopes setting up home there with baby son, Toby, might just enable him to survive the future.

As Nancy and Jack become closer, not everyone is thrilled, in particular Toby's grandmother, who can't bear to see her late daughter 'replaced'. When Fraser– the only man Nancy's ever really loved – reappears, her living arrangements with Jack seem set for disaster.
Falling by Jane Green – I read and loved all of her early books but it's ages ago so thought it was time for another one.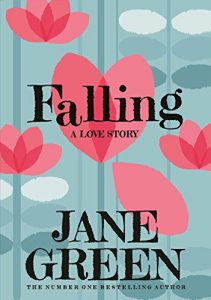 Eight years ago, Emma Montague left behind the strict confines of her upper-crust English life – and rather dull boyfriend – and moved to New York City, where she immediately found success in the world of finance. But her soulless, cut-throat, all-consuming job has only led to another life she didn't want.

Answering an online ad, Emma finds a tiny beach cottage to rent in the small town of Westport, Connecticut. It needs work – lots of work. But it's the perfect project to satisfy Emma's passion for interior design and gardening, if her new landlord, Dominic, is agreeable to the small changes she yearns to make.

To Emma, Dominic is also something of a fixer-upper. A local handyman with a six-year-old son, he's a world away from the men she should be interested in, but he's comfortable in his own skin, confident, quiet and kind. Slowly, over a shared garden, time spent with his son and late-night conversations, Emma finds herself falling for Dominic.

From friends to lovers happens as naturally as the changing seasons. But laying down roots doesn't come easily when two lives as different as theirs merge into one. And Emma will realize that the seeds of happiness must be nurtured and cherished to grow into something strong enough to shelter all their hopes and dreams . . .
They All Fall Down by Cat Hogan
Ring-a-ring o' rosie . . .
… Someone wants to play.
… Who's not playing the game?
… Now Someone must pay.

Jen Harper likes to play it safe. She is settling into life on the outskirts of a sleepy fishing village with her little boy, Danny. Life by the sea – just how she wanted it.

When she meets Andy, she feels the time has come to put her baggage and the scars of the past behind her. Then she is introduced to Scott, Andy's best friend, and is stung by his obvious disdain for her. Why is Scott so protective of his best friend? What is the dark secret that threatens all of them?

In her attempt to find answers, Jen must confront her demons and push her relationships to their limits. By digging up the past, she puts Danny and herself in danger. Will she succeed in uncovering the truth before they all fall down?
Cooking Up A Storm by Sue Welfare which I couldn't resist (a) because of the cover and (b) because there are recipes dotted throughout the book.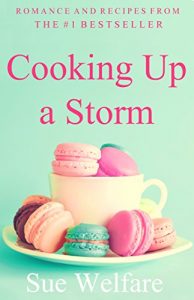 When newly single Sarah Peterson rents a cottage on Kit Roseberry's country estate and swops cooking supper for rent, she isn't expecting TV producer, Magda Holmes, to fall for Kit and his culinary skills, or offer him a slot on her TV show.

Kit can't boil water, but he's got the look and needs the money. Magda is keen to go for a traditional feel, happy families, picnics on the beach and birthday teas, so Sarah – along with her two boys – finds herself as undercover cook, and an instant wife and family for Kit's TV debut.

But what will that do to Sarah's fresh start, her new man, ex-husband and the rest of her life? Is it a recipe for disaster or does it have all the ingredients of a great romance?

Cooking up a Storm is a classic Rom-Com, and includes recipes for all the dishes coo

ked by Sarah and Kit.
Finally, A Little Life by Hanya Yanagihara which was £1.29 and one that I keep hearing about.  It's massive so I don't know when I will get to read it, but apparently it's absolutely heartbreaking.
When four graduates from a small Massachusetts college move to New York to make their way, they're broke, adrift, and buoyed only by their friendship and ambition. There is kind, handsome Willem, an aspiring actor; JB, a quick-witted, sometimes cruel Brooklyn-born painter seeking entry to the art world; Malcolm, a frustrated architect at a prominent firm; and withdrawn, brilliant, enigmatic Jude, who serves as their centre of gravity. Over the decades, their relationships deepen and darken, tinged by addiction, success, and pride. Yet their greatest challenge, each comes to realize, is Jude himself, by midlife a terrifyingly talented litigator yet an increasingly broken man, his mind and body scarred by an unspeakable childhood, and haunted by what he fears is a degree of trauma that he'll not only be unable to overcome – but that will define his life forever.
So, can I tempt anybody with this week's selection?