Seven Day Spotlight – w/e 30/07/17
Hi everybody. Welcome to another Seven Day Spotlight post.
This week on my blog I had a review of Before I Left by Daisy White which is an atmospheric story set in the 1960s.
I also reviewed The Other Twin by L V Hay, an accomplished dark and unsettling psychological thriller.
I had a fascinating guest post from Lesley Downer about being a women in Japan and living amongst geisha.
I reviewed The Secrets of Villa Rosso by Linn B Halton which had a strong setting in Italy.
I also reviewed a lovely children's book, Poppy's Tail by Cate Douglas.
And finally, I featured a guest post by Merryn Allingham on social life in WWII as part of the blog tour for her new book, The Secret of Summerhayes.
---
I've had another pretty restrained week for acquisitions this week but what an amazing selection this is!
The Text by Claire Douglas (a Kindle short)
A single text changed her life. Did it end his?

Emily Latimer is furious. Her boss Andrew is being so unreasonable, as always. She fires off a text to her boyfriend, only in her haste she sends it to her whole office group.

In it she says Andrew's being difficult about letting her have time off work. That she is angry. That she hopes he dies. The next day her face burns in the office. No one believes her when she says it was a typo, she meant to say does. She hopes he does.

It's a nightmare. But it gets worse – Andrew doesn't turn up for work. And then the police come knocking. Because Andrew Burton has been murdered . . .
The Foster Child by Jenny Blackhurst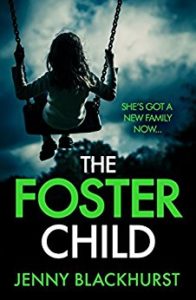 When child psychologist Imogen Reid takes on the case of 11-year-old Ellie Atkinson, she refuses to listen to warnings that the girl is dangerous.

Ellie was the only survivor of a fire that killed her family. Imogen is convinced she's just a sad and angry child struggling to cope with her loss.

But Ellie's foster parents and teachers are starting to fear her. When she gets upset, bad things seem to happen. And as Imogen gets closer to Ellie, she may be putting herself in danger…
Madame Bovary of the Suburbs by Sophie Divry – I saw this one on the fab Tracy Shephard's blog.
The story of a woman's life, from childhood to death, somewhere in provincial France, from the 1950s to just shy of 2025.

She has doting parents, does well at school, finds a loving husband after one abortive attempt at passion, buys a big house with a moonlit terrace, makes decent money, has children, changes jobs, retires, grows old and dies. All in the comfort that the middle-classes have grown accustomed to.

But she's bored.

She takes up all sorts of outlets to try to make something happen in her life: adultery, charity work, esotericism, manic house-cleaning, motherhood and various hobbies – each one abandoned faster than the last. But no matter what she does, her life remains unfocussed and unfulfilled. Nothing truly satisfies her, because deep down – just like the town where she lives – the landscape is non-descript, flat, horizontal.

Sophie Divry dramatises the philosophical conflict between freedom and comfort that marks women's lives in a materialistic world. Our heroine is an endearing, contemporary Emma Bovary, and Divry's prose will remind readers of the best of Houellebecq, the cold, implacable historian who paints a precise portrait of an era and those who inhabit it and in doing so renders existence indelibly absurd.
Imitation is the most terrifying form of flattery…

Which Sarah Havenant is you?

When an old friend gets in touch, Sarah Havenant discovers that there are two Facebook profiles in her name. One is hers. The other, she has never seen.

But everything in it is accurate. Photos of her friends, her husband, her kids. Photos from the day before. Photos of her new kitchen. Photos taken inside her house.

And this is just the beginning. Because whoever has set up the second profile has been waiting for Sarah to find it. And now that she has, her life will no longer be her own…
This Beautiful Life by Katie Marsh
What happens when you get the second chance you never expected?

Abi is living her happy ending. She's in remission and is ready to make the most of her second chance at life. But during Abi's illness her family has fallen apart. Her husband John has made decisions that are about to come back to haunt him, while her teenage son Seb is battling with a secret of his own.

Set to the songs on Abi's survival playlist, this is the story of what happens next as Abi tries to rebuild her family. Can she bring the people she loves most in the world back together again…
The Marriage Pact by Michelle Richmond
It's the perfect wedding gift.

Newlyweds Jake and Alice are offered membership of a club which promises members will never divorce.

Signing The Pact seems the ideal start to their marriage.

Until one of them breaks the rules.

Because The Pact is for life.

And its members will go to any lengths to ensure nobody leaves . . .
Anatomy of a Scandal by Sarah Vaughan – this was highly anticipated by me as Sarah Vaughan is one of my favourite writers so I was over the moon when an ARC dropped through my door. It came in a gorgeous slipcase. I do like a well turned out ARC!
Anatomy of a Scandal centres on a high-profile marriage that begins to unravel when the husband is accused of a terrible crime. Sophie is sure her husband, James, is innocent and desperately hopes to protect her precious family from the lies which might ruin them. Kate is the barrister who will prosecute the case – she is equally certain that James is guilty and determined he will pay for his crimes.

A high-profile marriage thrust into the spotlight. A wife, determined to keep her family safe, must face a prosecutor who believes justice has been a long time coming. A scandal that will rock Westminster. And the women caught at the heart of it. 
As always I'd love to hear any thoughts and comments on these.