#blogtour – The Other Twin by L V Hay @LucyVHayAuthor @OrendaBooks #bookreview
I'm so happy that it's my turn on the blog tour for The Other Twin by L V Hay. My review is below but first of all here's what it's about.

When India falls to her death from a bridge over a railway, her sister Poppy returns home to Brighton for the first time in years. Unconvinced by official explanations, Poppy begins her own investigation into India's death. But the deeper she digs, the closer she comes to uncovering deeply buried secrets. Could Matthew Temple, the boyfriend she abandoned, be involved? And what of his powerful and wealthy parents, and his twin sister, Ana? Enter the mysterious and ethereal Jenny: the girl Poppy discovers after hacking into India's laptop. What is exactly is she hiding, and what did India find out about her? Taking the reader on a breathless ride through the winding lanes of Brighton, into its vibrant party scene and inside the homes of its well- heeled families, The Other Twin is a startling and up-to-the-minute thriller about the social-media world, where resentments and accusations are played out online, where identities are made and remade, and where there is no such thing as truth …
The Other Twin is one of those books that I kept seeing everywhere and everybody was raving about it. I couldn't wait to get my hands on a copy and I'm pleased to say that for the most part it totally lived up to expectations.
Poppy is the main character. She returns to Brighton when her younger sister, India, throws herself in front of a train. From that moment we are slowly fed information about why Poppy left Brighton and why she stayed away so long. I liked how the story unfolded gradually as it really kept the tension alive.
There are sections that are not about Poppy and they're very vague, for the obvious reason that it keeps the reader guessing. My one criticism about the book is that these sections felt quite disjointed and I felt they could have done with being more fully integrated into the story a bit earlier so that I could work out where they fitted in. But it's only a minor issue and one which in no way affected my reading of this intense and polished book.
At only 250 pages this is a short read and yet it was a thriller that was crammed with twists and turns. Poppy wants to find out what really happened to India as she doesn't believe she would jump to her death. Poppy's old boyfriend, Matthew, is a big part of the story but how well does Poppy really know him? I veered between liking him and being suspicious of him – the author did a good job of keeping me guessing where he was concerned.
The Other Twin is very current and very relevant to the social media age with blogs and Facebook playing their parts. Short chapters kept me racing through, thinking that I would read just another one and then another one and so on.
I very much enjoyed this dark and unsettling psychological thriller. For a debut it's so accomplished and I just know that Hay is going to write some more brilliant thrillers in the future.
With thanks to Orenda Books and Anne Cater for the review copy. The Other Twin is available now in ebook and paperback.
---
There are lots of other blogs taking part in the tour. Please do check some (or all) of them out.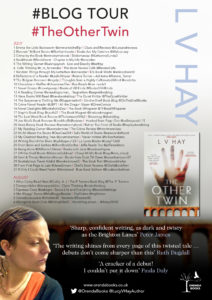 ---

Lucy V. Hay is a novelist, script editor and blogger who helps writers via her Bang2write consultancy. She is the associate producer of Brit Thrillers Deviation (2012) and Assassin(2015), both starring Danny Dyer. Lucy is also head reader for the London Screenwriters' Festival and has written two non-fiction books, Writing & Selling Thriller Screenplays, plus its follow-up Drama Screenplays. She lives in Devon with her husband, three children, six cats and five African Land Snails.