#blogtour – The Secret of Summerhayes by Merryn Allingham @MerrynWrites @HQstories @midaspr #guestpost
I'm really pleased to be on the blog tour for The Secret of Summerhayes by Merryn Allingham today but I'm so disappointed that I didn't have time to read it before today as it's a book that sounds completely up my street. But I have got a great guest post from Merryn for you all about social life during the Second World War.
First of all, here's what the book is all about:

A war-torn summer

A house fallen into ruin

A family broken apart by scandal…

Summer 1944: Bombed out by the blitz, Bethany Merston takes up a post as companion to elderly Alice Summer, last remaining inhabitant of the dilapidated and crumbling Summerhayes estate. Now a shadow of its former glory; most of the rooms have been shut up, the garden is overgrown and the whole place feels as unwelcoming as the family themselves.

Struggling with the realities of war, Alice is plagued by anonymous letters and haunting visions of her old household. At first, Beth tries to convince her it's all in her mind but soon starts to unravel the mysteries surrounding the aristocratic family's past.

An evocative and captivating tale, The Secret of Summerhayes tells of dark secrets, almost-forgotten scandals and a household teetering on the edge of ruin.
---

Social Life During the Second World War
London during these years was a melting pot. Very early in the war, troops arrived from Canada and the rest of the Commonwealth, then from Poland after 1940 and from the United States after 1941. The influx created a new mix of people, when even those stationed in the country at large, came to the city to spend their leave. London was a good place to lose oneself, and the flux of people gave men and women the opportunity to assume new identites if they wished.
Bigamous marriages became common, and the easing of social barriers led to a large number of illegitimate births and an increase in unmarried mothers. Greater anonymity and new opportunities for sexual adventures led to changes in sexual attitudes. Socialising between the sexes became easier, boundaries were more often breached. The raids evoked excitement and danger, and with death so close, morals inevitably loosened.
The first few weeks of the war saw public places deserted, but it wasn't long before Londoners returned in their droves. Pubs, nightclubs and dance halls were all very popular. People went wherever the best bands were playing. The Dorchester, for example, offered Lew Stone and his band. Even when the bombing started in earnest, it didn't stop people packing the dance halls and swinging to the latest dance craze. Theatres remained open throughout the Blitz and newspapers were full of advertisements for West End shows. Variety shows were popular, too, with acts like Max Miller and Florence Desmond and the new singing sensation, Vera Lynn.
Underground restaurants and nightclubs became fashionable because they were considered safe. The Ritz had a below-stairs Grill Room which became 'La Popote'. The walls of La Popote were packed with sandbags kept in place by wooden props and naked metal struts.
Some restaurants and all hotels provided beds for their customers during air raids. Women often went out to dinner carrying their nightdress, toothbrush and make up. If the sirens went off, they would not expect to get home until morning and most stayed where they were. The Savoy went one further by having an operating theatre with uniformed nurses ready to extract shrapnel from the flesh of paying guests.
Dancing, drinking, eating off ration, were a necessary safety valve for a population working themselves into the ground on a minimum of sleep and deprived of any luxury. You might not have the money for a slap up evening in a West End hotel, but a ticket to a dance hall was relatively cheap and you could get a satisfying breakfast – porridge, bacon and fried bread, toast and marmalade and a pot of tea for 1s 6d (about 7p in today's money) at any of the Lyons Corner Houses.
Even Beth Merston in the depths of the Sussex countryside suppresses her misgivings in The Secret of Summerhayes to dance at the village hall – the temptation to enjoy at least a little fun is too great.
The Secret of Summerhayes by Merryn Allingham is available now in ebook and paperback. If you would like to keep in touch with Merryn, sign up for her newsletter at www.merrynallingham.com
---
Thank you so much, Merryn. That was so interesting. What a fascinating time it was.
Please do take a look at the other blogs taking part in the tour.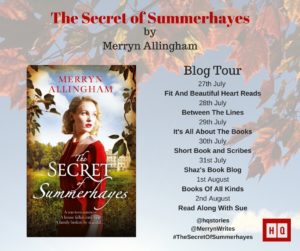 ---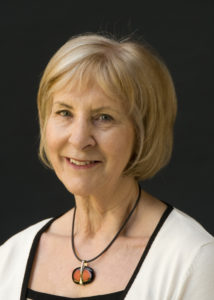 Merryn Allingham spent her childhood moving around as a soldier's daughter, and the desire to travel stayed with her into adulthood. After working briefly as a secretary, she landed a job with an airline which introduced her to a vast range of people and adventures around the world – riding in the foothills of the Andes, walking by the shores of Lake Victoria and flying pilgrims from Kandahar to Mecca to name just a few. Later settling down in Sussex to raise a family, Merryn earned a PhD from the University of Sussex and for many years taught university literature until turning to her own writing. She has published six Regency period novels under the name Isabelle Goddard. The Secret of Summerhayes is the 6th title under the name of Merryn Allingham.