Seven Day Spotlight – w/e 30/04/17
I'm a day late with my round up post this week. Yesterday we took our little boy to see Thomas the Tank Engine at East Lancashire Railway. Very exciting for him! (Ok, I was a bit excited too 😉 )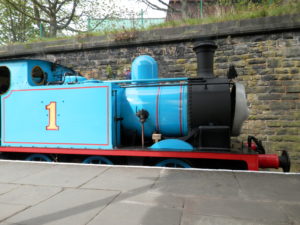 This week on my blog I had a lovely guest post from Hayley Mitchell, author of the fabulous Because I Was Lonely. Hayley talked about how she can't quite believe she's an author.
Then I was on the blog tours for Alice by K.L. Loveley, with a Q&A from the author, and We All Begin as Strangers by Harriet Cummings for which I shared my review.
Next up was a Throwback Thursday post when I posted my review from 6 years ago of The Unseen by Katherine Webb.
The highlight of my week was sharing my review of Dead Woman Walking by Sharon Bolton as part of the blog tour. It's an amazing read.
Finally, I had a spotlight post for Guide Star by Joy Ellis and shared a short extract.
Quite a busy week for me and this coming week won't be as busy as I'm reading books for upcoming blog tours and I'm trying to do it a little bit in advance rather than at the last minute. That wasn't me yesterday at 6pm finishing a book in the car on the way home from seeing Thomas when I had to post my review today, oh no, definitely not……..
---
So what about acquisitions this week? Well, the pesky Kindle sale didn't help but it could have been worse.
The Little Teashop of Broken Hearts by Jennifer Joyce – another little teashop type book and another that I just can't resist.
From fairy cakes to first dates!

Maddie Lamington's dreams are crumbling around her. If she doesn't come up with a plan to save her little teashop on Sweet Street soon, it might be too late…

So when she sees how the perfect apple crumble brings together her lonely father and faithful customer Birdie, inspiration strikes: she'll set up a dating night involving all her sweetest bakes.

Luckily, seriously gorgeous Caleb is on hand to help sprinkle a little magic – and a lot of sugar! Could one night of scrumptious first dates fix Maddie's heartbreak and save her beloved teashop, too?
Peculiar Ground by Lucy Hughes-Hallett – this book sounds fascinating to me.
In the 17th century, a wall is built around the deer park of a great house. Wychwood is a world in itself, its ornamental lakes and majestic avenues planned by Mr Norris, a master of the new art of landscaping. A world where, after decades of civil war, everyone has something to hide or something to fear, where dissidents hide in the forest and Londoners fleeing the plague are at the gate.

Three centuries later, one hot weekend, there is a house party at Wychwood. Over the course of the weekend another wall goes up, dividing Berlin. Erotic entanglements blur with distant rumours of historic changes and a little girl, Nell, observes all.

As Nell grows up and as the Berlin Wall falls, the world splits again. There are TV cameras in the dining room, golf-buggies in the park and a Great Storm brewing. A fatwa alerts Westerners to a new ideological faultline. A refugee from the new conflict, the one which is still tearing us apart, seeks safety in Wychwood.

From the author of The Pike, winner of the Samuel Johnson Prize, the Duff Cooper Prize, the Costa Biography Award, comes a feast of a book. Peculiar Ground is a breathtakingly ambitious, beautifully written novel about young love and the pathos of aging, about game keepers and aristos, agitators and witches, about fantasies of magic and the reality of the land, and about frontiers and fortresses and secret gardens.
Lost in Static by Christina Philippou which I got when it was free but it's still only 99p.
Sometimes growing up is seeing someone else's side of the story. Four stories. One truth. Whom do you believe?

Callum has a family secret. Yasmine wants to know it. Juliette thinks nobody knows hers. All Ruby wants is to reinvent herself.

They are brought together by circumstance, torn apart by misunderstanding. As new relationships are forged and confidences are broken, each person's version of events is coloured by their background, beliefs and prejudices. And so the ingredients are in place for a year shaped by lust, betrayal, and violence…

Lost in Static is the gripping debut from author Christina Philippou. Whom will you trust?
Hitler's Forgotten Children by Ingrid Von Oelhafen and Tim Tate – I'm going to be part of the blog tour for this soon and it sounds like a very moving and sad read.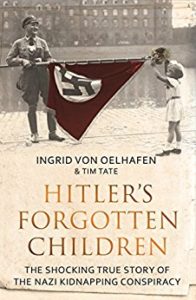 'More than 70 years ago I was a "gift" for Adolf Hitler. I was stolen as a baby to be part of one of the most terrible of all Nazi experiments: Lebensborn.'

The Lebensborn programme was the brainchild of Himmler: an extraordinary plan to create an Aryan master race, leaving behind thousands of displaced victims in the wake of the Nazi regime.

In Hitler's Forgotten Children Ingrid von Oelhafen shares her incredible story as a child of the Lebensborn: a lonely childhood with a distant foster family; her painstaking and difficult search for answers in post-war Germany; and finally being reunited with her biological family – with one last shocking truth to be discovered.
Long Weekend by Jane E. James – the remote lighthouse setting sounds really eerie to me.
Hazel Ladd has spent her whole life hiding the love she feels for one of her daughters and disguising the hatred she feels for the other.

She wondered why it didn't hurt more. Surely the guilt alone should have her crawling, with bloody knees, on the sand?

After fifteen years apart, they all meet up for a long weekend. Hazel's guilty secret is finally torn from her and the long-anticipated family reunion ends in disaster, with chilling results.

The novel is set against the haunting backdrop of a wintry Norfolk coastline and a remote lighthouse that overlooks the bleak North Sea. Making sandcastles has never been so dangerous in this dark, creepy and multi-layered mystery, where nothing is what it seems and whose troubled female protagonist starts to lose her grip on reality, putting her family's lives in danger. This is a disturbing portrayal of a deeply complex mother, whose longed-for family reunion with her two estranged daughters goes horribly wrong.

All she'd ever tried to do was protect her daughters from the truth…

The Long Weekend explores the theme of maternal love and how the 'sins of the mother' affect the daughters. It also focuses on how dysfunctional patterns repeat across generations. Jane E. James weaves gothic and supernatural elements through her novel to create a truly chilling read that will appeal particularly to fans of mystery novels.
Blind Side by Jennie Ensor – this sounds like an excellent psychological thriller.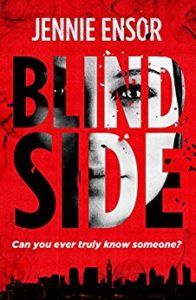 Can you ever truly know someone? And what if you suspect the unthinkable?

London, five months before 7/7. Georgie, a young woman wary of relationships after previous heartbreak, gives in and agrees to sleep with close friend Julian. She's shocked when Julian reveals he's loved her for a long time.

But Georgie can't resist her attraction to Nikolai, a Russian former soldier she meets in a pub. While Julian struggles to deal with her rejection, Georgie realises how deeply war-time incidents in Chechnya have affected Nikolai. She begins to suspect that the Russian is hiding something terrible from her.

Then London is attacked…

Blind Side explores love and friendship, guilt and betrayal, secrets and obsession. An explosive, debate-provoking thriller that confronts urgent issues of our times and contemplates some of our deepest fears.
Foxlowe by Eleanor Wasserberg – this has been on my wish list since I saw the author at an event during the Off the Shelf Festival in Sheffield last year – currently a 99p bargain.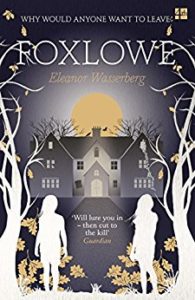 WHY WOULD ANYONE WANT TO LEAVE?

Green and Blue are sisters.

Foxlowe is home. Outside is Bad.

Green understands.

Why can't Blue?
Devotion by Louisa Young – this is the third in the trilogy that started with My Dear, I Wanted to Tell You which I loved. I haven't read the second yet, The Heroes' Welcome, but Devotion was down to £1.99 so I nabbed it while I could.
Tom loves Nenna. Nenna loves her father. Her father loves Mussolini.

Ideals and convictions are not always so clear in the murky years between the end of the First World War and the beginning of the Second. For Tom and Kitty Locke, children of the damaged WW1 generation, visiting their cousin Nenna in Rome is a pure joy. For their adoptive parents Nadine and Riley, though, the ground is still shifting underfoot.

Nobody knew in 1919 that the children they were bearing would be just ripe for the next war in 1939; nobody knew, in 1935, the implications of an Italian Jewish family supporting Mussolini.

Meanwhile Peter Locke and Mabel Zachary have found each other again together in London, itself a city reborn but riddled with its own intolerances. As the heat rises across Europe, voices grow louder and everyone must brace once more to decide what should bring them together, and what must drive them apart.
The Outrun by Amy Liptrot – another from my wish list and also currently £1.99. It's the Orkney setting that particularly appeals to me about this memoir.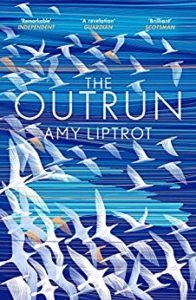 At the age of thirty, Amy Liptrot finds herself washed up back home on Orkney. Standing unstable on the island, she tries to come to terms with the addiction that has swallowed the last decade of her life. As she spends her mornings swimming in the bracingly cold sea, her days tracking Orkney's wildlife, and her nights searching the sky for the Merry Dancers, Amy discovers how the wild can restore life and renew hope.
High Tide by Veronica Henry – another 99p bargain from my wish list. Again it's the setting that appeals, this time it's Cornwall.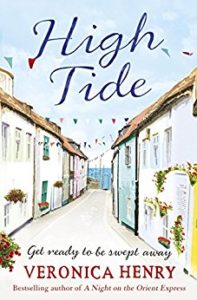 Pennfleet might be a small town, but there's never a dull moment in its narrow winding streets …

Kate has only planned a flying visit to clear out the family home after the death of her mother. When she finds an anonymous letter, she is drawn back into her own past.

Single dad Sam is juggling his deli and two lively teenagers, so romance is the last thing on his mind. Then Cupid fires an unexpected arrow – but what will his children think?

Nathan Fisher is happy with his lot, running picnic cruises up and down the river, but kissing the widow of the richest man in Pennfleet has disastrous consequences.

Vanessa knows what she has done is unseemly for a widow, but it's the most fun she's had for years. Must she always be on her best behaviour?

As autumn draws in and the nights grow longer, there are sure to be fireworks in this gloriously engaging novel from Veronica Henry, author of A Night on the Orient Express.
Exquisite by Sarah Stovell – this is a book that has been on my radar for ages and I've finally got my hands on a copy ready for the blog tour coming soon. Just look at that cover!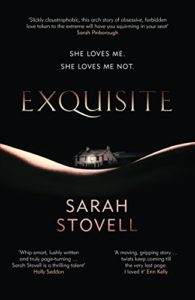 Bo Luxton has it all – a loving family, a beautiful home in the Lake District, and a clutch of bestselling books to her name. Enter Alice Dark, an aspiring writer who is drifting through life, with a series of dead-end jobs and a freeloading boyfriend. When they meet at a writers' retreat, the chemistry is instant, and a sinister relationship develops … Or does it? Breathlessly pacey, taut and terrifying, Exquisite is a startlingly original and unbalancing psychological thriller that will keep you guessing until the very last page.
Trouble in Nuala by Harriet Steel – caught my eye this week on Books from Dusk Til Dawn blog and is currently free.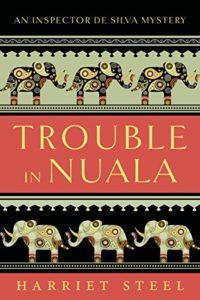 When Inspector Shanti de Silva moves with his English wife Jane to his new post in the sleepy hill town of Nuala he anticipates a more restful life than police work in the big city entails. However an arrogant plantation owner with a lonely wife, a crusading lawyer, and a death in suspicious circumstances present him with a riddle that he will need all his experience to solve.
Set on the exotic island of Ceylon in the 1930s, Trouble in Nuala is an entertaining and relaxing mystery spiced with humour and a colourful cast of characters.
Can I tempt you with any of my acquisitions this week or have you already read some of them? I'd love to hear from you.