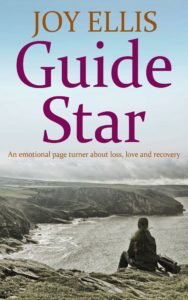 #blogtour – Guide Star by Joy Ellis @books_n_all @joffebooks
Today's post is all about Guide Star by Joy Ellis. I have a short extract to share with you but first of all you probably want to know what the book is about.
Who do you turn to when life goes wrong?

Stella's life has changed forever. Her only support is her amazing grandmother, Beth. But Beth also faces the biggest challenge of her life.
Stella North, a rising star in the police, has her life torn apart by a gunman's bullets. All her life she has faced danger, but these injuries mean she must give up the job she loves.  Her grandmother Beth is her rock. And Beth is no ordinary woman. At seventy, she runs marathons and has an exciting past that Stella knows very little about.

Will Stella find the strength to overcome the challenges of her new life, and will her grandmother at last resolve the deep emotional turmoil of her past?
By UK #1 best-selling author, Joy Ellis, this is a gripping and emotional departure from her acclaimed crime fiction.
Extract
Two drug-fuelled kids, a bungled robbery, and a gun. Stella had done what came naturally. She had protected those around her, and taken a bullet for her troubles. Two bullets, actually. Robbie smashed both his palms hard onto the steering wheel and let out a stifled cry. It wasn't fair! She had been the most alive person he had ever met. He never tired of working with her, despite the teasing he received from some of his colleagues. Some of them had suggested that it would be a relief for him not to be working in her shadow, and that his career would progress further in a different crew. What rot! It had never been cold in her shadow. She needed him as much as he needed her. He had always seen himself as an important component in a well-oiled machine. Robbie turned the key in the ignition and slowly released the handbrake. Now he was just a spare part.
Like the sound of it? Then you can get it from Amazon in ebook and paperback.
---
Thanks to Jill Burkinshaw of Books n All Book Promotions for the place on the tour. Don't forget to check out the other blogs taking part.
---
About the Author
Joy Ellis grew up in Kent but moved to London when she won an apprenticeship with the prestigious Mayfair flower shop, Constance Spry Ltd.
Many years later, having run her own florist shop in Weybridge, Ellis took part in a writer's workshop in Greece and was encouraged by her tutor, Sue Townsend to begin writing seriously. She now lives in the Lincolnshire Fens with her partner Jacqueline and their Springer spaniels, Woody and Alfie.