Seven Day Spotlight – w/e 14/05/17
I had a fairly full week on my blog last week. Monday saw me posting a guest post from Tim Tate, one of the authors of Hitler's Forgotten Children, which sounds like an amazing, if harrowing, read. You still just have time to enter the giveaway to win a copy in paperback.
On Tuesday I posted my review of the absolutely lovely book, The Sewing Machine, by Natalie Fergie.
Wednesday was a spotlight post on The Other Side by Kaylor Ward. The author is running a brilliant giveaway on her website and you can find the link on my post.
On Thursday I posted my review of Child Taken by Darren Young, which is an absorbing read about a stolen child.
And on Friday I revealed the cover of The Cold Room by Karen Long, the third in her Eleanor Raven series.
---
So what have I added to my TBR pile this week?
The Illegal Gardener by Sara Alexi – this was free when I bought it and is the first in a series of what sound like lovely books.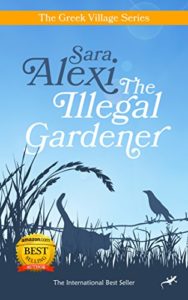 The Illegal Gardener is a moving, poignant story about life's rare encounters which knock us off our path, and elevate our very existence.

Driven by a need for some control in her life, Juliet sells up on impulse and buys a run down farmhouse in a tiny Greek village, leaving her English life behind. Her boys have grown and she has finally divorced her bullying husband. This is her time now.

Whilst making her new home habitable, Juliet discovers she needs a sturdy helping hand with the unruly and neglected garden. Unwilling to share her newfound independence with anyone, but unable to do all the work by herself, she reluctantly enlists casual labour.

Aaman has travelled to Greece from Pakistan illegally. Desperate to find a way out of poverty, his challenge is to find work and raise money for the harvester his village urgently need to survive.

What he imagined would be a heroic journey in reality is fraught with danger and corruption. Aaman finds himself in Greece, and with each passing day loses a little more of himself as he survives his new life as an immigrant worker; illegal, displaced, unwanted and with no value. Hungry and stranded, how will he ever make it back home to Pakistan?

In what begins as an uncomfortable exchange, Juliet hires Aaman to be her gardener, but resents the intrusion even though she needs the help. Aaman needs the work and money but resents the humiliation.

In spite of themselves, as the summer progresses, they get to know one another and discover they have something in common. Pieces of their lives they have kept hidden even from themselves are exposed, with each helping the other to face their painful past.

Will Juliet and Amaan finally let each other in? And what will be the outcome of this improbable conjoining of two lost souls?
The Death of Her by Debbie Howells – I loved The Beauty of the End so am keen to read another by this author (my version is the American one called Part of the Silence).
A woman's body is discovered on a Cornish farm, battered and left for dead in a maize field. Airlifted to hospital, her life hanging in the balance, no one's sure who she is. Three days later she comes round, but her memory is damaged. She knows her name – Evie – but no more, until she remembers another name. Angel – her three-year-old daughter.

As the police circulate Evie's photo, someone recognizes her. Charlotte knew her years ago, at school, when another child went missing. Leah Danning, who vanished whilst in Evie's care.

When the police search Evie's home, there's no sign of Angel. More disturbingly, there's no evidence that she ever lived there, forcing the police to question whether Evie's having some kind of breakdown.

But even from the darkest place she's ever known, Evie believes her daughter is alive. The police remain unconvinced – unaware that on the fringes of Evie's life, there's someone else. Someone hidden, watching her every move, with their own agenda and their own twisted version of reality.
The Somme Legacy by M J Lee – this is the second in a series of genealogical mysteries, a genre which I love.
July 1, 1916. The Somme, France.

A British Officer prepares to go over the top on the first day of the Battle of the Somme.

March 28, 2016. Manchester. England.

Genealogical investigator Jayne Sinclair, a former police detective, is commissioned by a young teacher to look into the history of his family. The only clues are a medallion with purple, white and green ribbons, and an old drawing of a young woman.

Her quest leads to a secret buried in the trenches of World War One for over 100 years.

Who was the real heir to the Lappiter millions?

From the author of the best selling, The Irish Inheritance, comes a gripping new book revealing family secrets hidden in the fog of war.

The Somme Legacy is the second book in the Jayne Sinclair genealogical mystery series, but it can be enjoyed as a stand-alone story.
Promised Lies by Marguerite Ashton – I'm on the blog tour for this book soon and it sounds like a great read.
Detective Lily Blanchette has a lot on her plate…

Her sister Celine has recently been murdered, her parents are on the brink of divorce, and Lily has married a man she barely knows while on the rebound.

Now she's lead on a multiple murder investigation, and determined to catch her man.

Her father, Detective Collin Blanchette, is very proud of his daughter and plans to help her anyway he can.

Six months after Lily's sister's death, the bodies of two young women are discovered. One look at the way the bodies have been posed, and Lily knows her sister's killer is back.

And she's determined to get him.

Lily visits the family of victim Tanya O'Neal and knows her cousin is hiding something.

It doesn't take long for her to discover that Tanya, wanting to go to college in Texas, was offering her services as a masseuse on the social networking site Scatter.

Tanya had arranged to meet a man going by the handle CtryGeek23. Lily thinks finding the man behind the account is key to solving the case.

But CtryGeek23 is very clever, and Lily has her work cut out for her. Then one day a young man calls the station, saying he saw his neighbour pushing around a young woman in his yard the night the two dead women went missing.

This leads Lily and her team to Thomas Sanchez, just as she learns the DNA found on Tanya comes from a family member.

As Lily digs around she learns Thomas was fired from his job at a local brewery.

She visits the owner to learn why, and discovers the body of another young woman.

But the more she digs, the more she thinks there is more than one murderer at work, and CtryGeek23 is the mastermind.

But who is he?

And how will they catch him?

As the investigation comes to life, death hits closer to home, and Lily realises she's married to a stranger. And then Lily
discovers she may not be who she thinks she is at all.

Filled with plot turns, suspense and mystery, Promised Lieswill leave you wondering how well anybody knows anyone…
Ella's Ice Cream Summer by Sue Watson – I couldn't resist this summery read.
Ella's life just hit rock-bottom, but can a summer by the sea mend her broken heart? When life gives you lemons… make ice-cream!

Life hasn't always been easy for single mum Ella, but she has just hit an all-time low; she's jobless, loveless, very nearly homeless and, to make matters worse, now the owner of a pocket-sized pooch with a better wardrobe than her.

Packing her bags (and a bigger one for the dog), Ella sets off for the seaside town of Appledore in Devon to re-live the magical summers of her youth and claim her portion of the family ice-cream business: a clapped-out ice-cream van and a complicated mess of secrets.

There she meets gorgeous and free-spirited solicitor, Ben, who sees things differently: with a little bit of TLC he has a plan to get the van – and Ella – back up and running in no time.
The Other Twin by L V Hay – lots of buzz around about this one so I can't wait to read it.
When India falls to her death from a bridge over a railway, her sister Poppy returns home to Brighton for the first time in years. Unconvinced by official explanations, Poppy begins her own investigation into India's death. But the deeper she digs, the closer she comes to uncovering deeply buried secrets. Could Matthew Temple, the boyfriend she abandoned, be involved? And what of his powerful and wealthy parents, and his twin sister, Ana? Enter the mysterious and ethereal Jenny: the girl Poppy discovers after hacking into India's laptop. What is exactly is she hiding, and what did India find out about her? Taking the reader on a breathless ride through the winding lanes of Brighton, into its vibrant party scene and inside the homes of its well- heeled families, The Other Twin is a startling and up-to-the-minute thriller about the social-media world, where resentments and accusations are played out online, where identities are made and remade, and where there is no such thing as truth …
Under the Sun by Lottie Moggach – I loved Kiss Me First so this should be a good read too.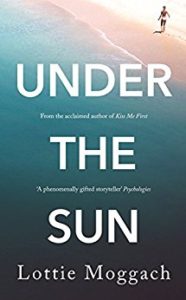 Anna's friends and family think she is living the dream in her beautiful finca under the Spanish sun. But the reality is far from perfect. The handsome, complicated man she was building a life with has left with little more than a note to say goodbye and the future she imagined has crashed around her ears. Anna has secretly embarked on an ill-advised affair and lives above the dingy bar she runs in the sleepy beach town of Marea, surrounded by British expats as homesick and stuck as she is.

When Simon, a local businessman, offers to rent the finca, Anna hopes it will pave the way for her escape. But there is more to him than meets the eye, and when a body washes up on the beach in mysterious circumstances, Anna realizes she may be the only one with the power to unravel the truth. But how can she prove that Simon is connected, and how can she reclaim her house? Anna is prepared to risk everything to get home – even though she's no longer sure where home really is.

Urgent, gripping and brilliantly observed, Under the Sun is an exhilarating novel about heartbreak, identity, migration and finding a place to call home.
A Murder of Crows by Ian Skewis – I love the dark and brooding cover on this one.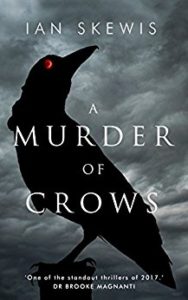 The most violent thunderstorm in living memory occurs above a sleepy village on the West Coast of Scotland.

A young couple take shelter in the woods, never to be seen again…

DCI Jack Russell is brought in to investigate. Nearing retirement, he agrees to undertake one last case, which he believes can be solved as a matter of routine.

But what Jack discovers in the forest leads him to the conclusion that he is following in the footsteps of a psychopath who is just getting started. Jack is flung headlong into a race against time to prevent the evolution of a serial killer…
The Thousand Lights Hotel by Emylia Hall – a book set in Italy is always going to be a winner for me.
When Kit loses her mother in tragic circumstances, she feels drawn to finally connect with the father she has never met. That search brings her to the Thousand Lights Hotel, the perfect holiday escape perched upon a cliff on the island of Elba. Within this idyllic setting a devastating truth is brought to light: shaking the foundations upon which the hotel is built, and shattering the lives of the people within it.

A heartbreaking story of loss, betrayal, and redemption, told with all the warmth and beauty of an Italian summer.
31 Days of Wonder by Tom Winter – this sounds like such an interesting story.
'And in that instant, he knows in his heart that today is a momentous day; come what may, he and Alice will meet again, and life will never be the same.'

Alice is stuck in an internship she loathes and a body she is forever trying to change.

Ben, also in his early twenties, is still trying to find his place in the world.

By chance they meet one day in a London park.

Day 1
Ben spots Alice sitting on a bench and feels compelled to speak to her. To his surprise, their connection is instant. But before numbers are exchanged, Alice is whisked off by her demanding boss.

20 minutes later
Alone in her office toilets, Alice looks at herself in the mirror and desperately searches for the beauty Ben could see in her.

Meanwhile, having misunderstood a parting remark, Ben is already planning a trip to Glasgow where he believes Alice lives, not realising that they actually live barely ten miles apart.

Over the next 31 days, Alice and Ben will discover that even if they never manage to find each other again, they have sparked a change in each other that will last a lifetime. In 31 Days of Wonder, Tom Winter shows us the magic of chance encounters and how one brief moment on a Thursday afternoon can change the rest of your life.