#blogtour – Child Taken by Darren Young @darrenyoungbook @RedDoorBooks #bookreview #suspense
I'm so pleased to be on the blog tour for Child Taken by Darren Young, published by the brilliant Red Door Publishing. My review is further down the page but here's what the book is all about:
One hot summer's day, two-year-old Jessica Preston disappears from the beach. The police are convinced she drowned, but Sandra Preston won't give up hope that her daughter is still alive. After all, a mother's instinct is never wrong.
Is it?
Twenty years later, another child goes missing, and Sandra is approached by a young journalist who raises questions about what really happened to Jessica Preston all those years ago. But when the journalist discovers someone with an explosive secret, it threatens not only to reveal what's been covered up for so long, but puts both their lives in danger.
My review
The blurb of this book appealed to me instantly. The story of a child taken one day from a crowded beach and largely forgotten about, and also the story of a budding journalist who wants to get to the truth, make for a fascinating premise.
Danni's and Laura's stories are told in short chapters from each point of view. Danni is a young woman who, after suffering a tragedy, feels that something isn't quite right in her life. Laura is the journalist who starts to look into the disappearance of Jessica Preston that day twenty years earlier.
For some reason I preferred Laura's chapters and I'm not sure why. Maybe because she was the one doing the investigating. She's hungry for the truth to the point that sometimes she did some very silly things and I really wanted to shout at her through my book (not that it would have done any good!).
I don't know how this book is being marketed but I had the feeling it was going to be a psychological thriller. In reality I think it was more of a family drama and there was a lot of background and information about the family life of the two young women. A bit too much information really. I think there was a lot of superfluous detail given in this book and it could have been shorter than its 438 pages. And yet, despite that I couldn't wait to pick it up and read some more. The short chapters worked really well to keep up the pace and I rattled through it much quicker than I would have expected given its length.
Child Taken is an absorbing story and a real page turner, a cross between a thriller and an emotional drama. I think it is a really skilfully plotted debut novel from an author I would definitely read again.
With thanks to Red Door Publishing for the review copy and the place on the blog tour. Child Taken will be published on 18th May 2017 in ebook and paperback.
---
Don't forget to check out the other blogs on the tour.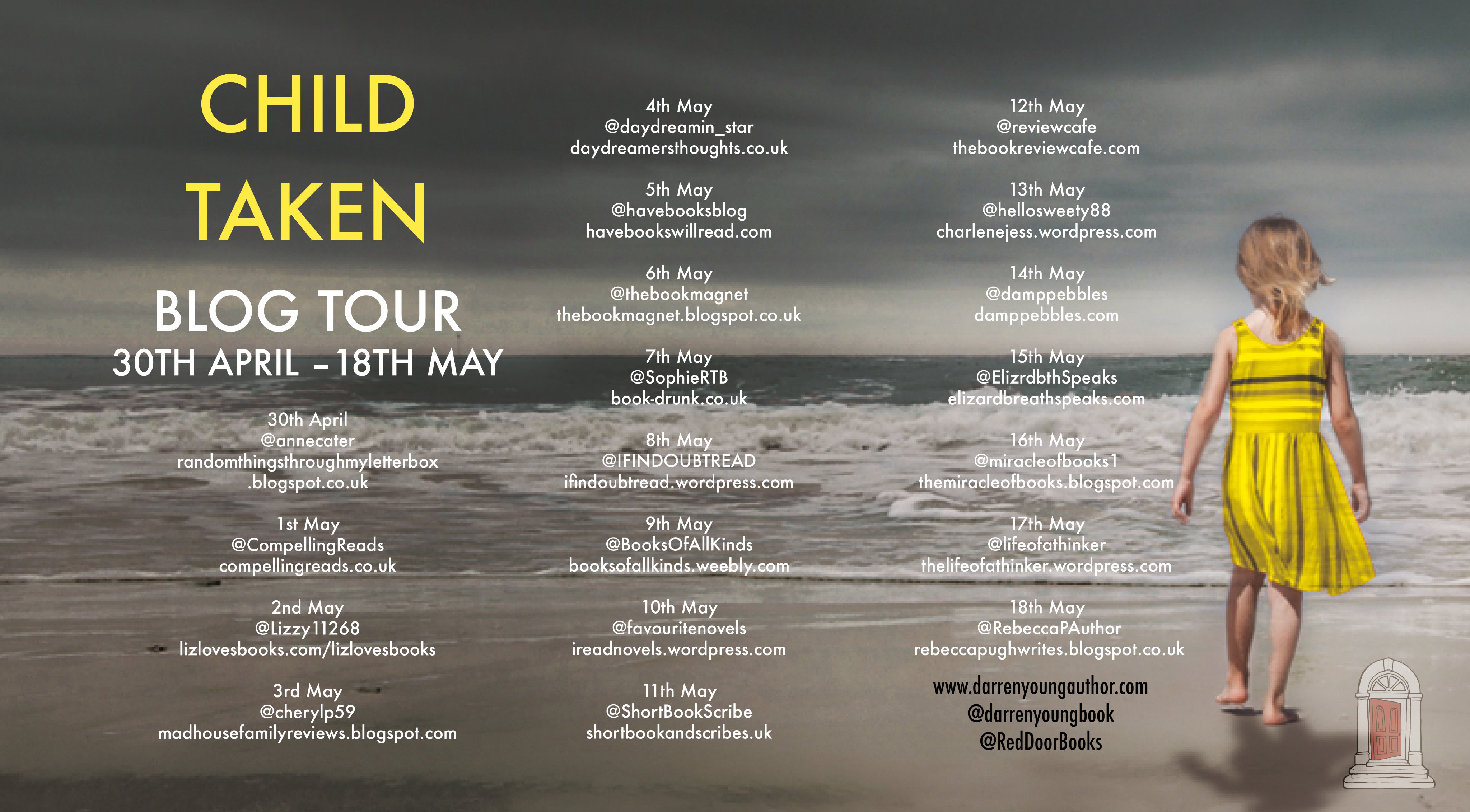 ---
About the Author
Darren Young lives in Nottingham with his wife, Luisa and their two children, Alessio and Emilia. Away from writing, he has a background in financial services and an MBA from the University of Wolverhampton and helps organisations to improve their customer service, whilst also being involved in producing papers and a weekly blog on the subject. He wanted to write something different; a story he'd like to read, one about ordinary people thrown into extraordinary positions and had the ideas but wasn't sure that there was enough time, or coffee, to fit it into his already busy life. However, he started working on Child Taken in 2014 and found that there was. He's currently working on a new version of the book he wrote for 'practice' before embarking on Child Taken and after two years writing about child abduction, he wanted to explore something a little lighter; heart transplants.