Seven Day Spotlight – w/e 10/09/17
Here we are on another Sunday – how quickly the weeks go by.
This week on my blog:
On Monday, as part of the blog tour for Keep Me Safe, I had a guest post from Daniela Sacerdoti about her TBR pile.
On Wednesday I had a mini Q&A with Sue Barnard as part of the blog tour for Never on Saturday. The giveaway is still open so do pop and have a look.
Something a little different on Thursday, a recipe for cut-out iced biscuits as part of the blog tour for The Little Bakery on Rosemary Lane by Ellen Berry.
Friday saw me posting my review of Lost in the Lake by AJ Waines as part of the blog tour.
And earlier today I posted a guest post from Caimh McDonnell as part of the blog tour for Angels in the Moonlight.
---
And so to acquisitions. I've been thinking about the number of books I buy this week and thinking that most of what I buy is because they are on offer at the time and it seems daft not to. But it makes me less discerning, not in terms of whether I think I will like what I buy (I wouldn't buy it otherwise), but whether realistically I am ever going to get round to reading them. Part of the joy of books for me is actually acquiring them, looking at them, admiring them. But I have a sense of despair about how many I own compared to how many I can actually read. Anyway, I'm waffling a bit but I just wondered what others felt about reduced price ebooks and whether you buy them because it seems daft not to, almost with a knowledge that you will never be able to read some of them.
And with that in mind, here's this week's haul!
Summer at Coastguard Cottages by Jennifer Bohnet – had to have this one after loving Rosie's Little Kiosk by the Sea so much.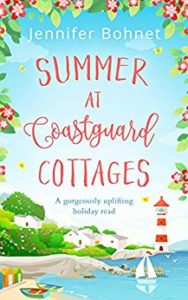 A summer of secrets!

Karen is escaping to her little cottage on the Devonshire coast this summer – it's the perfect way to forget about her ex-husband. So she's surprised to find love again when she least expected it!

Bruce is learning to live again after the death of his beloved wife. She loved their cottage by the sea but Bruce is torn by the bitter sweet memories – should he sell up and stay in the city?

Carrie is at a crossroads in her life after inheriting a fortune from the father she never met. Now she must make a life-changing decision that will affect her new friends, too…

Could eight weeks at Coastguard Cottages change all of their lives – forever?
The Winter's Child by Cassandra Parkin – I'm looking forward to being on the blog tour for this one.
Five years ago, Susannah Harper's son Joel went missing without trace. Bereft of her son and then of her husband, Susannah tries to accept that she may never know for certain what has happened to her lost loved ones. She has rebuilt her life around a simple selfless mission: to help others who, like her, must learn to live without hope.

But then, on the last night of Hull Fair, a fortune-teller makes an eerie prediction. She tells her that this Christmas Eve, Joel will finally come back to her.

As her carefully-constructed life begins to unravel, Susannah is drawn into a world of psychics and charlatans, half-truths and hauntings, friendships and betrayals, forcing her to confront the buried truths of her family's past, where nothing and no one are quite as they seem.

A ghostly winter read with a modern gothic flavour. A tale of twisted love, family secrets and hauntings.
The Forgotten Room by Ann Troup – another one for a blog tour and this sounds fantastic.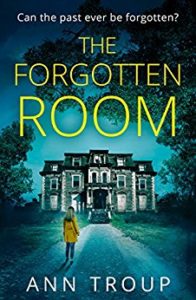 Can the past ever be forgotten?

As soon as nurse Maura Lyle sets foot inside the foreboding Essen Grange, she feels shivers ripple down her spine. And the sense of unease only increases when she meets her new patient, Gordon Henderson.

Drawn into the Henderson family's tangled web of secrets and betrayals, Maura can ignore the danger lurking behind every door no longer. Even the door she has been forbidden from opening…

Essen Grange is a house with dark and cruel intentions. But now that darkness has turned on her, can Maura escape before it's too late?
It Was Always You by Georgie Capron – the Positano setting drew me to this one.
Libby has been drifting through life for too long and, now in her early 30's, it's time to grow up. She decides to have one last summer of fun before buckling down, so heads off to beautiful Positano in Italy.

There, despite all her good intentions, she can't help but fall a little in love with the very handsome, but rather naughty, Luca and, as the summer draws to a close, Libby has some big decisions to make.

Should she head back home and face up to her responsibilities? Is Luca really the right man to start a family with, or has the perfect man been right in front of her eyes all this time?

And, when it comes to affairs of the heart, is it really better to have loved and lost than never to have loved at all?
Christmas at the Falling Down Guesthouse by Lilly Bartlett – another blog tour book and one which I'm sure to enjoy as I loved The Big Dreams Beach Hotel. Also I think it's my first 'C' word book this year.
Put your feet up and tuck into the mince pies, because you won't have to lift a finger to enjoy this Christmas!

Too bad the same can't be said for single mother and extremely undomestic goddess, Lottie.

When her beloved Aunt Kate ends up in hospital just before Christmas, Lottie and her seven-year-old daughter rush to rural Wales to take over her B&B. A picky hotel reviewer and his mad family are coming to stay, and without the rating only he can bestow, Aunt Kate will lose her livelihood.

But Lottie can barely run her own life, let alone a hotel. How will she manage to turn the falling-down guesthouse into the luxurious wonderland the reviewer expects? And could the mysterious taxi driver, Danny, who agrees to help her, turn out to be the real gift this season?

As the snow sparkles on the trees and hot chocolate steams in your hand, snuggle into the delicious magic of Christmas at the Falling-Down Guesthouse.
The Deaths of December by Susi Holliday – and like buses those Christmas books all start to come along at once. This one looks a bit different and very intriguing.
The hunt is on for a serial killer in a thrilling festive crime novel.

It looks like a regular advent calendar.

Until DC Becky Greene starts opening doors…and discovers a crime scene behind almost every one.

The police hope it's a prank. Because if it isn't, a murderer has just surfaced – someone who's been killing for twenty years.

But why now? And why has he sent it to this police station?

As the country relaxes into festive cheer, Greene and DS Eddie Carmine must race against time to catch the killer. Because there are four doors left, and four murders will fill them…

It's shaping up to be a deadly little Christmas.
A Time to Change by Callie Langridge – another blog tour book and it's a romance time travel book. I love a good time travel story.
"I would rather love passionately for an hour than benignly for a lifetime." 

In a house full of history and secrets, the past will not stay where it belongs…

Lou has always loved Hill House, the derelict manor on the abandoned land near her home. As a child, the tragic history of its owners, the Mandevilles, inspired her dream to become a history teacher. But in her late twenties, and working in a shop to pay off student debts, life is passing her by.

That changes when a family disaster sends Lou's life into a downward spiral and she seeks comfort in the ruined corridors of Hill House. The house transforms around her and Lou is transported back to Christmas 1913. Convinced she has been in an accident and is in a coma, Lou immerses herself in her Edwardian dream. With the Mandevilles oblivious to her true identity, Lou becomes their houseguest and befriends the eldest son, Captain Thomas Mandeville, a man she knows is destined to die in the First World War.

Lou feels more at home in the past than the present and when she realises the experience is real she sets out to do everything in her power to save her new friends.

Lou passes between 1913 and 2013, unearthing plots of murder and blackmail, which she must stop no matter the cost.

On her quest to save the Mandevilles by saving Thomas, Lou will face the hardest decision of her life. She will learn that love cannot be separated by a century.
One Pair of Hands by Monica Dickens – I liked the idea of going from upstairs to downstairs rather than the other way round.
'Life was a wordless battle of wits between us, with her keeping a sharp look-out for signs of neglect, and me trying to disguise my slovenliness by subterfuge. I became an adept at sweeping dust under the bed, and always used the same few pieces of silver' 

Unimpressed by the world of debutante balls, Monica Dickens shocked her family by getting a job. With no experience whatsoever, she gained employment as a cook-general.

Monica's cooking and cleaning skills left much to be desired, and her first few positions were short lived, but soon she started to hold her own. Monica discovered the pleasure of daily banter with the milkman and grocer's boy and the joy of doing an honest day's work, all the while keeping a wry eye on the childish pique of her employers.

One Pair of Hands is a fascinating and thoroughly entertaining memoir of life upstairs and downstairs in the early 1930s.
The Biscuit Girls by Hunter Davies – I have never read anything by Hunter Davies but I did love his late wife, Margaret Forster's non-fiction so I thought I would give this one a go.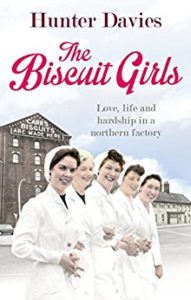 Ivy, Dulcie, Barbara, Ann, Dorothy and Jean all had different reasons for applying to work at Carr's biscuits, but once they had put on their overalls and walked through the factory gates they discovered a community full of life, laughter and friendship.

To those who didn't know, the biscuit factory that towered over Carlisle might look like just another slice of the industrial North, a noisy and chaotic place with workers trooping in and out at all hours. For the biscuit girls it was a place where they worked hard, but also where they gossiped, got into scrapes and made lifelong friends. Outside the factory walls there might be difficult husbands or demanding kids, and sometimes even heartbreak and tragedy, but they knew there would always be an escape from their troubles at Carr's.

Some, like Barbara, only applied because she needed the extra cash, until things got a bit easier at home. Her supervisor cross examined her about who would be looking after the kids while she was at work, but let her have the job. Like many of the women who joined up 'temporary' Barbara went on to stay at Carrs for 32 years.

Beginning in the 1940s, these heartwarming and vividly-remembered stories have all been told by the women themselves to Hunter Davies.
Heartaches and Christmas Cakes by Amy Miller – this is also for a blog tour. It caught my eye straightaway with the baking element.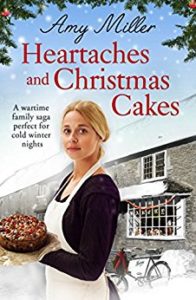 December, 1940: All that Audrey Barton wants is her family together for Christmas. But the war changes everything… 

The Barton family bakery in Bournemouth has been at the heart of the town for generations: Audrey and Charlie Barton have never been rich, but their bread and cakes – and their love and advice – have enriched the lives of others in the town for many years.

When war breaks out, it doesn't take long for trouble to arrive on the bakery doorstep. Audrey's brother William has joined up to fight, and William's fiancé Elsie fears she may lose him before their life together has even begun. Audrey's stepsister Lily comes to stay, but Lily is clearly hiding a dark secret.

And a silent and strange little girl is evacuated to the town – will Audrey get to the heart of what is ailing her?

Audrey battles to keep hope and love alive in tumultuous times. But when disaster strikes at Christmas, will her efforts be in vain?

This is the first book in a heartwarming and romantic new saga series, perfect for fans of The Gingerbread Girl, Nadine Dorries and Ellie Dean.
This is How It Ends by Eva Dolan – I keep hearing a lot about this one and what a wonderfully succinct blurb it has.
This is how it begins.

With a near-empty building, the inhabitants forced out of their homes by property developers.

With two women: idealistic, impassioned blogger Ella and seasoned campaigner, Molly.

With a body hidden in a lift shaft.

But how will it end?
My Former Heart by Cressida Connolly – this has been on my wish list for a while and I'm not sure now where I first heard about it. A quick read of the first few pages reminded me why I liked the sound of it.
When she grew up, Ruth would say that she could place the day that her mother had decided to go away

She didn't know the actual date, but she recalled the occasion: it was on the afternoon of a wet day, early in 1942, during a visit to the cinema. She thought she could even pinpoint the exact moment at which Iris had made up her mind to go, leaving her only child behind. Neither of them could have guessed then that they would never live together again.

Spanning the second half of the last century, 'My Former Heart', Cressida Connolly's mesmerising first novel, charts the lives of three generations of Iris's family. Ruth will be deserted again, many years later, by a husband she loves, but not before she has had two children by him. She leaves London to live with her uncle, where she creates a new life for herself with another woman. And we follow the lives of her two children, trying to make a place for themselves in the world in the shadow of the family that precedes them.

With its large cast of fascinating characters, this is an outstanding novel about families and their ability to adapt. It surely marks the beginning of a long career as a novelist for Cressida Connolly.
The Wife Part One: To Have and to Hold – another one I keep hearing about. It's supposed to be similar to Doctor Foster which I love.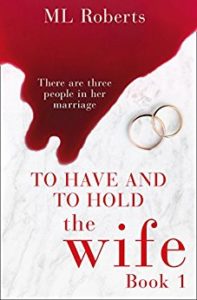 Michael and Ellie are that couple.

The ones who have it all.

Success, charm, trust…but no relationship is perfect and the events of the past cast a shadow over their charmed life together.

When lecturer Michael starts to mentor a new student, Ellie fears that history is repeating itself. As paranoia takes its ugly hold, it's clear some things just can't be forgotten…or forgiven.
Not That Kind of Love by Clare Wise and Greg Wise – kindly sent to me by Emma from damppebbles blog. I think this one might be a heartbreaker.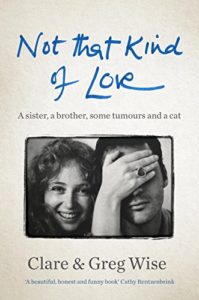 A moving, thought-provoking and surprisingly humorous book which is both a description of a journey to death and a celebration of the act of living.
Based on Clare Wise's blog, which she started when she was first diagnosed with cancer in 2013, Not That Kind of Love charts the highs and lows of the last three years of Clare's life.
The end result is not a book that fills you with despair and anguish. On the contrary, Not That Kind of Love should be read by everybody for its candour, and for its warmth and spirit. Clare is an astonishingly dynamic, witty and fun personality, and her positivity and energy exude from every page.
As she becomes too weak to type, her brother – the actor Greg Wise – takes over, and the book morphs into a beautiful meditation on life, and the necessity of talking about death.
With echoes of Atul Gawande's Being Mortal and Cathy Rentzenbrink's The Last Act of Love, it is a very special read that rejoices in the extraordinary and often underestimated sibling bond, and the importance of making the most of the ordinary pleasures life has to offer. As Greg Wise writes in the book: 'Celebrate the small things, the small moments. If you find yourself with matching socks as you leave the house in the morning, that is a cause for celebration. If the rest of the day is spent finding the cure for cancer, or brokering world peace, then that's a bonus.'
Hunters Moon by Lynda Renham – this sounds deliciously sinister to me.
Hunters Moon, set in the little English village of Penlyn, promises to be the dream home for Flora and Adam McIntosh. Adam's career in politics has taken a turn for the better and the only thing left to complete the couple's happiness is a baby. Flora believes the new home will help her overcome a recent miscarriage but she soon realises the house is not all it seems. What are the villagers of Penlyn hiding and does Hunters Moon hold a dark secret? Flora soon finds herself entrapped in a web of deceit with no one to turn to. Her dream home becomes her nightmare as Flora fears for her life.
Appetite by Anita Cassidy – another blog tour read and it looks like a really interesting one.
Because everyone hungers for something…

Food and Sex: two appetites the modern world stimulates, but also the ones we are expected to keep under control. But what happens when we don't?

Embarking on an affair, lonely wife and mother Naomi blossoms sexually in a false spring while David, the fattest boy at the local comprehensive and best friend of her son, struggles to overcome bullying and the apathy of his divorced mother.

David finally starts to learn about the mechanisms of appetite through a science project set by his intelligent but jaded teacher, Matthew. David's brave efforts to change himself open Matthew's eyes to his activist girlfriend's dangerous plans to blow up VitSip, a local energy-drink company where Naomi works.

At the mercy of their appetites, this exciting debut novel shows that some hungers can never be satisfied…
Have you read any of these or are you now rushing away to put any of them on your wish list? I'd love to hear from you.