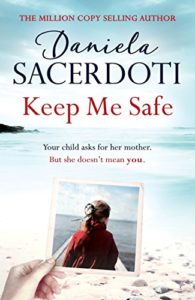 #blogtour – Keep Me Safe by Daniela Sacerdoti @Danisacerdoti @Headlinepg @Bookish_Becky #guestpost
I'm thrilled to be on the Keep Me Safe blog tour today – thank you to Becky Hunter from Headline Books. I reviewed the book back in April and loved it. You can read my review here. And today I have a lovely guest post from Daniela about her TBR pile (yes, even authors have them!).
As a reminder, here's what the book is about:
A lost girl shows a mother and her daughter their way home. Keep Me Safe is the gripping new novel from the author of the bestselling Watch Over Me, Daniela Sacerdoti. If you love Amanda Prowse, Jodi Picoult or Dorothy Koomson, you will love this.

When Anna's partner walks away from their relationship, she is shattered. But it is her little girl Ava who takes it hardest of all. The six year old falls silent for three days. When she does speak, her words are troubling. Ava wants to go home. To a place called Seal. To her other mother.

Anna knows to unravel the mystery she must find Seal and take Ava there. She hopes this tiny island will unlock her daughter's memories. But could it also offer a new life… and unexpected love… for Anna too?
---
Daniela's TBR pile
When the writing gets serious, the writers stop reading! I can only read fiction when I'm in between books or in those early stages when concentration doesn't need to be complete and all-consuming. Because I starve myself of books for so long, when I'm actually free to read it's hard to unglue me from my book. The same happens to my son, who goes through binge-reading stages; and so we have created the Reading Club. We meet every night after dinner and kitchen's clean-up, on mum and dad's bed, big enough for two (and our cocker, who often takes part), and read. Sometimes books, sometimes our kindles, or even comics – whatever genre we fancy. When I was my son's age – he's twelve – books were expensive and kindles didn't exist, moreover our local library was pretty sparse (to put it mildly) so I never had enough to read, not enough to feed my voracious appetite. My son, instead, has so much more choice and I want him to take full advantage of it. His TBR and mine are equally endless, and sometimes they overlap: for example we both want to read Andrew Lane's Young Sherlock Holmes series, Star Wars novels and Rogue One (we're both big Sci-Fi fans). Some of my TBR books, instead, would never be part of a twelve year's old list – too romantic! I'm planning to explore the latest Lesley Pearse and Sheila O'Flanagan, and to re-read The Glass Lake by Maeve Binchy. I'm salivating in anticipation for the Ninth Rain by Jen Williams, a fantasy book that looks simply amazing. I'm also reading Zachariah Setchin, whose controversial 'alternative history' theories are mind blowing, including that humanity has been created by aliens! Although I don't believe there's any truth in what he writes, I enjoy the flights of imagination. On my reading list there are a few theological/religious works, one on women mystics and saints, and one is The Screwtape Letters by C.S. Lewis. To try and motivate me into moving more, I bought Strength for Runners by John Shephard (I was inspired by the way he shares a name with a character in Stargate Atlantis!) and Aiming True, a book mostly about yoga by Kathryn Budig. I love both running and yoga, though I have to admit I'm not very fast nor very flexible! Let's just say that I attended a yoga class where ladies with grey hair were more flexible than me…
Recently, as I finished the first draft of my second Seal book, I felt very much in the mood for romance, so I plan to explore Amazon for highlanders, Vikings and knights – yes, my taste in romance is that original! All these books are waiting patiently for the summer, when I'll set up a recliner in the garden with a pitcher of homemade vitamin water beside me, and take off…All in all, the keywords for this summer's reading are Sci-fi, Romance, Sport and Spirituality. And don't forget my son's comics! And you? I would love to hear your suggestions for both me and my twelve year old!
Thank you so much, Daniela. I love the idea of your Reading Club and hope my son and I can do something similar one day. Does anybody have any suggestions for Daniela and her son to read?
---
Do have a look at the other blogs taking part in the tour.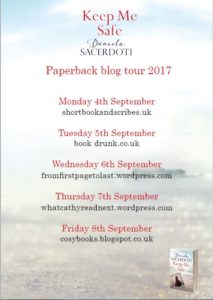 ---

About the Author (taken from the author's Amazon page)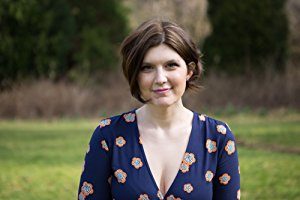 Daniela Sacerdoti is a phenomenon. Over one million copies of her novels have been sold in eBook, her debut novel Watch Over Me was the eighth bestselling Kindle book of all time in 2015 and she was also ranked as the eleventh top-selling Kindle author.
Daniela writes beautiful, haunting and bestselling fiction for adults (the Glen Avich series), young adults (the Sarah Midnight trilogy) and children. Her novels have been translated in twelve languages.
Daniela was born and raised in Italy. She studied Classics, then lived in Scotland for fourteen years, where she married and taught in a primary school. Daniela's children's book Really WeirdRemovals.Com was shortlisted for the Scottish Children's Book Awards. She has also written for the BBC.
Daniela, her husband and their two sons make their home in a tiny village in the Alps. To discover more about Daniela and her world, visit www.danielasacerdoti.com.