#blogtour – Lost in the Lake by A J Waines @AJWaines #bookreview #CrimeFiction
I'm delighted to be on the blog tour today for Lost in the Lake by A J Waines, which was published yesterday. I'm sharing my review with you but first here's what the book is about:

She came at first for answers…now she's back for you

Amateur viola player Rosie Chandler is the sole survivor of a crash which sends members of a string quartet plunging into a lake. Convinced the 'accident' was deliberate, but unable to recall what happened, she is determined to recover her lost memories and seeks out clinical psychologist, Dr Samantha Willerby.

But Rosie is hiding something…

Sam is immediately drawn to the tragic Rosie and as she helps her piece the fragments together, the police find disturbing new evidence which raises further questions. Why is Rosie so desperate to recover her worthless viola? And what happened to the violin lost in the crash, worth over £2m?

When Rosie insists they return to the lake to relive the fatal incident, the truth about Rosie finally creeps up on Sam – but by now, she's seriously out of her depth…

A stand alone novel (and the second book in the Dr Samantha Willerby series), Lost in the Lake is a nail-biting, edge-of-your-seat Psychological Thriller that will leave you glancing over your shoulder.
---
Did I make you jump? Turning up like that in your own kitchen? You have to admit, it must have been a nasty shock.
This thrilling opener is how Lost in the Lake starts. It's the second in the Samantha Willerby series but can be read as a standalone. In fact, despite my best intentions, I haven't read the first one yet and whilst the events from that book are referred to throughout this book it's only by way of background rather than essential information.
Sam is a clinical psychologist who takes on a patient, Rosie, who was in a van that plunged into a lake in the Lake District and Rosie was the only person who managed to get out. How damaged is Rosie and how involved should Sam become with one of her patients, no matter how needy?
I have the feeling that Sam is the sort of character who is constantly getting into 'situations'. She's a little impetuous and doesn't always follow the rules of her profession. I think she's a little damned if she does and damned if she doesn't with this and maybe her judgements aren't always the best. But I liked her a lot and think she's an interesting and fairly complex character.
The story is told in turns by Sam and Rosie in the first person. For the first part of the book I struggled a little in switching from one to the other but then I started to understand their personalities and by the half way point I was ready to race through to find out more about the crash, Rosie's psyche, the missing viola and the violin that was worth a fortune.
I thought Lost in the Lake was a well-plotted thriller with two very different protagonists who are both fascinating in their own ways. I found it quite sinister in places and I thought it was clever to show the story from both sides. All in all a truly good read.
With thanks to the author for the review copy and the place on the blog tour. Lost in the Lake is available now in ebook (just 99p!) and paperback.
---
Here are the details of the other blogs taking part in the tour.

---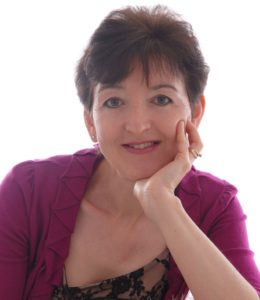 AJ Waines has sold over 400,000 books worldwide and topped the UK and Australian Kindle Charts in 2015 & 2016 with her number one bestseller, Girl on a Train. Following fifteen years as a psychotherapist, she is now a full-time novelist with publishing deals in France, Germany, Norway, Hungary and USA (audiobooks).
Her fourth psychological thriller, No Longer Safe, sold over 30,000 copies in the first month, in thirteen countries. AJ Waines has been featured in The Wall Street Journal and The Times and was ranked a Top 10 UK author on Amazon KDP (Kindle Direct Publishing) in 2016. She lives in Hampshire, UK, with her husband. Visit her website and blog, or join her on Twitter, Facebook or on her Newsletter.