Seven Day Spotlight – w/e 22/07/18
Welcome to this week's Seven Day Spotlight. It's been another week of the heatwave so yet again there's a bit of this going on. I've really had enough of it now.
This week on my blog:
On Monday, I shared my review and an extract from The Mistress at Pennington's by Rachel Brimble. There's a giveaway still running on that post for an Amazon Gift Certificate.
Tuesday saw me posting my review of The New Girl by Ingrid Alexandra and a guest post by Fiona Perrin, author of The Story After Us about how she unconsciously uncoupled and the book it inspired.
Wednesday's post was a guest post from C.J. Sutton, author of Dortmund Hibernate, about why he chose to write the book.
On Thursday, I shared an extract from I, Witness by Niki Mackay and also a guest post from John Wilson, author of In the Dark Hour about how he researched the book.
Friday's post was an extract from The Memories of Us by Vanessa Carnevale.
And Saturday's post was a guest post by Allie Burns, author of The Land Girl, about where she gets her writing inspiration from.
---
Here's what's been added to my TBR pile this week: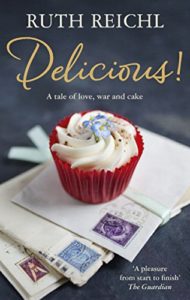 Dear Mr Beard,

I sent my Magic Moments off yesterday, and that made me think of you.

I hope the cookies will remind Father of our life here. Or maybe I should say what life used to be, before the war changed everything . . .

Hidden in the library of Delicious! magazine young intern Billie discovers the wartime letters of twelve-year-old Lulu Swan, written to distinguished food writer, James Beard. Lulu's can-do spirit in the face of food shortages and other hardships help Billie come to terms with her own tragic past. Until one day it occurs to her: Lulu Swan might still be alive…
I know who you are.
I've come to pay you back.

Nobody in Barbara Marsden's family knows about her past, least of all her daughter Helen. When she is diagnosed with cancer, her secrets are no longer safe. Someone wants the truth to come out.

Desperate to keep her mother safe Helen will stop at nothing to uncover the truth of her past, but the consequences might hurt her own fractured family and put Barbara at risk…

What really happened all those years ago? And who is going to end up paying the price?

A gripping family drama where love and betrayal go hand in hand, perfect for fans of Lisa Jewell, Kerry Fisher and Adele Parks.
Friend of the Family by Tasmina Perry
She thinks your life is perfect. She thinks you don't deserve it.

Your job

Amy is more than happy to offer the daughter of an old friend work experience at her London magazine. Josie is young and ambitious. She just needs a foot in the door.

Your home

When Josie arrives, she swiftly makes herself indispensable at work and at home. And when childcare falls through before a long-awaited university reunion in Provence, it begins to look as if Josie may be staying longer than Amy had bargained for.

Your husband

In the heat of Provence, Josie's presence starts to unsettle Amy, especially around her husband. As cracks begin to appear in Amy's perfect life, she cannot shake the feeling that the family friend may not be a friend at all…

Don't miss this gripping, addictive read. It will make you think twice about who you invite into your home…
The Hidden Bones by Nicola Ford
The dead rarely leave matters tidy, widow Clare Hills knows that all too well. In search of a new start, Clare reconnects with university friend Dr David Barbrook and is pleased when he asks for her help sifting through the effects of recently deceased archaeologist Gerald Hart. Together they stumble the lost finds from Gerald's most glittering dig. Hidden from view for decades, and supposedly destroyed in an arson attack, the discovery of the Hungerbourne Barrows archive is every archaeologist's dream. However, the dream soon turns to a nightmare which puts Clare at the centre of a murder inquiry.
Just Before I Died by S.K. Tremayne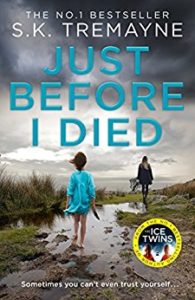 Sometimes you can't even trust yourself…

The chilling new psychological thriller by S. K. Tremayne, author of the Sunday Times No. 1 bestseller, THE ICE TWINS.

How long can they keep you in the dark?

It was just a patch of ice. Just a bit of bad luck. But it was nearly enough to kill Kath Redway, spinning her car into Burrator Reservoir in the beautiful Dartmoor National Park.

Miraculously, Kath escapes her accident with a few bruises and amnesia. She is shocked but delighted to be back in her remote moorland farmhouse with her handsome husband Adam, and her shy, gifted daughter Lyla. She's alive!

But her family is not so delighted. Her husband is cold, even angry. Her daydreaming daughter talks ever more strangely, about a 'man on the moor'. Then, as chilling fragments of memory return, Kath realizes her 'accident' was nothing of the kind. And now her life collapses into a new world of darkness, menace, and terror.
The Eliza Doll by Tracey Scott-Townsend
Ellie can't work out whether she's running away from the past or towards a future she always felt she should have had. She left university and had baby after baby without even meaning to. But it was her third child she blamed for ruining her life.

Now her children have grown and Ellie is on her own. She shocks everybody by selling her home and moving into a converted van to travel the country selling handmade dolls at craft fairs.

It can be lonely on the road. Ellie has two companions: her dog, Jack, and the mysterious
Eliza who turns up in the most unexpected places. At every encounter with Eliza, Ellie feels as if she's standing again in the aching cold of a waterfall in Iceland, the sound of crashing water filling her with dread.

Ellie can't change the past. But is it really too late to rectify the bad thing she did when Eliza was a baby?
The Tattoo Thief by Alison Belsham
A policeman on his first murder case
A tattoo artist with a deadly secret
And a twisted serial killer sharpening his blades to kill again…

When Brighton tattoo artist Marni Mullins discovers a flayed body, newly-promoted DI Francis Sullivan needs her help. There's a serial killer at large, slicing tattoos from his victims' bodies while they're still alive. Marni knows the tattooing world like the back of her hand, but has her own reasons to distrust the police. So when she identifies the killer's next target, will she tell Sullivan or go after the Tattoo Thief alone?
Supernova Hangover by Emma Jones
Two girls meet on a train with a shared mission to have it all…

Toots Silver, a young, local news reporter from the North West, lands in London with little more than her ambition. Against the odds, she talks her way into a dream job at a celebrity magazine, riding high on a new craving for showbiz gossip.

The shimmering nightlife of Cool Britannia lures her into an exhilarating, twilight world – and an explosive affair with an A-list interviewee. But the comedown forces her to confront the soulless desires of her generation.

In New York, she's on the trail of the defining exclusive of her age. But conflict erupts between personal integrity and journalistic ruthlessness – which might jeopardise the success that will secure her position in a looming post-millennial world.
Can you live the high-life, without it getting you down?
The Lion Tamer Who Lost by Louise Beech
Be careful what you wish for…

Long ago, Andrew made a childhood wish, and kept it in a silver box. When it finally comes true, he wishes he hadn't…
Long ago, Ben made a promise and he had a dream: to travel to Africa to volunteer at a lion reserve. When he finally makes it, it isn't for the reasons he imagined…
Ben and Andrew keep meeting in unexpected places, and the intense relationship that develops seems to be guided by fate. Or is it?
What if the very thing that draws them together is tainted by past secrets that threaten everything?
A dark, consuming drama that shifts from Zimbabwe to England, and then back into the past, The Lion Tamer Who Lost is also a devastatingly beautiful love story, with a tragic heart…
Martinis and Memories by A.L. Michael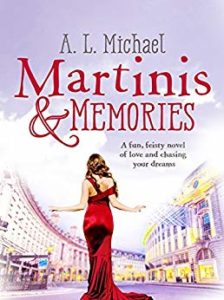 Bel Hailstone has spent the past decade building her dream – Soho's best burlesque club – from the ground up. But now The Martini Club is under threat and it will take everything in Bel's power to resist encroaching developers and save her pride and joy.

Amidst the chaos Bel's past comes knocking with the unexpected arrivals of her still-not-quite-ex-husband, her estranged mother and Brodie Porter – the boy who got away all those years ago.

To keep her beloved club afloat – not to mention her sanity – Bel will have to accept help for the first time in a long time, put the past to rest and claim the happy ever after she once thought was lost for good.
The Things We Thought We Knew by Mahsuda Snaith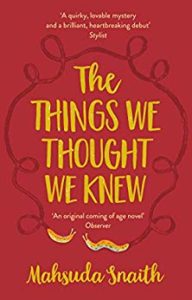 The first memory I have of you is all knickers and legs. You had flipped yourself into a handstand and couldn't get back down. We became best friends, racing slugs, pretending to be spies – all the things that children do.

Ten years later, eighteen-year-old Ravine Roy spends every day in her room. Completing crosswords and scribbling in her journal, she keeps the outside world exactly where she wants it; outside.

But as the real world begins to invade her carefully controlled space, she is forced to finally confront the questions she's been avoiding. Who is her mother meeting in secret? Who has moved in next door?

And why, all those years ago, when two girls pulled on their raincoats and wellies and headed out into the woods did only one of them return?
Do Not Disturb by Claire Douglas
COULD YOUR DREAM HOME BE YOUR WORST NIGHTMARE?

After what happened in London, Kirsty needs a fresh start with her family.
And running a guesthouse in the Welsh mountains sounds idyllic.

But then their first guest arrives.
Selena is the last person Kirsty wants to see.
It's seventeen years since she tore everything apart.

Why has she chosen now to walk back into Kirsty's life?
Is Selena running from something too?
Or is there an even darker reason for her visit?

Because Kirsty knows that once you invite trouble into your home, it can be murder getting rid of it . . .
The Story Keeper by Anna Mazzola
Audrey Hart is on the Isle of Skye to collect the folk and fairy tales of the people and communities around her. It is 1857 and the Highland Clearances have left devastation and poverty, and a community riven by fear. The crofters are suspicious and hostile to a stranger, claiming they no longer know their fireside stories.

Then Audrey discovers the body of a young girl washed up on the beach and the crofters reveal that it is only a matter of weeks since another girl disappeared. They believe the girls are the victims of the restless dead: spirits who take the form of birds.

Initially, Audrey is sure the girls are being abducted, but as events accumulate she begins to wonder if something else is at work. Something which may be linked to the death of her own mother, many years before.