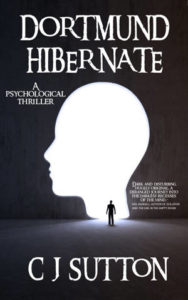 ShortBookandScribes #BlogTour #GuestPost by C.J. Sutton, Author of Dortmund Hibernate @c_j_sutton @rararesources
Welcome to my stop on the blog tour for Dortmund Hibernate by C.J. Sutton. I have a great guest post from the author today about why he decided to write the book. My thanks to Rachel Gilbey from Rachel's Random Resources for the place on the tour.

Psychologist Dr Magnus Paul is tasked with the patients of Dortmund Asylum – nine criminally insane souls hidden from the world due to the extremity of their acts.

Magnus has six weeks to prove them sane for transfer to a maximum-security prison, or label them as incurable and recommend a death sentence under a new government act.

As Magnus delves into the darkness of the incarcerated minds, his own sanity is challenged. Secrets squeeze through the cracks of the asylum, blurring the line between reality and nightmare, urging Magnus towards a new life of crime…

The rural western town of Dortmund and its inhabitants are the backdrop to the mayhem on the hill.

It's Silence of the Lambs meets Shutter Island in this tale of loss, fear and diminishing hope.
---

Why I chose to write Dortmund Hibernate by C.J. Sutton
Dortmund Hibernate is not the first book I've written, but it is the first to be accepted for publication. I chose to write the story because I lean towards the darker tales that dig into a tormented mind. I tried this with other stories, but finally decided to delve straight into an asylum and let the creativity run wild.
I'm not sure where my ideas come from, but they usually begin while I rest in bed waiting for sleep. Maybe it's the bleak canvas of midnight, I'm not too sure. The facility itself is not based on a specific setting, likely constructed through viewing many "facilities" in South East Asia and watching countless crime shows where the culprit is a greater focal point than the victim. It started with this scene between a psychologist and a notorious inmate (which is not the first scene in the book) and their interplay excited me. All of a sudden more inmates were filling my brain with their stories and the setting of Dortmund, a fictional town despite the name being shared with a German city, became a painting on an easel. I do prefer tales that take place away from the hustle and bustle of a city, which becomes a personal escape also. If I can always achieve this physically, I can achieve it through my writing.
I choose to write darker stories. It's either a faze I'm going through or a style that has manifested over the years. I love a Disney movie as much as the next person, but often they are cringeworthy in their representations of character interaction. Our world is much sharper than that. Our world is cruel, quite often. People prefer reading about chaos than happiness, unless that happiness is their own. True Crime has become one of the strongest genres on screen and literature over the past five years, which has also assisted fictional crime. But I didn't write Dortmund Hibernate because it would resonate with millions. I wrote Dortmund Hibernate because it resonated with me, and if this can be passed on to other people then that would be the ultimate bonus.
The nine inmates were crafted from hundreds of traits found in the criminally insane, and another hundred traits made out of imagination. An animal-obsessed murderer, the self-proclaimed brother of Jesus Christ, a 9-5 accountant who killed his entire office after a life of following the rules; the backstories are purely original, but research was performed diligently to ensure their conditions are realistic. I don't like to be confined by fact, so I just let my fingers bash the keys until crazy arrived; once crazy arrived, I knew I was on the right path.
While not based on real settings, we do take inspiration whether we realise it or not. All ideas stem from something, Maybe I know some really messed up people, but the truth is I'm a sponge when it comes to fiction. Put it all in a blender, and this is the result.
Thanks so much C.J. It sounds like a fantastic book.
---

---

C.J. Sutton is a writer based in Melbourne, Australia. He holds a Master of Communication with majors in journalism and creative writing, and supports the value of study through correspondence. His fictional writing delves into the unpredictability of the human mind and the fears that drive us.
As a professional writer C.J. Sutton has worked within the hustle and bustle of newsrooms, the competitive offices of advertising and the trenches of marketing. But his interest in creating new characters and worlds has seen a move into fiction, which has always pleaded for complete attention. Dortmund Hibernate is his debut novel.