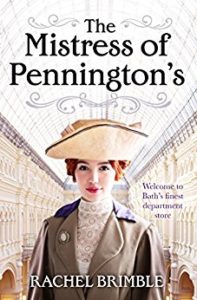 ShortBookandScribes #BookReview – The Mistress of Pennington's by @RachelBrimble @BrookCottageBks #BlogTour #Extract #Giveaway
I'm so pleased to be reviewing The Mistress of Pennington's by Rachel Brimble today. I also have a short extract to share with you and a fabulous chance to win a £25 Amazon Gift Certificate. My thanks to JB from Brook Cottage Books for the place on the tour and for providing a review copy.

Series: Pennington's Department Store

Genre: Saga/Romance

Release Date: 1st July 2018

Publisher: Aria Fiction

1910 – A compelling tale of female empowerment in Bath's leading department store. Perfect for the fans of the TV series Mr Selfridge and The Paradise.

Elizabeth Pennington should be the rightful heir of Bath's premier department store through her enterprising schemes and dogged hard work. Her father, Edward Pennington, believes his daughter lacks the business acumen to run his empire and is resolute a man will succeed him.

Determined to break from her father's iron-clad hold and prove she is worthy of inheriting the store, Elizabeth forms an unlikely alliance with ambitious and charismatic master glove-maker Joseph Carter. United they forge forward to bring Pennington's into a new decade, embracing woman's equality and progression whilst trying not to mix business and pleasure.

Can this dream team thwart Edward Pennington's plans for the store? Or will Edward prove himself an unshakeable force who will ultimately ruin both Elizabeth and Joseph?
Buy links:
---

Her gentle study drifted to his mouth and back again. 'Did you love her? The woman you once worked with?'

Joseph stared, as disquiet whispered through him. 'Why do you ask?'

'I find it implausible that a man who holds women in such high regard has not known what it means to love one. You have been in love. I see it in your eyes. Unfortunately for you, they're very revealing.'

He ran his gaze over her face and hair. Every sound muted. The amber glow of the few lit candles danced over her skin, turning it pearlescent. 'I was married. To a wonderful, caring woman. A woman who worked beside my father and I every day after we were married.'

Her voice softened. 'What happened to her?'

'She died.' He would tell her no more, the shame of his failure burned like acid in his chest and he quickly stood, wanting the intensity to ease, her justified scrutiny to end. 'Will you try on a pair of gloves?'

He brushed past her and breathed deep as he approached a box of his finished gloves. Lifting a pair of soft kid, perfectly stitched and the exact green of her eyes, the pale cream stitching the colour of her skin.

When he turned and walked back to his bench, she had sat in his seat. She carefully watched his approach, her eyes unreadable.
---
I was immediately drawn to The Mistress of Pennington's when I discovered it was about a department store. I love books about shops. Inspired by The Paradise and Mr Selfridge, this is the story of Pennington's in 1910. Elizabeth Pennington is desperate to be allowed by her domineering father to run Pennington's one day and she is doing all she can to put her mark on it right away. She's in charge of the ladies department but she wants so much more.
Elizabeth is a great character. She's feisty and ambitious, but so held back by the times. Women's suffrage is in the background of this novel, and the knowledge that women are slowly coming out of the shadow of men fires Elizabeth to rebel against her father's control.
Joseph Carter is probably my favourite character though. He's a glove maker who approaches Pennington's with a view to them taking his gloves for sale. He and Elizabeth hit it off in more ways than one. He's a lovely man, principled, strong, talented, but willing to do all he can for women's rights and one woman's rights in particular.
The story is very much focused around Elizabeth and Joseph and I think it would have been nice to have some other characters fleshed out a little more. I'd also have liked more about the running of the store. But that's my personal taste and if you like historical romance then this is most definitely for you, particularly as there is very much a will they/won't they storyline.
The Edwardian period is brought to life in this book very well by the author. I loved the details about the clothing that Pennington's sold and the designs. I thought it was a really good read about a potentially trail-blazing woman. I understand there are another three Pennington's books planned and it will be good to see what happens next with Elizabeth, Joseph and hopefully some of the other characters too.
---

---

Rachel lives with her husband and two teenage daughters in a small town near Bath in the UK. Since 2007, she has had several novels published by small US presses, eight books published by Harlequin Superromance (Templeton Cove Stories) and four Victorian romances with eKensington/Lyrical.
In January 2018, she signed a four-book deal with Aria Fiction for a brand new Edwardian series set in Bath's finest department store. The first book, The Mistress of Pennington's releases in July 2018.
Rachel is a member of the Romantic Novelists Association and Romance Writers of America, and was selected to mentor the Superromance finalist of So You Think You Can Write 2014 contest. When she isn't writing, you'll find Rachel with her head in a book or walking the beautiful English countryside with her family. Her dream place to live is Bourton-on-the-Water in South West England.