ShortBookandScribes #BookReview – We Own the Sky by Luke Allnutt @lukeallnutt @TrapezeBooks #BlogTour
Welcome to my stop on the blog tour for We Own the Sky by Luke Allnutt. This might give you some idea of how I felt after I finished this book…….
My thanks to Tracy Fenton for the place on the tour and to the publishers, Trapeze, for the review copy.
---
An emotional page-turner with a heart-pounding dilemma. Fans of Jodi Picoult, David Nicholls and Jojo Moyes will love We Own The Sky.

Anna and Rob were the perfect couple with their whole lives in front of them. When beautiful baby boy Jack came along, their world seemed complete.

But when tragedy strikes they are faced with an impossible choice. They have one chance to save their child, but at what cost?
Or support your high street with Hive.
---

What can I say? This gorgeous, beautiful book left me in floods of tears, in fact it had me in tears more than once whilst I was reading it. This sort of book can go either way, I think. It can be overly emotional, cloying even, or it can just completely hit the spot. No prizes for guessing which applies to me.
From the outset I loved Rob and Anna. They meet whilst they are students and from the very beginning they are the perfect fit for each other. Whilst Rob is easy-going, Anna is more straight as a dye, but they complement each other perfectly. When Jack comes along their family is complete. Of course, we know from the blurb that they're not going to be left to live happily ever after. Jack becomes seriously ill and Rob and Anna's world falls apart.
Parent or not, it's not hard to put yourself in their place. Their hope and their desperation is tangible and utterly heartbreaking. It's hard to witness and I felt such empathy for them, I really cared about them. Jack is wonderful too, a special little boy and I so wished for a miracle, for that happy outcome.
Luke Allnutt writes about the subject matter perfectly and, after sobbing over his acknowledgements, it's clear that some of it comes from personal experience and some from simply a fantastic writing skill.
There's a strong theme of fathers and sons in this book, with Rob and Jack, but also with Rob and his own father. Rob tells the story and it's very much Rob's book really, but I was still able to see the other characters' perspectives, particularly Anna in trying to be the more steadying influence, whilst Rob is the one who becomes almost frantic in his search for treatment for Jack.
This is such an emotive, stunning read in every way. I loved the story of Rob and Anna's life together before they had Jack, and their life with him. I loved Rob's relationship with his father, his photography, his computer coding. It all worked so well as a whole and made this a completely gripping book that I didn't want to put down.
If you come out of this one unscathed then you must have a rock for a heart, that's all I can say. It's superb.
---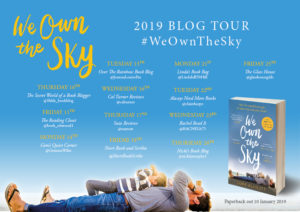 ---

Luke Allnutt is the author of Unspoken, a Kindle Single about the death of his father. His debut novel, We Own The Sky, will be published by Orion (U.K.) and Harlequin/HarperCollins (U.S.) in 2018. He grew up in the U.K. and lives and works in Prague.
Author bio and photo taken from Amazon