ShortBookandScribes #BookReview – Truth or Die by Katerina Diamond @AvonBooksUK #BlogTour
I'm delighted to be reviewing Truth or Die by Katerina Diamond today, right at the beginning of this epic blog tour. My thanks to Sabah Khan from Avon for the place on the tour and for sending a copy of the book for review purposes.
---
Their darkest secrets won't stay buried forever…

The butchered body of a professor is found in a private office of Exeter University. It is the first in a spate of horrific murders that shakes the city to its core.

Who would target a seemingly innocent man, and why? DS Imogen Grey and DS Adrian Miles turn to his students for answers, but their investigation turns up no leads. Someone must know more than they're letting on…

As the body count rises, the police have to look into the past to uncover the person responsible before it's too late.

But are they brave enough to face up to the truth?
---

I was really excited to catch up with the latest instalment in the DS Miles and DS Grey series. I've only read the previous one, The Promise, but as with that one anything that happened in the earlier books is referred to in enough detail so that it's easy to keep up with current events. This time there is a large part of the story that refers to what has gone before and it's made me kick myself even harder for not getting round to books 1-3.
There are murders taking place in the academic world. A university professor is found dead and Imogen Grey and Adrian Miles are tasked with finding out what happened to him. However, as I've come to expect from Katerina Diamond, this is a tangled web of a story with strands taking them off in all manner of directions. There's also a part of the storyline that could really mess up Adrian's career and I really felt for him at this point.
Exciting as the murders are though, the really exciting part for me was the simmering tension between the two colleagues and the way their working relationship is edging over into possibly being something more. It's quite the dilemma really (both for them and for me as a reader) because if they get it together then they can't work together. My lips are sealed though so you'll have to find out for yourself whether they take it to the next level or not.
Truth or Die is a really quick and thoroughly absorbing read. There's some pretty gory scenes in it, one that really made me cringe in horror, but I don't mind that at all! There were a few surprises and more fabulous writing from a talented author. What's going to happen next with Grey and Miles? I can't wait to find out.
---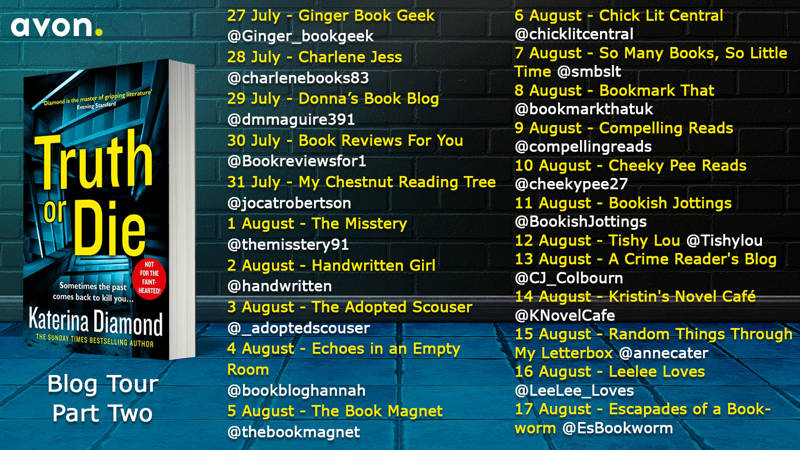 ---

Katerina is the author of the Sunday Times Best Selling Exeter based crime thriller series – starting with 'The Teacher' and followed by The Secret, The Angel, The Promise and Truth or Die. Katerina is currently working on her seventh novel which is a standalone.
Katerina also runs the facebook book group CRIME SUSPECT with several other crime authors.
Katerina currently lives in East Kent. Katerina was born in Weston-super-Mare and has lived in various places since including Greece, Cyprus, Derby, East London and Exeter. Katerina watches way too much TV.
Author bio and photo taken from Amazon