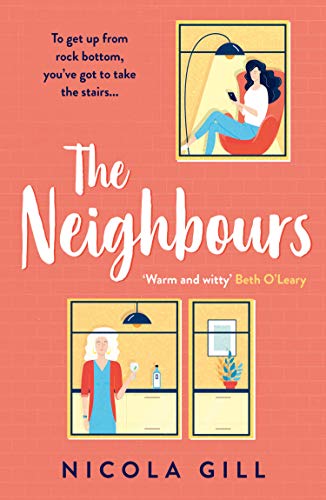 ShortBookandScribes #BookReview – The Neighbours by Nicola Gill @AvonBooksUK #BlogTour
It's my stop on the blog tour for The Neighbours by Nicola Gill and I'm reviewing this fabulous read today. My thanks to Sanjana from Avon Books for the place on the tour and for sending a copy of the book (along with Twirl Bites which didn't last very long!).
---

To get up from rock bottom, you've got to take the stairs…

Some women have it all. Others are thirty-four and rent a tiny flat alone because they recently found their long-term boyfriend in bed with their boss. Ginny Taylor is certain her life can't get any worse. But then she meets her downstairs neighbour…

Cassie Frost was once a beloved actress, but after a recent mishap she desperately needs a new publicist. And Ginny is a publicist who desperately needs a job – but can she be persuaded to work for the prickly woman who lives below her floorboards?

Ginny and Cassie are two very different women, but they have more in common than they'd care to imagine (or admit). And when their worlds collide, they realise that sometimes – just sometimes – bad neighbours become good friends…

A funny, honest and moving exploration of life, love, friendship and navigating the emotional rollercoaster of your thirties… and beyond. Perfect for fans of Beth O'Leary's The Flatshare and Ruth Jones's Never Greener.
---
I wanted to read The Neighbours because I thought it would be a lovely read but I have to say it far exceeded even my high expectations for it. I absolutely loved it!
This is the story of two women: Ginny and Cassie. They're neighbours in that Ginny lives in the flat above Cassie. On paper they have little in common. Ginny is in her 30s, works in PR and has a boyfriend who constantly lets her down. Cassie is in her 50s, a former actress now at the stage where the highlight of her career is eating kangaroo bum on I'm A Celebrity and even that doesn't endear her to the general public.
These two women become unlikely friends. Ginny is drawn to Cassie who wonders if Ginny can turn her career around, being in PR as she is. It's a lovely story of their growing friendship but it is ultimately Ginny's story and I so enjoyed following her for this period of her life when she's about to turn 35 and her biological clock is ticking very loudly. She's going through a difficult time and not even her beloved Twirl Bites can help.
Nicola Gill has such an engaging writing style. I laughed out loud many times as I found the humour just to my taste. But I also sympathised with Ginny and Cassie and really wanted things to work out for them in the end. It's the ultimate feel-good story, light-hearted in many ways but still addressing those eternal issues of love, relationships, careers, and the way women sometimes start to feel invisible as they get older. Whenever I picked The Neighbours up I just didn't want to put it down. I'd love to know what happens to Ginny next – sequel please!
---

---

Nicola Gill lives in London with her husband and two sons. At the age of five, when all of the other little girls wanted to be ballet dancers, she decided she wanted to be an author. Her ballet teacher was very relieved. The Neighbours is her debut novel.