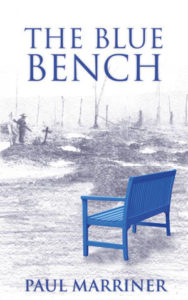 ShortBookandScribes #BookReview – The Blue Bench by Paul Marriner
The Blue Bench is available now in paperback, eBook and audiobook. I won my copy in a giveaway by the author.
The book has been featured on my blog a few times:
A guest post by the author about target readers.
A selection of audio extracts from the book.
A guest post by the author about the background to the novel.
A guest post by the author about the importance of themes in novels.
A guest post by the author about striving for accuracy and finding inspiration.
---

---
Margate 1920. The Great War is over but Britain mourns and its spirit is not yet mended.

Edward and William have returned from the front as changed men. Together they have survived grotesque horrors and remain haunted by memories of comrades who did not come home. The summer season in Margate is a chance for them to rebuild their lives and reconcile the past.

Evelyn and Catherine are young women ready to live life to the full. Their independence has been hard won and, with little knowledge of the cost of their freedom, they are ready to face new challenges side by side.

Can they define their own future and open their hearts to the prospect of finding love? Will the summer of 1920 be a turning point for these new friends? As the body of the Unknown Warrior is returned, can the nation find a way forward?
---
---
I've been meaning to read The Blue Bench for a few years now, particularly in November as it has a remembrance theme to it, and this year I managed to pick it up at last.
It's set in 1920 and is the story of Edward and William, the so-called 'Lucky Lieutenant' and the sergeant who shared a regiment during WW1, and Catherine and Evelyn, two young women they become friends with during the summer season in Margate where Edward goes to play the piano for theatre shows.
It's a story that has such poignancy to it for Edward in particular. Whilst William appears able to more or less put the war behind him and carry on, Edward wears a tin mask to cover wartime injuries to his face and so he can never escape the stares, nor the pain of the shrapnel that remains in his head. I loved Edward for his stoicism and his dignity, and his gentlemanly behaviour.
Part of the story covers the origins of the tomb of the unknown soldier which was really interesting to read about. The prologue and epilogue were moving and only really make sense once you've read the entirety of the story, and there are also many other moving sections, including the ones where Edward looks for the family of a soldier from his former regiment. The burden that those who came home must have felt came through strongly, even those badly injured, knowing that so many of their comrades perished.
The Blue Bench is a labour of love for the reader. It's huge at 600 pages and I must confess that I felt myself getting a bit bogged down at times. I love minutiae in books, the little details of everyday life, but I think that for me there was too much of it in such a long read. Despite that I did find it compelling for the most part, with an undercurrent of tragedy, loss and the futility of war amidst the strength of new friendships, and Edward is a character that I don't think I will forget.
---

---
Paul grew up in a west London suburb and now lives in Berkshire with his wife. He has two grown up children from whom he has learnt far more than he was able to teach. He is passionate about music, sport and, most of all, writing, on which he now concentrates full-time. Paul has written five novels and his primary literary ambition is that you enjoy reading them while he is hard at work on the next one.