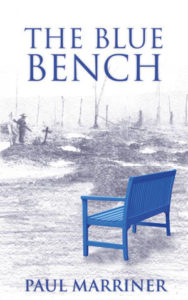 ShortBookandScribes #GuestPost by Paul Marriner, Author of The Blue Bench – 'Background to the Novel' + fantastic #giveaway
I'm delighted to welcome Paul Marriner back to Short Book and Scribes with a series of guest posts about The Blue Bench, his novel set in 1920 during the aftermath of the First World War. 11th November this year will see the centenary of the interment of The Unknown Warrior in Westminster Abbey, a hugely influential cultural event which is also a focal point for The Blue Bench.
I'm also thrilled to be able to offer you a giveaway on behalf of Paul which will run over the course of the three posts (14th October, 28th October, 11th November), details of which are further down this post.
You can find Paul's previous guest post about target readers here and some audio extracts to whet your appetite here.
---

---
Margate 1920. The Great War is over but Britain mourns and its spirit is not yet mended.

Edward and William have returned from the front as changed men. Together they have survived grotesque horrors and remain haunted by memories of comrades who did not come home. The summer season in Margate is a chance for them to rebuild their lives and reconcile the past.

Evelyn and Catherine are young women ready to live life to the full. Their independence has been hard won and, with little knowledge of the cost of their freedom, they are ready to face new challenges side by side.

Can they define their own future and open their hearts to the prospect of finding love? Will the summer of 1920 be a turning point for these new friends? As the body of the Unknown Warrior is returned, can the nation find a way forward?
---

---
Background to the Novel by Paul Marriner
The Blue Bench is a work of historical and literary fiction set in 1920. A multi-layered novel focusing on the lives of two men and two women in the summer of 1920, it tells of the heartache, adversity, needs and aspirations of a country on the cusp of great change, a country in need of inspiration, a country in debt to The Unknown Warrior.

Here, Paul tells us why he was compelled to write The Blue Bench.
Many thanks to Nicola for giving me this opportunity to share how I came to write The Blue Bench.
Sometimes, when writing a novel, you start out with some interesting ideas and themes, maybe a rough plot and perhaps some great characters. And sometimes, if you're lucky, it comes together in an exciting way and helps to increase awareness of something so important that it's a privilege to write and a thrill when it connects with readers.
This is how it happened for me with The Blue Bench.
I like to write about everyday people in difficult circumstances; interesting characters we can relate to, living with and through shared emotions like grief, love and hope. And I'm always on the lookout for new ideas that might either make a book or enhance my current work. So when I started reading about Britain immediately after World War 1 I found a rich vein of ideas.
Britain in 1920 was a nation desperate for change but weighed down with grief. Hundreds of thousands of young men had died during The Great War and few families had been spared the heartbreaking loss of a loved one. They were grieving but it was hard to do when the dead were either never recovered or buried in France. The wounded and maimed veterans on the nation's streets were a constant reminder of the terrible conflict. The economy was struggling, held back by the debt of paying for the war. Reintegrating the returning veterans was a challenge – they had fought for their country and had earned a better future.
The same was true for women. During the war they had kept the homeland going and taken over the mens' job. Many had found an independence they were reluctant to give up. Such independence was increasingly important as there were fewer men of 'marrying age' and women turned to each other for companionship and support. And around this time calls for womens' and workers' rights to be enhanced were growing with increased suffragette activity and the rise of the labour movement.
So the nation was ready for change. Ordinary people were trying to re-start their lives, determined to build their own futures but first needing to learn how to deal with the immense loss of loved ones and how to reintegrate the veterans that needed their support.
I remember my excitement at realising this was the perfect backdrop for the type of novel I wanted to write – a tale of ordinary people impacted by national events, trying to make sense of the past while finding love and companionship and building a future.
I quickly imagined and developed the characters that could carry this story – focusing on two young men and two young women. And I knew that I could tell the story through their everyday lives, their relationships, their hopes, their fears, their grief.
But I was missing something. What was the core? What was it that provided the link between learning how to live with the past but having confidence to build a future?
Then I read further about The Unknown Warrior. The concept for The Unknown Warrior came from Reverend David Railton MC. He understood the potential for a formal grave recognising the sacrifice of so many which could provide a focal point for the country as a whole but also give comfort to the bereaved that perhaps their loved one had returned. It is a uniquely powerful concept. And, for my novel, it was the thread that pulled together the plots, sub-plots, themes and characters.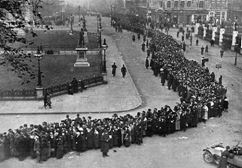 I had everything I needed to bring the story to life. A story about everyday people, what the war had done to them and how they might start to forge their new world.
And it was a privilege to write.
Why is it called The Blue Bench? Well, if this article has piqued your interest why not read and discover?
Paul
PS Please feel free to post questions or comments here – I'd love to hear from you.
Thank you, Paul. It's been fascinating to learn how you came to write The Blue Bench. I'm looking forward to your next post about the importance of themes in novels on 28th October. -Nicola
---
---
Paul has very kindly provided some fabulous prizes for me to offer in a giveaway. To enter, just click on each different way of entering in the Gleam entry box below.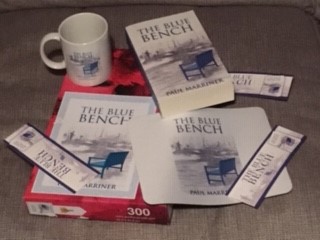 ---
---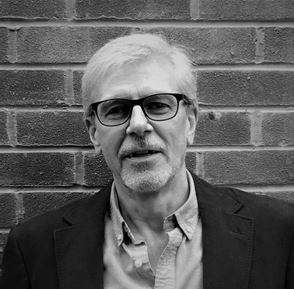 Paul grew up in a west London suburb loving sport, music and, especially, literature. He writes full time and has published three novels. His ambition is to write books that entertain, engage and challenge and believes in the power of great stories and passionate, honest writing.