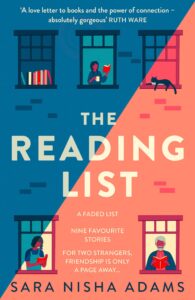 ShortBookandScribes Celebrating paperback publication of The Reading List by Sara Nisha Adams + #Giveaway #MyReadingList
I'm delighted to be helping to celebrate paperback publication of The Reading List by Sara Nisha Adams today. This is a book I've been really wanting to read. I love books about books and reading!
I'm sharing a list of 9 of my favourite books below, books that I would recommend. I also have a copy of The Reading List to give away and you'll find all the details further down this post.
My thanks to Susanna Peden from Harper Collins for the review and giveaway copies of the book.
---

---
A faded list.
Nine favourite stories.
For two strangers, friendship is only a page away . . .

When Mukesh Patel pops to the local library, forgoing his routine of grocery shopping and David Attenborough documentaries, he has no idea his life's about to change.

He meets Aleisha, a reluctant librarian and the keeper of a curious reading list – just a scrappy piece of paper with the names of 9 stories. It doesn't seem anything special. Yet something tells her to keep it close . . .

Story by story, Mukesh and Aleisha work their way through the list – their worries slipping away with every encounter, with every world discovered in their unlikely book club of two.

A fresh chance at life, at friendship, wasn't on the cards for these lonely souls – but every story starts somewhere . . .
---
My 9 Recommendations
1. A Woman of Substance by Barbara Taylor Bradford
I chose this book because I remember it being around in my childhood and I read it as soon as I was old enough to read adult fiction. It was written over 40 years ago and yet the story is so enduring. I loved reading about Emma Harte Lowther Ainsley McGill's rise from rags to riches.
A WOMAN'S AMBITION…
In the brooding moors above a humble Yorkshire village stood Fairley Hall. There, Emma Harte, its oppressed but resourceful servant girl, acquired a shrewd determination. There, she honed her skills, discovered the meaning of treachery, learned to survive, to become a woman, and vowed to make her mark on the world.

A JOURNEY OF A LIFETIME…
In the wake of tragedy she rose from poverty to magnificent wealth as the iron-willed force behind a thriving international enterprise. As one of the richest women in the world Emma Harte has almost everything she fought so hard to achieve-save for the dream of love, and for the passion of the one man she could never have.

A DREAM FULFILLED-AND AVENGED.
Through two marriages, two devastating wars, and generations of secrets, Emma's unparalleled success has come with a price. As greed, envy, and revenge consume those closest to her, the brilliant matriarch now finds herself poised to outwit her enemies, and to face the betrayals of the past with the same ingenious resolve that forged her empire.
2. The Time Traveler's Wife by Audrey Niffenegger
I think I've always been into time travel as a genre but this is one that stands out. The first time I tried to read it I didn't manage to finish it. I didn't like it! Then I thought I needed to give it another go and I loved it.
Clare and Henry met when Clare was just six and Henry thirty-six, and were married when Clare was twenty-two and Henry thirty.

Impossible but true.

The Time Traveler's Wife is the international bestselling novel of a time-altering love. Henry is a librarian who suffers from a rare condition where his genetic clock periodically resets, finding himself pulled suddenly into his past or future. Meanwhile, Clare is an artist waiting all her life for her great love Henry to appear. In the face of this force neither can prevent nor control, Henry and Clare's struggle to lead normal lives is both intensely moving and entirely unforgettable.
3. There aren't many books I have read twice but Star Gazing by Linda Gillard is one of them. I was captivated by the setting of the Isle of Skye (so much so I went on holiday there) and the beautiful love story.
Blind since birth, widowed in her twenties, now lonely in her forties, Marianne Fraser lives in Edinburgh in elegant, angry anonymity with her sister, Louisa, a successful novelist. Marianne's passionate nature finds solace and expression in music, a love she finds she shares with Keir, a man she encounters on her doorstep one winter's night. Whilst Marianne has had her share of men attracted to her because they want to rescue her, Keir makes no concession to her condition. He is abrupt to the point of rudeness, and yet oddly kind. But can Marianne trust her feelings for this reclusive stranger who wants to take a blind woman to his island home on Skye, to 'show' her the stars?
4. If we're talking about books that I've read twice then I have to include the brilliant Rachel's Holiday by Marian Keyes. I read it when it first came out and I read it again last year for its 25 year anniversary. I loved it each time. Here's my review.
Meet Rachel Walsh.

She's been living it up in New York City, spending her nights talking her way into glamorous parties before heading home in the early hours to her adoring boyfriend, Luke.

But her sensible older sister showing up and sending her off to actual rehab wasn't quite part of her plan.

She's only agreed to her incarceration because she's heard that rehab is wall-to-wall jacuzzis, spa treatments and celebrities going cold turkey – plus it's about time she had a holiday.

Saying goodbye to fun and freedom will be hard – and losing the man who might just be the love of her life will be even harder.

But will hitting rock bottom help Rachel learn to love herself, at last?
5. A Terrible Kindness by Jo Browning Wroe is one of the best books I have ever read. I found it a breathtaking story of loss, love, the power of music, and friendship. Here's my review.
It is October 1966 and William Lavery is having the night of his life at his first black-tie do. But, as the evening unfolds, news hits of a landslide at a coal mine. It has buried a school: Aberfan.

William decides he must act, so he stands and volunteers to attend. It will be his first job as an embalmer, and it will be one he never forgets.

His work that night will force him to think about the little boy he was, and the losses he has worked so hard to forget. But compassion can have surprising consequences, because – as William discovers – giving so much to others can sometimes help us heal ourselves.
6. I think the only other book I've read more than once is Home by Julie Myerson. You won't find much non-fiction in my reading but when I do read this genre it's usually something family related. Home is Myerson's investigation into all the people who lived in her house before her and I found it absolutely fascinating. I feel like I want to read it again now!
Ever thought about all the people who lived in your house before you? Julie Myerson did, and set out to learn as much as she could about their fascinating lives.

This is the biography of a house, the history of a home. It's an ordinary house, an ordinary home, and ordinary people have lived there for over a century. But start to explore who they were, what they believed in, what they desired and they soon become as remarkable, as complicated and as fascinating as anyone.

That is exactly what Julie Myerson set out to do. She lives in a typical Victorian terraced family house, of average size, in a typical Victorian suburb (Clapham) and she loves it. She wanted to find out how much those who preceded her loved living there, so she spent hours and hours in the archives at the Family Record Office, the Public Record Office at Kew, local council archives and libraries across the country. Like an archaeologist, she found herself blowing the dust off files that no-one had touched since the last sheet of paper in them was typed. As she scraped the years away, underneath she found herself embroiled in a detective hunt as, bit by bit, she started to piece together the story of her house, built in 1877, as told by its former occupants in their own words and deeds. And so she met the bigamist, the Tottenham Hotspur fanatic, the Royal servant, the Jamaican family and all the rest of the eccentric and entertaining former occupants of 34 Lillieshall Road. The book uncovers a lost 130-year history of happiness and grief, change and prudence, poverty and affluence, social upheaval and technological advance.

Most of us are dimly aware that we are not the first person to turn a key in our front door lock, yet we rarely confront the shadows that inhabit our homes. But once you do – and Julie Myerson shows you how – you will never bear to part from their company again. This is your home's story too.
7. How to Disappear by Gillian McAllister. Being a time travel fan I absolutely loved McAllister's latest book, Wrong Place Wrong Time, and was tempted to choose it but I had to go for How to Disappear as the ending took my breath away and I sobbed and sobbed reading it. My review is here.
You can run, you can hide, but can you disappear for good?

Lauren's daughter Zara witnessed a terrible crime. But speaking up comes with a price, and when Zara's identity is revealed online, it puts a target on her back.

The only choice is to disappear.

To keep Zara safe, Lauren will give up everything and everyone she loves, even her husband.

There will be no goodbyes. Their pasts will be rewritten. New names, new home, new lives.

The rules are strict for a reason. They are being hunted. One mistake – a text, an Instagram like – could bring their old lives crashing into the new.

They can never assume someone isn't watching, waiting.

As Lauren will learn, disappearing is easy. Staying hidden is harder . . .
8. The Idea of You by Robinne Lee. I had to choose this one for the steaminess, the living the dream vicariously and just because it's an absolutely amazing summer read. I feel like this one is one that I will definitely want to revisit one day. My review is here.
EVERYONE IN THE WORLD KNOWS HIS NAME . . . BUT IT'S YOU HE WANTS.

To the media, Hayes Campbell is the enigmatic front-man of a record-breaking boyband.

To his fans, he's the man of their dreams.

To Solène Marchand, he's just the pretty face that's plastered over her teenage daughter's bedroom wall.

Until a chance meeting throws them together . . .

The attraction is instant. The chemistry is electric. The affair is Solène's secret.

But how long can it stay that way?
9. The Six Loves of Billy Binns by Richard Lumsden is a book I feel hasn't had the acclaim it deserves. I loved this story of one man's long life and the six people he loved. This is exactly my kind of book – a social history throughout the life of an ordinary person. Here is my review.
THE SIX LOVES OF BILLY BINNS is a deeply moving, bittersweet century-spanning debut set in London against the backdrop of the changing 20th century. It is reading group fiction perfect for those who loved the quirky pathos of Gail Honeyman's ELEANOR OLIPHANT IS COMPLETELY FINE and the warmth and humour of Rachel Joyce's THE UNLIKELY PILGRIMAGE OF HAROLD FRY.

At well over a hundred years old, Billy Binns believes he's the oldest man in Europe and knows his days are numbered. But Billy has a final wish: he wants to remember what love feels like one last time.

As he looks back at the relationships that have coloured his life – and the events that shaped the century – he recalls a lifetime of hope and heartbreak.

This is the story of an ordinary man's life, an enchanting novel which takes you on an epic yet intimate journey that will make you laugh, cry, and reflect on the universal turmoil of love.
Those are my 9 recommended reads but I could have named so many more. Have you read any of my choices? I'd love to hear from you if you have.
---
---
The kind folk at Harper Collins have given me a copy of The Reading List to giveaway. To be in with a chance I'd like to hear what would be on your reading list.
There are three ways to enter:
You must use the hashtag #TheReadingList to be in with a chance of winning.
Winners will be chosen at random (UK only) and entries close on 28th July.
---

---
Sara Nisha Adams is a writer and editor. She lives in London and was born in Hertfordshire to Indian and English parents. Her debut novel The Reading List is partly inspired by her grandfather, who lived in Wembley and immediately found a connection with his granddaughter through books.