ShortBookandScribes #PublicationDay #BookReview – How to Disappear by Gillian McAllister #BlogTour
I am absolutely delighted to be sharing my review of How to Disappear by Gillian McAllister today as part of the blog tour. It's an amazing read. I'd like to wish the author a very happy publication day! My thanks to Olivia Thomas of Michael Joseph for the proof copy of the book for review purposes and for the place on the tour.
---

---
You can run, you can hide, but can you disappear for good?

Lauren's daughter Zara witnessed a terrible crime. But speaking up comes with a price, and when Zara's identity is revealed online, it puts a target on her back.

The only choice is to disappear.

To keep Zara safe, Lauren will give up everything and everyone she loves, even her husband.

There will be no goodbyes. Their pasts will be rewritten. New names, new home, new lives.

The rules are strict for a reason. They are being hunted. One mistake – a text, an Instagram like – could bring their old lives crashing into the new.

They can never assume someone isn't watching, waiting.

As Lauren will learn, disappearing is easy. Staying hidden is harder . . .
---

---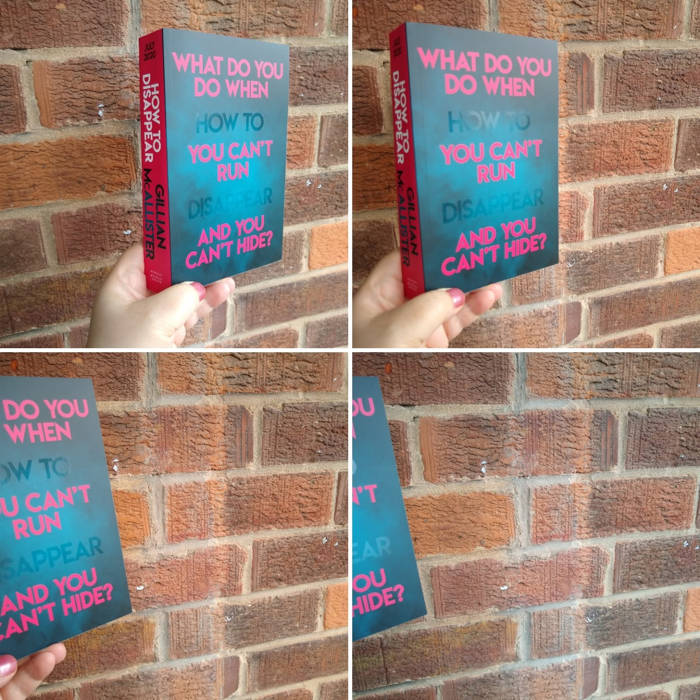 I've just finished reading How to Disappear and am sitting here wondering how on earth to put into words what an amazing book it is and how much it's affected me. It's an unexpected book in so many ways. It's a big book at 450 pages yet I flew through it. I expected a psychological thriller but it's got such an emotional punch to it.
Lauren and Aidan are a really happy couple. Lauren's daughter, Zara, lives with them. Aidan's daughter, Poppy, lives with her mother. This is a blended family that works. They have a great life, good home, a gorgeous dog. Everything is good until Zara witnesses a terrible crime and being an honest person who believes in doing the right thing, she comes forward and reports what she saw. This is the beginning of a nightmare for the family as Lauren and Zara must give up their lives and disappear for their own safety.
I'm having to be so vague about what I say. I really don't want to give anything away. Right from the beginning I was imagining what I would do and how I would feel in the place of the characters, imagining being wrenched from my life in the space of a couple of days, never knowing when or if I could return.
Gillian McAllister has written one of my top reads of the year with How to Disappear. It's a fast-paced thriller, but also a love story, a book that had me turning the pages as fast as I could whilst also wishing it could last forever. I cried more than once. I found the empathy in the writing really emotive and it's a book that will stay with me, I'm certain. To be honest, I hardly know what to do with myself at the moment, and I love a book that makes me feel THAT much.
I thought this book was a perfect combination of characters I really cared about, a story that gripped me and wouldn't let go, and writing that just blew me away. How to Disappear is an absolute tour de force. It's incredible!
---

---
---
---
Gillian McAllister is the Sunday Times Top 10 bestselling author of Everything But The Truth, Anything You Do Say, No Further Questions and The Evidence Against You.
How To Disappear is her latest release, a witness protection thriller.
All of her novels are standalone and can be read in any order. She is published in ten countries around the world. The Good Sister is her US debut, released by Penguin USA, and is the American title for No Further Questions. The Choice is her second American release which is the US title for Anything You Do Say.