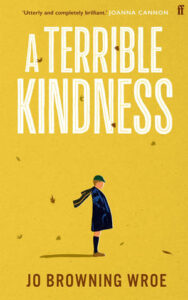 ShortBookandScribes #BookReview – A Terrible Kindness by Jo Browning-Wroe
Happy New Year! My first review of 2022 is for the last book I read in 2021 and one that would easily have been on my top reads of the year list if I'd done one. A Terrible Kindness will be published by Faber on 20th January and it comes heartily recommended by me. It's superb in every way. My thanks to Josh Smith for sending me a proof copy for review purposes.
---

---
It is October 1966 and William Lavery is having the night of his life at his first black-tie do. But, as the evening unfolds, news hits of a landslide at a coal mine. It has buried a school: Aberfan.

William decides he must act, so he stands and volunteers to attend. It will be his first job as an embalmer, and it will be one he never forgets.

His work that night will force him to think about the little boy he was, and the losses he has worked so hard to forget. But compassion can have surprising consequences, because – as William discovers – giving so much to others can sometimes help us heal ourselves.
---
---
'I remember them,' the woman says, 'a terrible job. A terrible kindness they did for us. Something none of us wanted to think about.'
A Terrible Kindness opens with William Lavery attending an event for embalmers. He's newly qualified and is joining the family business. It's clear embalming is a vocation for gentle William, one where he can show one final act of kindness and care to a person. However, very quickly he is put to the test when he volunteers to go to Aberfan and help with the embalming of those who died in the coal mine landslide. It's not often a book sets me off crying in the first few pages but that's what happened here as William has to deal with the unthinkable and tragic loss of a community's children.
Bookended by sections about Aberfan and its effect on William are sections on William's time at Cambridge as a chorister and his early life as an embalmer. There's so much relevant background to William's life and what's so skilful about the writing is the way Jo Browning-Wroe unfolds it layer by layer until the whole picture is clear.
This is an incredible book and one that I will never forget. This kind of book doesn't come along very often and when it does it's breathtaking. The writing is so beautifully evocative. Even a passage where William remembers the drawer at home that contained the napkins his mother has brought to school, and the items that nestled alongside them, was so real it brought a lump to my throat. It's full of the little moments that make up a life, each important in its own way. Small acts of kindness mean so much but it's a long time until William can accept that not everything is cut and dried.
There are two pieces of music interwoven through the story with such meaning. The author made them special and brought them to life to such an extent that they will always bring this book to mind if I hear them. There's a melancholy to them that chimes perfectly with the themes of the book.
I don't think anything I could say would do justice to just how wonderful A Terrible Kindness is. It's an outstanding debut, one that I started and finished reading in tears. It's extraordinarily moving, a story of family, loss and friendship amidst the worst that life can throw at you.
---

---
Jo Browning Wroe grew up in a crematorium in Birmingham. She has an MA in Creative Writing from the University of East Anglia and is now Creative Writing Supervisor at Lucy Cavendish College, Cambridge. Her debut novel, A Terrible Kindness, was shortlisted for the Bridport Peggy Chapman-Andrews award. She has two adult daughters and lives with her husband in Cambridge.