ShortBookandScribes #BookReview – The Idea of You by Robinne Lee
Today I'm reviewing the absolute scorcher of a read that is The Idea of You by Robinne Lee. My thanks to the team at Michael Joseph for sending me a proof copy for review purposes.
---

---
EVERYONE IN THE WORLD KNOWS HIS NAME . . . BUT IT'S YOU HE WANTS.

To the media, Hayes Campbell is the enigmatic front-man of a record-breaking boyband.

To his fans, he's the man of their dreams.

To Solène Marchand, he's just the pretty face that's plastered over her teenage daughter's bedroom wall.

Until a chance meeting throws them together . . .

The attraction is instant. The chemistry is electric. The affair is Solène's secret.

But how long can it stay that way?
---

---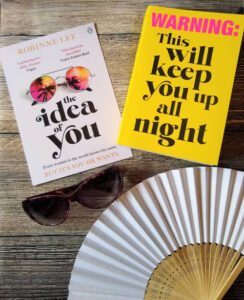 Oh, this book. Oh, this love affair. Hot, hot, hot!
My favourite trope in books is forbidden love/love against the odds and we certainly have this here with Solène and Hayes. They meet when gallery owner Solène takes her daughter to an August Moon concert. Hayes is one-fifth of the hugely successful boy band. The chemistry between them is instant, despite the fact that Hayes is only 20, half Solène's age. They embark upon an affair which sees them both jetting around the world to meet up but almost from the beginning this felt like something that surely couldn't last.
Like many people, I'm sure, I've had obsessions with famous singers or actors in the past. To me, this felt a bit like living the dream vicariously, of being the one singled out by a man desired by literally millions of women. But there's so much honesty in this novel about what it's like living in a goldfish bowl, with every little move analysed and reported upon, and being chased everywhere by teenage girls.
I wanted to love this book so much that I was almost scared to read it in case I didn't feel it. But truly, this is a wow book for me, so heady and intense. It's also full of steamy sex. I didn't quite have to fan myself but I wasn't far off. This story felt real to me, it felt like I was living through it, like it was a part of my life. I didn't want it to end and found myself eking it out. Apparently, the character of Hayes Campbell is partly inspired by Harry Styles and I can't help thinking this would make a great book to screen adaptation, perhaps starring the man himself.
If it wasn't completely obvious, I adored this book. It's a love story but it's also about a woman having the time of her life in her late 30s/early 40s and good on her. I really need to know what happens next for Solène and Hayes but even if I never do this is a story that will stay with me. I loved the rapport between them, the progression of their relationship. It's a very special read indeed. I could rave about it endlessly. I have the sweetest book hangover right now.
---
---
A graduate of Yale University and Columbia Law School, Robinne was born and raised in Westchester County, New York. As the daughter of Jamaican parents of African, Chinese, and British descent, Robinne has long had an affinity for travel and the arts. Her past endeavors include working as an Editorial Assistant for ELLE Magazine, both in New York and Paris, writing celebrity profiles for the now defunct youth culture magazine, TELL, and running a music management company. Robinne has numerous acting credits in both television and film, has served as a producer on various independent films and regularly speaks on panels and writes for trade magazines regarding the roles of women and actors of color in the industry. She currently lives in Los Angeles with her husband and two children.