Seven Day Spotlight – week ending 26/03/17
First of all, Happy Mother's Day to all the mothers out there. I hope you have all had a wonderful day.
I've had a great week on my blog. I posted a short extract from A Bed of Brambles, the new romance novel by Sam Russell. I also posted a review of Foxes Unearthed by Lucy Jones as part of the blog tour. The giveaway for a paperback copy is still running so please do go and enter. I've also posted an extract from Colleen Coleman's new book, Don't Stop Me Now, as part of the blog tour and I posted a review of the fabulous A Dangerous Crossing by Rachel Rhys. Finally, today I posted a cliffhanger of an extract from The Lost Children by Helen Phifer.
A bit of a busy week for acquisitions again:
An Act of Silence by Colette McBeth – I loved The Life I Left Behind by this author so was keen to read another of her books.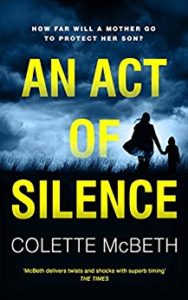 These are the facts I collect.

My son Gabriel met a woman called Mariela in a bar. She went home with him. They next morning she was found in an allotment.

Mariela is dead.

Gabriel has been asked to report to Camden Police station in six hours for questioning

Linda Moscow loves her son; it's her biological instinct to keep him safe. But if she's not sure of his innocence, how can she stand by him? Should she go against everything she believes in to protect him?

She's done it before, and the guilt nearly killed her.

Now, the past is catching up with them. As old secrets resurface, Lind is faced with another impossible choice. Only this time, it's her life on the line…
The White Road by Sarah Lotz – this sounds full of suspense.
Adrenaline-junky Simon Newman sneaks onto private land to explore a dangerous cave in Wales with a strange man he's met online. But Simon gets more than he bargained for when the expedition goes horribly wrong. Simon emerges, the only survivor, after a rainstorm trap the two in the cave. Simon thinks he's had a lucky escape.

But his video of his near-death experience has just gone viral.

Suddenly Simon finds himself more famous than he could ever have imagined. Now he's faced with an impossible task: he's got to defy death once again, and film the entire thing. The whole world will be watching. There's only on place on earth for him to pit himself against the elements: Mt Everest, the tallest mountain in the world.

But Everest is also one of the deadliest spots on the planet. Two hundred and eighty people have died trying to reach its peak.

And Simon's luck is about to run out.
Margherita's Recipes for Love by Elisabetta Flumeri and Gabriella Giacometti – I love books set in Italy and this one has a Nicola in it so just irresistible.
Margherita is a spirited young woman with a passion for cooking. When her heart is broken in Rome, she returns to her hometown of Roccafitta, a small Tuscan village filled with lovable eccentrics and beautiful vineyards. She dreams of saving enough money to reopen her late mother's restaurant and hopes she may find help from the handsome stranger in town.

An aloof and ambitious businessman, Nicola is buying up the village's vineyards and is also on the lookout for a personal chef. Though the two dislike one another immediately, Nicola agrees to pay Margherita well for each delicious meal she prepares to help win over his clients. But with each new dish, Nicola discovers that he is the one being seduced and Margherita realizes that she is expressing much more through her cooking than she cares to admit.
The Beachside Flower Stall by Karen Clarke – I loved loved loved The Beachside Sweet Shop so can't wait to return to Shipley.
Carrie Dashwood fled Dorset ten years ago when her best friend Megan stole her love, local heartthrob Tom. Now she's back to help run her aunt Ruby's flower stall in idyllic Shipley.

Trying to persuade herself that her feelings for Tom are in the past, Carrie plans to avoid him and Megan completely. But it's not to be, because Ruby's Blooms are arranging the flowers for Megan and Tom's wedding.

Soon Carrie's crawling under the stall to hide and accidentally inventing an imaginary boyfriend… But with the stall's finances in jeopardy and Ruby needing her niece more than ever, Carrie has to keep her emotions in check.

With bouquets to arrange, family secrets to uncover, and Tom unavoidably a part of her life again, can Carrie keep her cool, save the stall, and find her very own happy ever after?
The Second Sister by Claire Kendal – I was a big fan of Claire Kendal's first book, The Book of You, so this was a bit of a must for me.
It is ten years since Ella's sister Miranda disappeared without trace, leaving her young baby behind. Chilling new evidence links Miranda to the horrifying Jason Thorne, now in prison for murdering several women. Is it possible that Miranda knew him?

At thirty, Miranda's age when she vanished, Ella looks uncannily like the sister she idolized. What holds Ella together is her love for her sister's child and her work as a self-defence expert helping victims.

Haunted by the possibility that Thorne took Miranda, and driven by her nephew's longing to know about his mother, Ella will do whatever it takes to uncover the truth – no matter how dangerous…
Remember Me by Lynda Renham – this is a bit of a change for the author of Phoebe Smith's Private Blog, which I loved.
A new neighbour becomes a new friend. She looks up to you. She admires you, but is it you she wants? You begin to wonder if she wants your husband, or even your child. But then you realise, she wants your life.

When Sharni and Tom move into 24 The Pines, it seems like Clare and Chris have the perfect neighbours. Sharni is always there to help, especially with childcare for Clare's two-year-old, Ben. But Clare can't shake off the feelings of anxiety that assail her whenever Sharni is near. Is Clare just being overprotective, or are her feelings justified? As Sharni's influence touches everyone around her, Clare finds herself fighting for her sanity as well her family.
Dummy: The Comedy and Chaos of Real-Life Parenting by Matt Coyne – this sounds like a lot of fun and it's by a local Sheffield man.
'The night before Charlie was born I had this dream. I dreamt that I was a soldier, riding into battle … completely naked, and on the back of a large, inflatable duck.'

Matt Coyne has become a hero for thousands of parents everywhere who are devoted followers of his popular blog, Man vs Baby.

This is his book, and it is not your average parenting guide. It's packed with completely impractical advice for the bewildered new mum or dad – stuff you won't find anywhere else: from 'Profanity Bingo' for labour to a categorisation of various nappy disasters. But, more than that, it is the story of how becoming a parent is a kind of beautiful insanity – a thing that changes you.

Above all, Dummy will keep you laughing through the exhaustion, the mystery and the madness of bringing up your own children.

This is the parenting book for real people.
The Uncommon Life of Alfred Warner by Juliet Conlin – I've heard lots of good things about this book.
Approaching 80, frail and alone, a remarkable man makes the journey from his sheltered home in England to Berlin to meet his granddaughter. He has six days left to live and must relate his life story before he dies…

His life has been rich and full. He has witnessed firsthand the rise of the Nazis, experienced heartrending family tragedy, fought in the German army, been interred in a POW camp in Scotland and faced violent persecution in peacetime Britain. But he has also touched many lives, fallen deeply in love, raised a family and survived triumphantly at the limits of human endurance. He carries within him an astonishing family secret that he must share before he dies… a story that will mean someone else's salvation.

Welcome to the moving, heart-warming and uncommon life of Alfred Warner.
Give Me the Child by Mel McGrath – sounds like a fab psychological thriller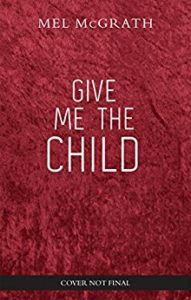 An unexpected visitor.

Dr Cat Lupo aches for another child, despite the psychosis which marked her first pregnancy. So when Ruby Winter, a small girl in need of help, arrives in the middle of the night, it seems like fate.

A devastating secret.

But as the events behind Ruby's arrival emerge – her mother's death, her connection to Cat – Cat questions whether her decision to help Ruby has put her own daughter at risk.

Do we get the children we deserve?

Cat's research tells her there's no such thing as evil. Her history tells her she's paranoid. But her instincts tell her different. And as the police fight to control a sudden spate of riots raging across the capital, Cat faces a race against time of her own…
The Island Legacy by Ruth Saberton – a 99p bargain
The only daughter of a troubled artist father, Ness Penwellyn always struggled to feel settled and now her life has taken an unexpected turn; she is the heir to the ancestral family home in England. With excitement Ness exchanges her American life for her inheritance, a mysterious castle set on a Cornish island, and swaps solitude for newly discovered relatives – some more pleased to learn of her existence than others.

Inheriting vast debts alongside the castle, it isn't long before Ness encounters property developer, Max Reynard. Wealthy and wickedly handsome, Max is accustomed to getting his own way and Ness is unimpressed. His assumption she'll sell to him only makes her more determined to find the strength to go it alone – even as bitter cousins plot and circumstances start to spiral out of control.

Before long Ness and Max are locked in a battle of wills as the castle's past and present collide in the fight to preserve its future. Independent and determined, Ness must decide who she can trust with both the island legacy and her heart…

THE ISLAND LEGACY is captivating blend of romance, mystery and courage played out against the breath taking beauty of Cornwall's dramatic coastline.
The Way It Never Was by Lucy Austin – another 99p bargain
Since coming back from Australia, Kate Harrington has been stuck in a dead-end secretarial job she hates with a boss she despises.

To make matters worse, she's renting out a room in her seaside flat to Claire, someone she never got along with at school, let alone now.

And then there's her love life.

After two years, she still holds a flame for the enigmatic Joe, her ex-boyfriend, who might have sported a questionable ponytail but who has somehow become more mythical and beautiful as time has gone on.

The problem? He lives about 10,000 miles away and they've fallen out of touch.

Everyone around her seems to have their lives together; her brother, Dan, is living the high life and her old friend, and formerly reliable 'plus one', Stan, is dating the self-assured Anna.

Kate decides that she's had enough and quits her job.

When she gets asked by heavily pregnant Liv to help her out at the Globe Café, one of her favourite places, she jumps at the chance.

Maybe she'll enjoy waitressing despite the grumpy Italian owner and his judgemental wife?

She was good at making Cappuccinos in Sydney, so why not in Broadstairs?

Just as Kate thinks she's found happiness, her life is thrown into confusion as she discovers that Stan has been hiding his true feelings for her.

Will Kate ever let go of her feelings for Joe and embrace a relationship with her old friend Stan?

Has love been lurking right beneath her eyes?

The Way It Never Was is a memorable story of old loves and new beginnings.
I'd love to hear any thoughts on these books.