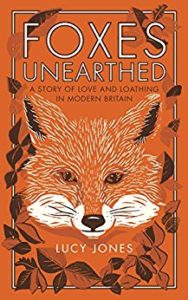 #blogtour – Foxes Unearthed by Lucy Jones @lucyjones @eandtbooks #bookreview #FoxesUnearthed
Anybody who knows me knows that I love foxes, I mean really love them. So I jumped at the chance to read Foxes Unearthed.
As one of the largest predators left in Britain, the fox is captivating: a comfortably familiar figure in our country landscapes; an intriguing flash of bright-eyed wildness in our towns. Yet no other animal attracts such controversy, has provoked more column inches or been so ambiguously woven into our culture over centuries, perceived variously as a beautiful animal, a cunning rogue, a vicious pest and a worthy foe. As well as being the most ubiquitous of wild animals, it is also the least understood. In Foxes Unearthed Lucy Jones investigates the truth about foxes in a media landscape that often carries complex agendas. Delving into fact, fiction, folklore and her own family history, Lucy travels the length of Britain to find out first-hand why these animals incite such passionate emotions, revealing our rich and complex relationship with one of our most loved – and most vilified – wild animals. This compelling narrative adds much-needed depth to the debate on foxes, asking what our attitudes towards the red fox say about us – and, ultimately, about our relationship with the natural world.
My Review
Foxes are one of my most favourite animals. They're so beautiful and I think one of the main attractions for me is that they are a wild animal that I can see in the city where I live. So I was really keen to read Foxes Unearthed, a book about this much maligned creature.
The book is split up into six sections, looking at foxes in history and in fiction, the fox in the henhouse, hunting and hunt saboteurs, and urban foxes, amongst other things. The first section, the one looking at their origins in literature, was a little dry for my tastes but the rest of the book was full of interest for me
Lucy Jones writes a very balanced book. She looks at all sides and provides unbiased information. Her grandfather was a hunter but I think Jones is on the side of the fox. Nevertheless, she is not sentimental, emotional or judgemental.
This is not a book about the life of a fox. This is a book about how foxes are perceived and the relationship, often troubled, between them and humans. They have always been labelled as cunning and sly, but they are ultimately just survivors.
I'm not much of a reader of non-fiction but I do make an exception when it's a subject that really interests me. Foxes Unearthed is a fascinating read and whilst I didn't learn much that was new to me about foxes, it is a well-researched factual account of the journey Lucy Jones went on to discover more about the people who love or dislike foxes.
With thanks to the for the review copy and the place on the blog tour. Foxes Unearthed was published by Elliott & Thompson in paperback on 16th March 2017 and is also available as an ebook.
---
I mentioned my love of foxes. In fact I'm a bit of a foxy fanatic. This is a selection of the foxy artwork I have around the house:
And three of my foxy friends – the one on the left is Douglas, the one on the right is Freddie and in the middle (needle-felted by yours truly) is the one that my then two year old christened Consapump (don't ask me!!!).
---
If you fancy reading Foxes Unearthed for yourself then it's available now in paperback and ebook. Or you could try and win a copy by entering the giveaway below (UK entrants only).
---
And don't forget to check out the other stops on the blog tour.
---
Lucy Jones writes mainly about culture, nature, music, science, wildlife and the environment.  She was Deputy Editor at NME.com and previously worked at The Daily Telegraph.  Other bylines include TIME, BBC Earth, BBC Wildlife, The Guardian, New Statesman, The Word and The Spectator.  She has contributed to BBC Radio 4 (Woman's Hour, Today), BBC World Service, 6 Music, Radio 1, VICE, Channel 5 and Channel 4.  She is the recipient of the Society of Authors' Roger Deakin Award for Foxes Unearthed.