Seven Day Spotlight – week ending 23/04/17
I've had a bit of a quiet week on the blog this week. I've been on blog tours though for two great reads and both so different from one another. My Mourning Year by Andrew Marshall is a moving story of the first year after losing his partner. The Beachside Flower Stall by Karen Clarke is, by complete contrast, a fun, light read which had me laughing out loud.
I also posted a link to Andrea Darby's blog in which she has been featuring bloggers' answers to her questions about book titles and this week I was one of the bloggers featured.
Now to acquisitions. The last couple of weeks have been absolute madness really as I added an awful lot to my TBR pile. This week you will see that I have been much more restrained. Yes really!
I know!
So here they are:
First up, Tin Man by Sarah Winman. I kept wondering about this as I loved When God Was a Rabbit and quite liked the very whimsical A Year of Marvellous Ways. Eventually I talked myself into it.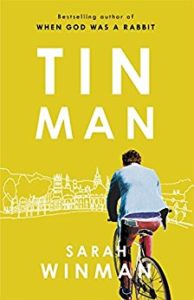 It begins with a painting won in a raffle: fifteen sunflowers, hung on the wall by a woman who believes that men and boys are capable of beautiful things.

And then there are two boys, Ellis and Michael,
who are inseparable.
And the boys become men,
and then Annie walks into their lives,
and it changes nothing and everything.

Tin Man sees Sarah Winman follow the acclaimed success of When God Was A Rabbit and A Year Of Marvellous Ways with a love letter to human kindness and friendship, loss and living.
The Man in the Needlecord Jacket by Linda MacDonald is one I am looking forward to reading for the forthcoming blog tour.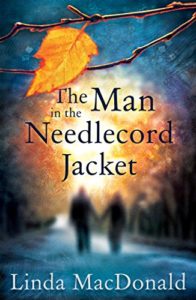 The Man in the Needlecord Jacket follows the story of two women who are each struggling to let go of a long-term destructive partnership. Felicity is reluctant to detach from her estranged archaeologist husband and, after being banished from the family home, she sets out to test the stability of his relationship with his new love, Marianne.

When Felicity meets Coll, a charismatic artist, she has high hopes of being distracted from her failed marriage. What she doesn't know is that he has a partner, Sarah, with whom he has planned a future. Sarah is deeply in love with Coll, but his controlling behaviour and associations with other women have always made her life difficult. When he becomes obsessed with Felicity, Sarah's world collapses and a series of events is set in motion that will challenge the integrity of all the characters involved.

The Man in the Needlecord Jacket is a thought-provoking book, written from the perspectives of Sarah and Felicity. The reader is in the privileged position of knowing what's going on for both of the women, while each of them is being kept in the dark about a very important issue.

Inspired by the work of Margaret Atwood and Fay Weldon, Linda explores the issue of mental abuse in partnerships and the grey area of an infidelity that is emotional, not physical. The book will appeal to readers interested in the psychology of relationships, as well as fans of Linda's 'Lydia' series.
Not a Sound by Heather Gudenkauf – I've really enjoyed her previous books and love the sound of this one.
When a tragic accident leaves nurse Amelia Winn deaf, she spirals into a depression that ultimately causes her to lose everything that matters – her job, her husband, David, and her stepdaughter, Nora.

Now, two years later, she is finally getting back on her feet. But when she discovers the body of a fellow nurse in the dense bush by the river, she is plunged into a disturbing mystery that could shatter the carefully reconstructed pieces of her life all over again.

As clues begin to surface, Amelia finds herself swept into an investigation that hits all too close to home. But how much is she willing to risk in order to uncover the truth and bring a killer to justice?
Together by Julie Cohen – I've loved a couple of this author's previous books so was really pleased to get a copy of this one.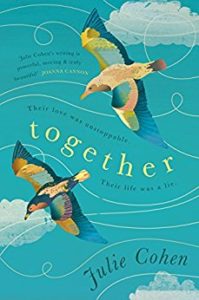 This is not a great love story.
This is a story about great love.

On a morning that seems just like any other, Robbie wakes in his bed, his wife Emily asleep beside him, as always. He rises and dresses, makes his coffee, feeds his dogs, just as he usually does. But then he leaves Emily a letter and does something that will break her heart. As the years go back all the way to 1962, Robbie's actions become clearer as we discover the story of a couple with a terrible secret – one they will do absolutely anything to protect.
The Upstairs Room by Kate Murray-Browne is one I keep hearing about and which sounds so good.
Eleanor, Richard and their two young daughters recently stretched themselves to the limit to buy their dream home, a four-bedroom Victorian townhouse in East London. But the cracks are already starting to show. Eleanor is unnerved by the eerie atmosphere in the house and becomes convinced it is making her ill. Whilst Richard remains preoccupied with Zoe, their mercurial twenty-seven-year-old lodger, Eleanor becomes determined to unravel the mystery of the house's previous owners – including Emily, whose name is written hundreds of times on the walls of the upstairs room.
And finally, yes you read that right, I have pre-ordered Dreaming of Venice by T.A. Williams which is out tomorrow.
Life is tough for Penny. A dead end job in a London café, a boyfriend in Australia (what could go wrong?) and an art career going nowhere. But then Penny is approached with an extraordinary proposition.

It isn't going to be easy but, if she can pull it off, she will turn her life around and at long last see the fulfilment of her dream – to visit Venice. And, just maybe, find true happiness with the handsome man of her dreams.

But can dreams come true?
A last minute purchase this morning is A New Map of Love by Abi Oliver. I've been coveting this one and got an alert to say it's down to £1.49 for Kindle so it just had to be done. And look at that pretty cover!
How can you pack for the journey of a lifetime?

George Baxter has settled for a comfortable life, content as the years unfold predictably – until Win, his wife of twenty-six years, dies.

With his loyal dog Monty by his side, George throws himself into his work as an antiques dealer. His business is at the heart of the village and all sorts pass through the doors, each person in search of their own little piece of history.

When George meets local widow Sylvia Newsome, he imagines a different kind of future. But life has more revelations to offer him. Over the course of an English summer George uncovers some unexpected mysteries from his past, which could shape his tomorrows . . .
I'd love to hear any thoughts on any of these titles.