#blogtour – The Beachside Flower Stall by Karen Clarke @karenclarke123 @bookouture #bookreview
I really am absolutely over the blooming moon to be on this tour today and sharing my review of this fantastic book with you. I loved the first in the series, The Beachside Sweet Shop, and you can read my review of that book here.
Here's what The Beachside Flower Stall is all about:
A heartening and uplifting read about lost love, true friendship, and blossoming romance. Perfect for fans of Cressida McLaughlin, Cathy Bramley, and Debbie Johnson.

Carrie Dashwood fled Dorset ten years ago when her best friend Megan stole her love, local heart-throb Tom. Now she's back to help run her aunt Ruby's flower stall in idyllic Shipley.

Trying to persuade herself that her feelings for Tom are in the past, Carrie plans to avoid him and Megan completely. But it's not to be, because Ruby's Blooms are arranging the flowers for Megan and Tom's wedding.

Soon Carrie's crawling under the stall to hide and accidentally inventing an imaginary boyfriend… But with the stall's finances in jeopardy and Ruby needing her niece more than ever, Carrie has to keep her emotions in check.

With bouquets to arrange, family secrets to uncover, and Tom unavoidably a part of her life again, can Carrie keep her cool, save the stall, and find her very own happy ever after?
My review
Having loved Karen Clarke's first book in this series, The Beachside Sweet Shop, I couldn't wait to get my hands on this one. Don't worry if you haven't read the first one though as they work fine as standalone reads. This time we meet Carrie Dashwood who has returned to Dorset to help her aunt Ruby with her flower stall. Last time she was there she fled the place because of her unrequited love for Tom Hudson. Will she see him again and if so, how will she cope?
What a complete and utter joy it was for me to return to Shipley. A few of the characters from the first book made a brief appearance which was a lovely touch. It made me feel like part of the community myself. I loved Carrie as a character. She's kind and I suspect would be a fantastic friend to have. Shame her former friend Megan didn't agree. What a thoroughly horrid person she was. I also thought aunt Ruby was a fabulous character, oh and not to mention Jane who helped her on the flower stall. I shall say no more than that she likes to over-share!
I found myself chortling away on many occasions at the different situations Carrie got herself into. But this is also a heart-warming read and the writing sets just the right tone. It's not saccharine to the point of being sickly but it's charming and feel-good and I loved every minute of it. As with the previous book, I wanted to be there, although whilst I could see myself running a sweet shop, I think if I ran a flower stall I would have a lot of buckets of dead flowers. I definitely don't have green fingers!
I hear that Karen Clarke is already on her way with the third book in the series which will have a Christmassy feel. Shipley is a wonderful creation and I can't wait to get back there.
With thanks to the publishers and Netgalley for the review copy. The Beachside Flower Stall is available to buy now in ebook and paperback.
---
With thanks to Kim Nash and Bookouture for the spot on the blog tour. If you fancy reading this book for yourself (go on, do!) then here's where you can get it:
And please do check out the other stops on the tour:
---
About the author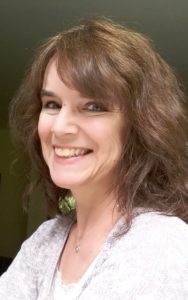 After giving up her job as a library assistant, Karen now writes full-time. She's had over 300 stories published in women's magazines in the UK and abroad, and has written three paranormal romantic comedies, published by Little, Brown/Corsair. When she's not writing she reads avidly, walks dogs at her local rescue centre, and is eagerly awaiting the next season of The Walking Dead. She lives in Buckinghamshire with her husband and three grown-up children.