#blogtour – The Beachside Sweet Shop by Karen Clarke @karenclarke123 #bookreview @bookouture @KimTheBookworm
I'm as high as a child who has eaten too many bonbons today as it's my turn on the blog tour for The Beachside Sweet Shop by Karen Clarke. This is what it's all about:
Chocolate fudge, butterscotch and raspberry bonbons… treat yourself to some sugary treats, a big slice of friendship and a sprinkling of romance at The Beachside Sweet Shop.

When Marnie Appleton inherited a sweet shop from her grandfather she was determined to do his legacy proud. The shop has been a much-loved feature of the little seaside town of Shipley for years, but now Marnie needs to bring it up to date, and she's recruited gorgeous new assistant Josh to help.

Marnie gets busy redecorating the shop and choosing delicious new sweets to stock, but things are never that simple: new neighbour Isobel, a fame-hungry blogger, is on a crusade against sugar, and she'll go to any lengths to secure bad publicity for Marnie's shop.

Marnie fights back with homemade sugar-free treats, but with her best friend Beth heavily pregnant, her grandmother Celia recovering from an operation, and her very recently ex-boyfriend Alex returning to Shipley with a new love, Marnie has a lot on her plate.

And then there's Josh, with whom Marnie is struggling to keep her relationship strictly professional…Will both the sweet shop and love flourish?

A deliciously heartwarming read about family, friends and handmade coconut ice. Perfect for fans of Cressida McLaughlin, Debbie Johnson, and Tilly Tennant.
Prepare for gratuitous picture of sweeties along with my review:
I'm a sucker for books about shops and I'm a sucker for sweet shops in particular and then add in the word 'beachside' and you have a few words there that will always get me reaching for a book. As soon as I saw The Beachside Sweet Shop I knew I had to have it. I was….well… like a kid in a sweet shop.
Our heroine is Marnie Appleton. The sweet shop has been in her family for years and she likes running it but somehow she thinks she would prefer to run away and go travelling. The grass is always greener and all that. I liked Marnie a lot. She's kind and caring and missing her ex, Alex, who went away to work in New York.
Karen Clarke is brilliant at characters. She writes them in such a way that I can easily imagine them, what they will say, do, feel.  One of my favourite characters has to be Josh who turns up looking for a job. He seems like a classic beach bum sort, still skateboarding at 25 and drifting around, but I just thought he was brilliant and so much fun.
This book had me chortling away many times. It's really funny. Right from the first page it had me smiling at an exchange between Marnie and the sweet supplier. There's some really clever dialogue. And whilst it's a light read, as you might expect from the cover and the subject matter, it also has depth and emotion. It had my mouth watering from all the mention of confectionary, it made me feel annoyed by an attention seeker looking for any reason to make a splash and ruin Marnie's reputation, and it had me laughing out loud at some of the witty situations and exchanges.
I wanted to put myself right into this book. I wanted to be behind the counter of the sweet shop, I wanted to stroll to Bob's Bakery at lunchtime for a chicken baguette and I wanted to sit and eat it looking out to sea. Alas, I had to make do with imagining it between the pages of this book which was the next best thing.
There are lots of coffee shop/cupcake/sweet shop/seaside type books, which is not to say that there are too many of them, but I do think this one is a standout one for me and I'm really looking forward to reading the next one in the beachside series, The Beachside Flower Stall. I hope some of the sweet shop characters reappear.
A fabulous candy cane of a read. I absolutely loved it (can you tell?).
My grateful thanks to Kim Nash and Bookouture for the place on the blog tour and for the review copy through Netgalley. The Beachside Sweet Shop was published on 2nd March 2017 by Bookouture.
If you like the sound of it then you can buy it here:
Another gratuitous picture of sweets coming up.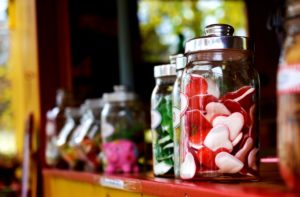 ---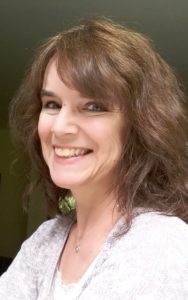 After giving up her job as a library assistant, Karen now writes full-time. She's had over 300 stories published in women's magazines in the UK and abroad, and has written three paranormal romantic comedies, published by Little, Brown/Corsair. When she's not writing she reads avidly, walks dogs at her local rescue centre, and is eagerly awaiting the next season of The Walking Dead. She lives in Buckinghamshire with her husband and three grown-up children.
http://writewritingwritten.blogspot.co.uk
https://www.facebook.com/karen.clarke.5682
---
Now why not check out the other stops on the blog tour: