#blogtour – My Mourning Year by Andrew Marshall @andrewgmarshall @RedDoorBooks #bookreview
I'm on the blog tour today for this wonderful memoir.
In 1997 Andrew Marshall's partner, and the only person to whom he had ever truly opened his heart, died after a gruelling and debilitating illness. Unmoored from his old life, and feeling let down by his family, Andrew struggled not only to make sense of his loss but to even imagine what a future without Thom might look like.

His diary became a record of recovery and setbacks – like a rebound relationship – some weird and wonderful encounters with psychics and gurus and how his job as a journalist gave him the chance to talk about death with a range of famous people, a forensic anthropologist and a holocaust survivor.

Slowly but surely, with the help of friends, a badly behaved dog and a renewed relationship with his parents, Andrew began to navigate the Thom-shaped hole in his life, and started to piece himself back together.

My Mourning Year is a frank and unflinching account of one man's life over the year following the death of his lover.
My Review
Twenty years after the premature death of his partner, Thom, in 1997, Andrew Marshall has published this moving account of the year after Thom's death. The book deals at first with a brief recounting of how they met on holiday, went back and forth between England and Germany, where Thom was from, until they eventually moved in together. Then we read about Thom's debilitating illness and his passing. The major part of the book though is about that first year and how Andrew Marshall dealt with it.
I don't read much non-fiction so when I do I choose carefully. I had a feeling that My Mourning Year would be a book I would, not enjoy as the subject matter does not make that possible, but find a compelling and emotional read. Marshall is a prolific writer of self-help books and has been a counsellor and an agony uncle. But nothing could have prepared him for dealing with his own feelings of bereavement. His complete and utter love for Thom shines through and it's clear he was the love of his life. He's also unflinchingly honest about his feelings, particularly about his family. and how they dealt with him being gay and with the loss of Thom.
The book is in diary format and that made it very readable. There was always time for me to read just one more entry, which usually turned into many more. This is not a self-help book about how to deal with grief, but one in which reading how another person dealt with it and realising you are not alone could be immensely helpful.
More than anything else, this is quite simply a beautifully written, candid and very personal book about love and loss. It did make me smile at times, Tyson the dog, for instance, and some of Marshall's encounters during that year were comical, but it also brought tears to my eyes. He's done a brave and wonderful thing in putting together My Mourning Year and publishing it.
With thanks to the publishers for the review copy and the place on the blog tour. My Mourning Year was published by RedDoor Publishing on 6th April 2017 in ebook and will be published in paperback on 20th April.
---
I hope you will check out some of the other stops on the tour.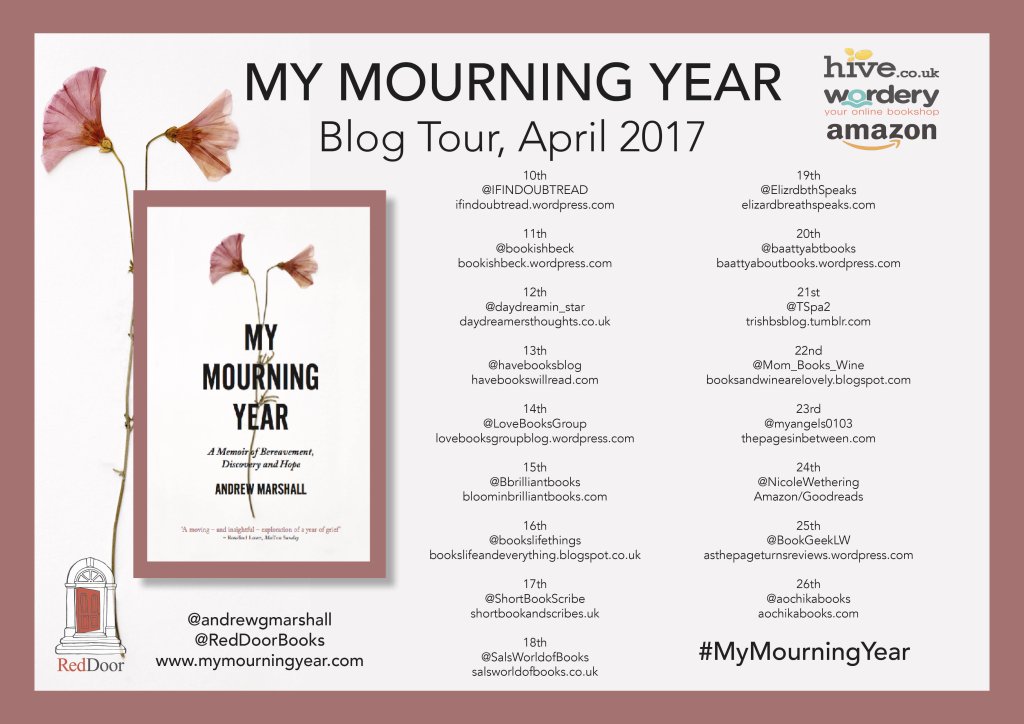 ---
About the Author Andrew Marshall has written seventeen self-help books – as Andrew G. Marshall – including the  international best-seller I love you but I'm not in love with you. His work has been translated into twenty different languages and he still writes for the Mail on Sunday, Daily Mail and Daily Telegraph. This is the first time he's written about himself.