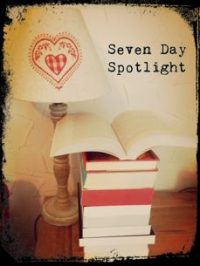 Seven Day Spotlight – week ending 22nd January 2017
It's a very special Sunday in our house as our little boy, Daniel, is three years old today. It's hard to believe it's been three years since I held that tiny baby who never stopped crying! I spent yesterday afternoon making a Thomas the Tank Engine themed cake for him and it's not hard to guess what most of his presents have been this morning.
Onto books. I've read two cracking books this week.  Little Sister by Isabel Ashdown which had lots of twists and turns and two very unreliable narrators, and The Devil You Know by Terry Tyler, a crime novel from a different angle and very cleverly written.
And now to acquisitions:
Review books
The Himalayan Summer by Louise Brown
Ellie Jeffreys arrives in Darjeeling with her British husband, en route to Kathmandu. They have ten-month-old, golden-haired twins, and despite appearing to be a happy family, Ellie's relationship with the overbearing, philandering Francis is disintegrating.
At a cocktail party, Ellie meets Hugh Douglas, a maverick explorer and botanist. Despite the rumours surrounding Hugh,Ellie is drawn to him. A year later, Nepal is devastated by a catastrophic earthquake and in a falling building, Ellie is forced to make an instant, and terrible, decision: she has time to save only one of her children. When she returns for her son's body the next day, it has gone. Ellie knows he cannot have disappeared; someone, somewhere has her child, and it is to Hugh that she turns for help.
Calling Major Tom by David M Barnett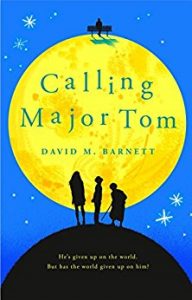 A man who has given up on the world.

Forty-something Thomas is very happy to be on his own, far away from other people and their problems.

A family who show him how to live.

But beneath his grumpy exterior lies a story and a sadness that is familiar to us all. And he's about to encounter a family who will change his view of the world… for good.
The Girl in the Glass Tower by Elizabeth Fremantle
Tap. Tap. Tap on the window.

Something, someone wanting to be heard. Waiting to be free.

Tudor England. The word treason is on everyone's lips. Arbella Stuart, niece to Mary, Queen of Scots and presumed successor to Elizabeth I, has spent her youth behind the towering windows of Hardwick Hall. As presumed successor to the throne, her isolation should mean protection – but those close to the crown are never safe.

Aemilia Lanyer – writer and poet – enjoys an independence denied to Arbella. Their paths should never cross. But when Arbella enlists Aemilia's help in a bid for freedom, she risks more than her own future. Ensnared in another woman's desperate schemes, Aemilia must tread carefully or share her terrible fate . . .

The Girl in the Glass Tower brilliantly explores what it means to be born a woman in a man's world, where destiny is strictly controlled and the smallest choices may save – or destroy – us.
One Little Mistake by Emma Curtis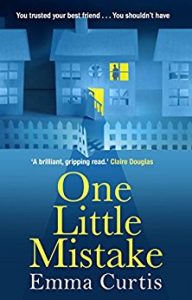 Vicky Seagrave is blessed: three beautiful children, a successful, doting husband, great friends and a job she loves. She should be perfectly happy.

When she risks everything she holds dear on a whim, there's only person she trusts enough to turn to.

But Vicky is about to learn that one mistake is all it takes; that if you're careless with those you love, you don't deserve to keep them . . .
Kindle bargains
The Ballroom Class by Lucy Dillon (99p)
When three couples join a new ballroom class, they're all looking for some magic in their lives.

Lauren and Chris are getting married, and Lauren's dreaming of a fairytale wedding with a first dance to make Cinderella proud. Not wanting to be shown up on the dancefloor, her parents Bridget and Frank have come along too. They normally never put a foot wrong, but Bridget's got a secret that could trip them up unexpectedly. Meanwhile Katie and Ross are looking for a quick-fix solution to their failing marriage even though neither is quite sure who's leading who anymore.

As friendships form over the foxtrot, the rumba rocks relationships, and the tango leads to true love, all the students in the Ballroom Class are about to face the music and dance…
Bloq by Alan Jones (99p)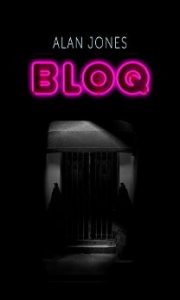 A gritty crime thriller. Glasgow man Bill Ingram waits in the city's Central Station to meet his daughter, returning home from London for Christmas. When the last train pulls in, and she doesn't get off it, he makes a desperate overnight dash to find out why. His search for her takes over his life, costing him his job and, as he withdraws from home, family and friends, he finds himself alone, despairing of ever seeing her again.
SUMMER, 1962. Twenty-year-old Vivien Epstein, a Jewish hairdresser from Manchester, arrives in London following the death of her father. She has travelled to the city to make a new start, and quickly finds herself swept up in a city buzzing with life. Landing a job at Oscar's salon, she thrives amid the vibrant café culture of Soho and the warm camaraderie of the other hairdressers.
But beneath the surface, Vivien is desperate to find Jack Fox, a man she had a brief but intense romance with some months before. Her search leads to confront the dark resurgence of fascism, countered by the Jewish community in street battles around Ridley Road in the East End of London. Amid the growing tensions, can her love survive?
Glass Houses by Jackie Buxton (free)
'When she sent that text, all our lives changed for ever…'

51 year old Tori Williams' life implodes when she sends a text while driving on the M62 motorway and allegedly causes the horrific crash in which three people die. Public and press are baying for her blood, but Tori is no wallflower and refuses to buckle under their pressure or be a pariah in society.

Instead, she sets about saving the nation. But can she save Etta, the woman who saved her life? Or will Etta's secret be her downfall?
Competition win courtesy of Wendy at Little Bookness Lane blog – Bones in the Nest by Helen Cadbury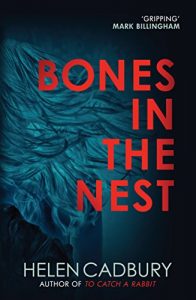 The Chasebridge Killer is out; racial tension is rising and the mutilated body of a young Muslim man is found in the stairwell of a tower block in Doncaster. As he gets drawn into the case, Sean Denton's family life and his police job become dangerously entwined. Meanwhile a young woman is trying to piece her life back together, but someone is out there; someone who will never let her forget what she's done.
Books that are not bargains but which I bought just because I wanted them:
Jo Malone: My Story by Jo Malone – I had to have the paper copy of this once I knew that there is a perfumed page in it.  I'm a big fan of Jo Malone's perfume (even though I know she no longer owns the original company) but have never tried her Jo Loves range.
Jo Malone is the inspirational British businesswoman responsible for creating her globally renowned beauty business and, more recently, her new brand 'Jo Loves'. This, her first autobiography, tells in full her incredible journey from modest beginnings as a teenager, struggling with dyslexia and leaving school with no qualifications, to becoming an international brand name and one of the world's most successful entrepreneurs.
Jo's lively story explores how her fascination with smell teamed with her natural ability to create world-famous blends such as 'Lime, Basil & Mandarin', revolutionised the way we think about fragrance.
Her unique talent for pioneering innovation and originality within her field is unrivalled. Yet, despite her success, she has faced huge challenges with courage and determination, including being diagnosed with breast cancer at the age of 37 and told she only had nine months to live, and her decision to go it alone after selling the original Jo Malone brand to the Estee Lauder Corporation and walking away in 2006.
Jo's commitment and down-to-earth approach to life, work and family makes her one of the most likeable and well respected personalities in British retail and her honesty, hard work and entrepreneurial grit are an inspiration to all.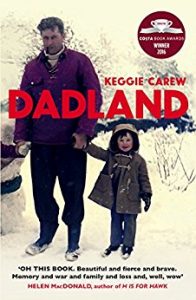 Keggie Carew grew up under the spell of an unorthodox, enigmatic father. An undercover guerrilla agent during the Second World War, in peacetime he lived on his wits and dazzling charm. But these were not always enough to sustain a family.

As his memory began to fail, Keggie embarked on a quest to unravel his story once and for all. Dadland is that journey. It takes us into shadowy corners of history, a madcap English childhood, the poignant breakdown of a family, the corridors of dementia and beyond.
Any thoughts on any of these?